Expectations for E3: Social Data Analysis Surfaces The 6 Most Anticipated Things at E3 Entertainment
With the biggest gaming event of 2017 just around the corner, expectations for E3 are huge.
While it seems every game outlet under the sun is releasing their lists of things to look forward to at E3, we decided to take a different approach.
Based on thousands of mentions on Twitter involving expectations for E3 2017 between 13 and 30 May, we found the top games and moments people are talking about most.
The analysis was simple: We took our expectant tweets and used the topic cloud component in Brandwatch Analytics to surface the most common words and phrases being used in this context. We then checked the volume of mentions of each game and moment in the mentions and search component to discover the order.
Here it is:
6. Marvel v Capcom: Infinite
First on our list is the comic fan favorite, Marvel v Capcom: Infinite.
Marvel vs. Capcom: Infinite, set to be released in September, will be playable at E3 and CEO 2017. #CB2017 https://t.co/emxCrcXaNF

— Jacob Wolf (@JacobNWolf) May 27, 2017
PlayStation describes the game as "The Capcom and Marvel universes are set to collide once again, pitting the most courageous combatants from each legendary pantheon against one another in a super-powered, bare-knuckle brawl."
5. Vampyr – The Darkness Within
This upcoming vampire game from the makers of Life is Strange has captured a lot of attention from gamers.
DONTNOD will be at @E3 this year to show @VampyrGame with exclusive closed-door presentations of never-before-seen gameplay! #E3iscoming pic.twitter.com/QiWt46GfKY

— DONTNOD_Ent (@DONTNOD_Ent) May 23, 2017
The trailer for the game, set in a British town with flu in the air and a series of mysterious deaths, certainly looks intriguing.
4. Nintendo Spotlight
Lots of people are looking forward to Nintendo's Spotlight event, particularly in regard to new announcements surrounding the Nintendo Switch.
The Nintendo Spotlight at E3 2017 will last at least a half hour. https://t.co/FvzXvu2hb9 pic.twitter.com/Zn5JcDF8sW

— Nintendo Wire (@NinWire) May 22, 2017
Nintendo is expected to reveal details on Super Mario Odyssey, Splatoon 2 and more.
3. Call of Duty WWII
The latest iteration of the Call of Duty series will be set in WWII, and there's a huge amount of excitement for what the game will bring.
Call of Duty WW2 will CRUSH Advanced Warfare at E3 2017:https://t.co/bsEujkePye pic.twitter.com/UDyxXwBTFM

— Daily Express (@Daily_Express) May 29, 2017
You can watch the haunting trailer here.
2. Harvest Moon: Light of Hope
It was recently revealed that the latest in the lovely farming series is coming to the Nintendo Switch, PS4 and PC.
Natsume announced a "SNES-Style" Harvest Moon game coming to Nintendo Switch, PS4, and PC; will be playable at E3 2017. pic.twitter.com/zx8xIwVheY

— Gaming Humor & News (@VGFGamers) May 16, 2017
Details are fairly hard to come by at the moment, but there'll be plenty more to discuss once gamers get their hands on it at E3.
1. Days Gone
Making a fair splash at last year's Sony conference at E3, Days Gone is rumored to be back at E3 in a more prominent way this year.
Days Gone will be at E3 "in a big way" this year https://t.co/YttQv1a9zf pic.twitter.com/nUtWNgKjS1

— VG247 (@VG247) May 24, 2017
With no massive amount of detail since last year, zombie loving gamers will be itching to hear more.
Mention counts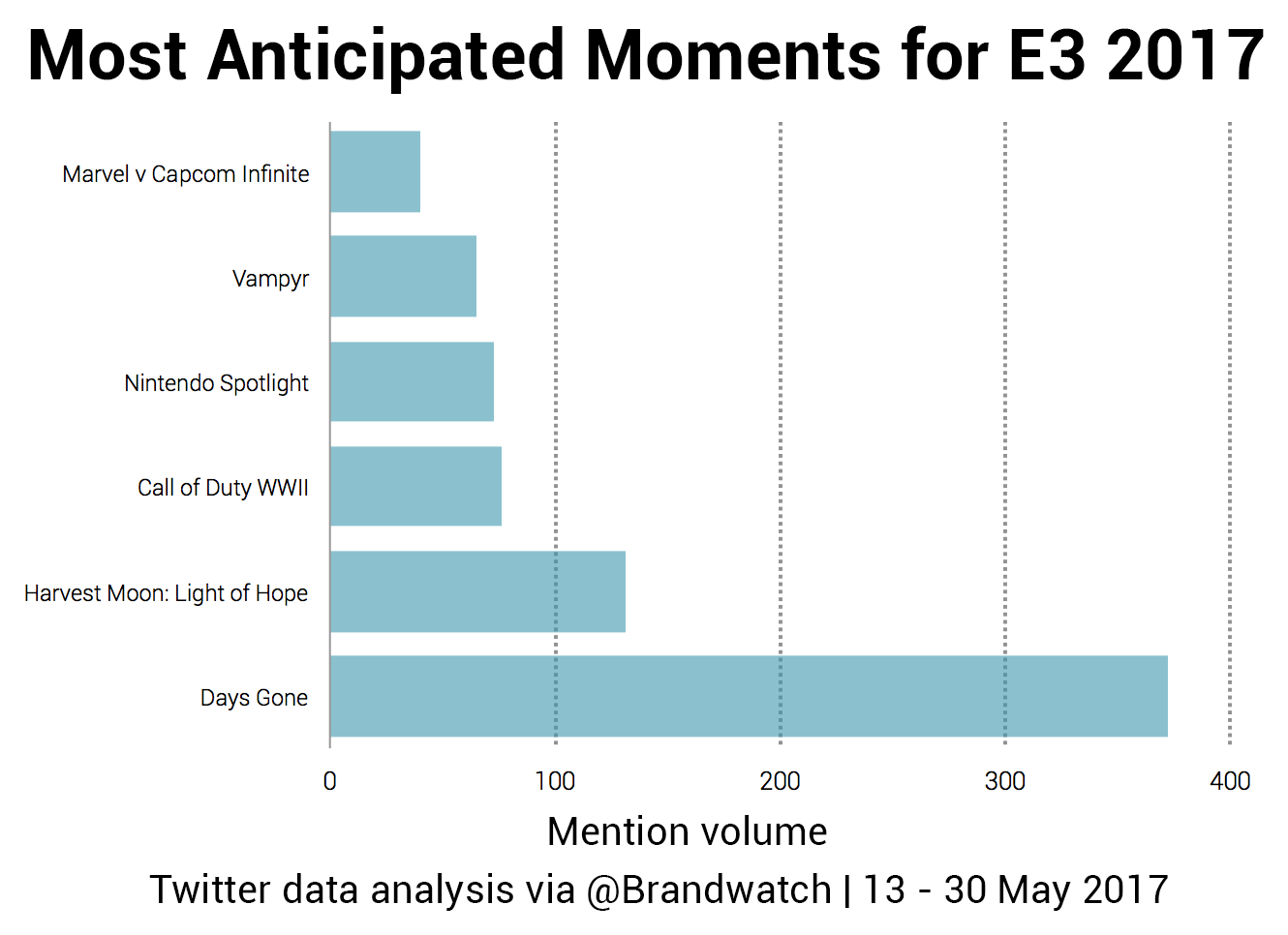 Not at E3
It wasn't just stuff that will be at E3 that was prominent in the conversation. We also found a lot of mentions about what won't be there.
DONTNOD recently announced a second Life is Strange game, which sent lovers of the first into a tizzy.
An all new Life is Strange game has been announced, expect a reveal at E3 https://t.co/GwM6PxV2oR pic.twitter.com/TXlZ2WtdmP

— GamesRadar+ (@GamesRadar) May 18, 2017
It has now been revealed that the game won't be at E3.
The fact that Shenmue 3 won't be at E3 was a huge topic of conversation.
Meanwhile, many expressed their frustration at mixed messages surrounding Bloodborne 2. With leaks and rumors all over the place, this is an ongoing story.
E3 2017
We're looking forward to covering E3 2017 in the best way we know how. With data. Got a request? Send it our way.
Are you a journalist looking to cover our data? Email us at react@brandwatch.com for more information
---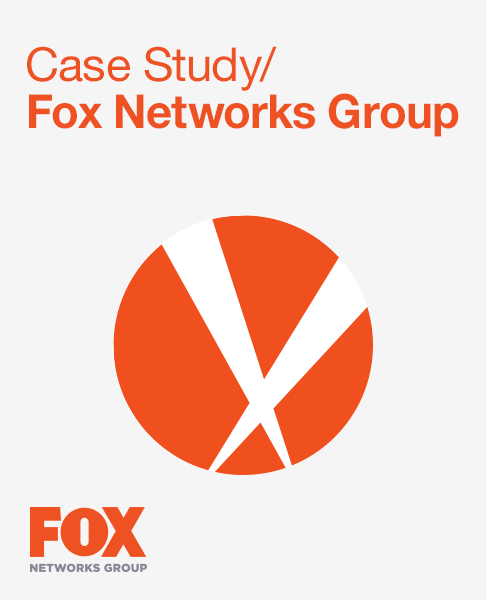 Uncover more insights
How FOX used social data to create a 320% increase in positive sentiment
GET THE CASE STUDY