Where are the happiest places on earth?
Which state is most content?
Where will you find the most cheerful population?
Historically there's been no easy way to find out. However, Brandwatch's new emoji analysis functionality allowed us to finally shed some light on these important questions.
How to find the happiest places on Earth
We analyzed 6 billion tweets published on Twitter over the last two years. Every one of these tweets contained at least one emoji.
We then segmented these tweets into two buckets using Unicode's official classifications:
Positive (e.g. 😀 😁 😂 😆 see full list here)
Negative (e.g 🙁 😖 😞 😡 see full list here)
Next, we segmented this data by location and analyzed which regions generated the highest percentage of positive and negative emojis.
The results
United States 🇺🇸
The most positive states are Utah, Maine, and Wyoming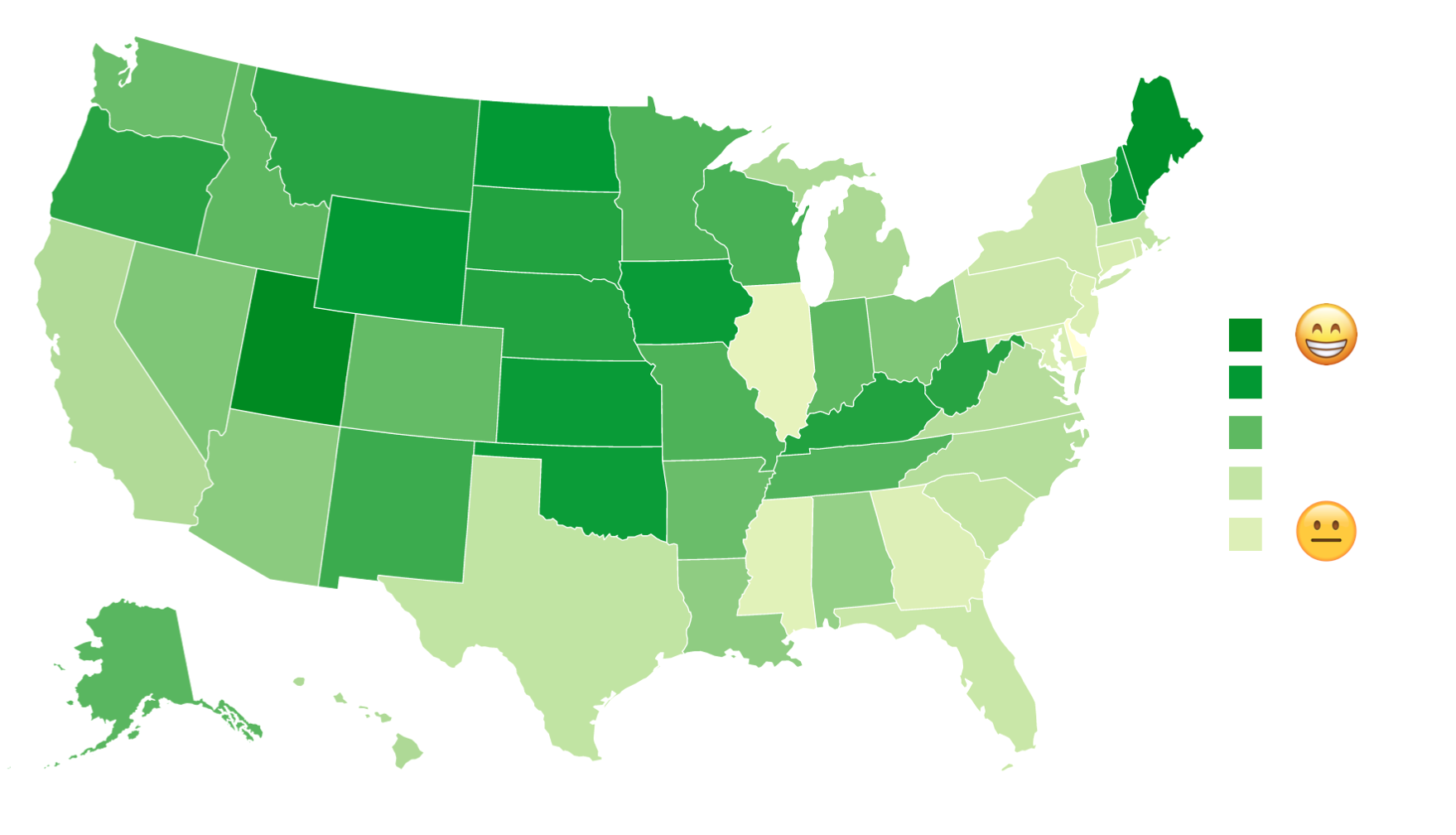 ---
You might like
6 Facts About Emojis Found Using New Analysis
Read the Article
---
South America 🌎
The most positive countries are Paraguay, Argentina, and Uruguay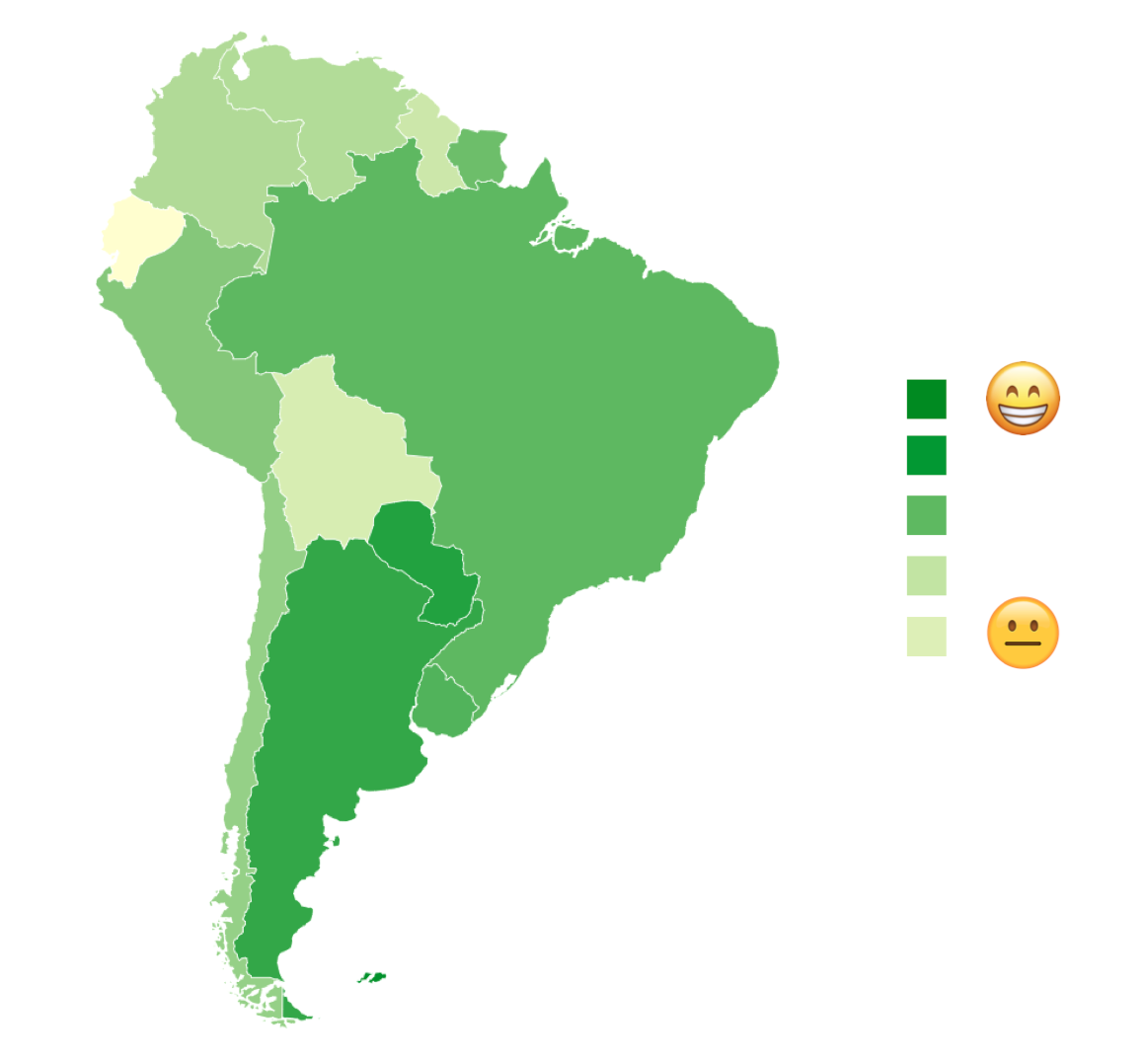 Europe 🇪🇺
The most positive countries/areas are Montenegro, Monaco, and Gibraltar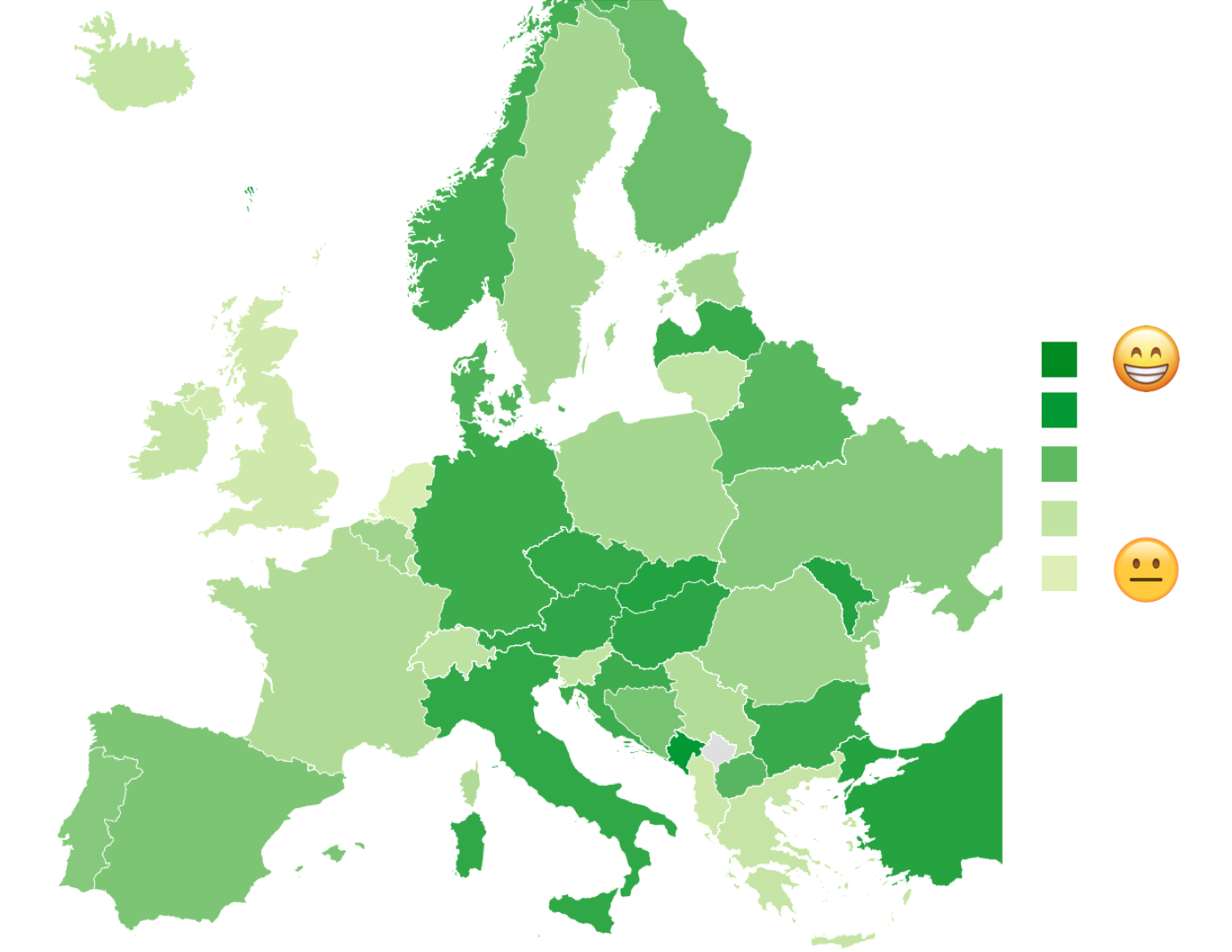 That's states and countries, but how about cities?
We looked at some of the world's most populous countries and discovered the most positive cities within them:
Spain 🇪🇸
Barcelona – 82.12% positive
United Kingdom 🇬🇧
Shrewsbury, England – 82.55% positive
France 🇫🇷
Le Mans – 83.59% positive
United States 🇺🇸
Laguna – 84.64% positive
Germany 🇩🇪
München – 84.71% positive
Russia 🇷🇺
Moscow – 84.81% positive
Indonesia 🇮🇩
Medan – 84.97% positive
Brazil 🇧🇷
Laguna – 85.37% positive
Turkey 🇹🇷
Ankara – 85.82% positive
Italy 🇮🇹
Turin – 86.45% positive
India 🇮🇳
Chennai- 93.08% positive (the most positive place!)
That's a lot of positivity.
---
You might like
The Most Negative Places On Earth (According To Emojis)
Read the Article
---
Here are some more emojilicious findings:
Most cities are very positive. Even the most negative city (Paterson, New Jersey) still generated 61% positive emoji tweets 😊
However, the 🇺🇸  is very negative. The top 20 most negative cities are all in the states 😠
In contrast 🇮🇳 is very positive. The top 15 most positive cities are all in India ❤️
It's no surprise that there's so much positivity in the air. Joyful emojis are actually our favorite emojis 😂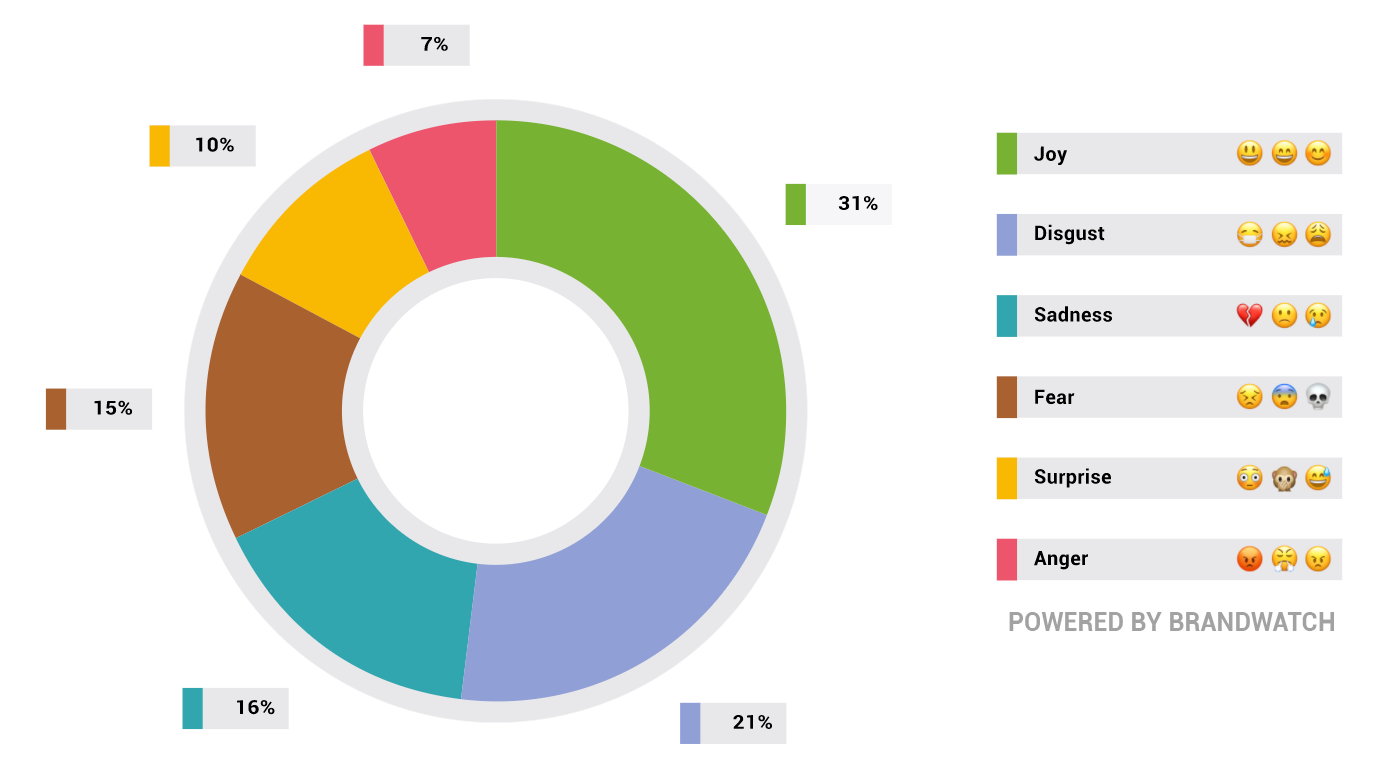 So now you know the happiest places on earth according to emojis, but emojis can reveal so much more. If you're interested in discovering:
How men and women use emojis
What the most popular emojis are
If we used negative emojis more in the evening
And which brands are hated most (according to emojis)
Download our free emoji report.
---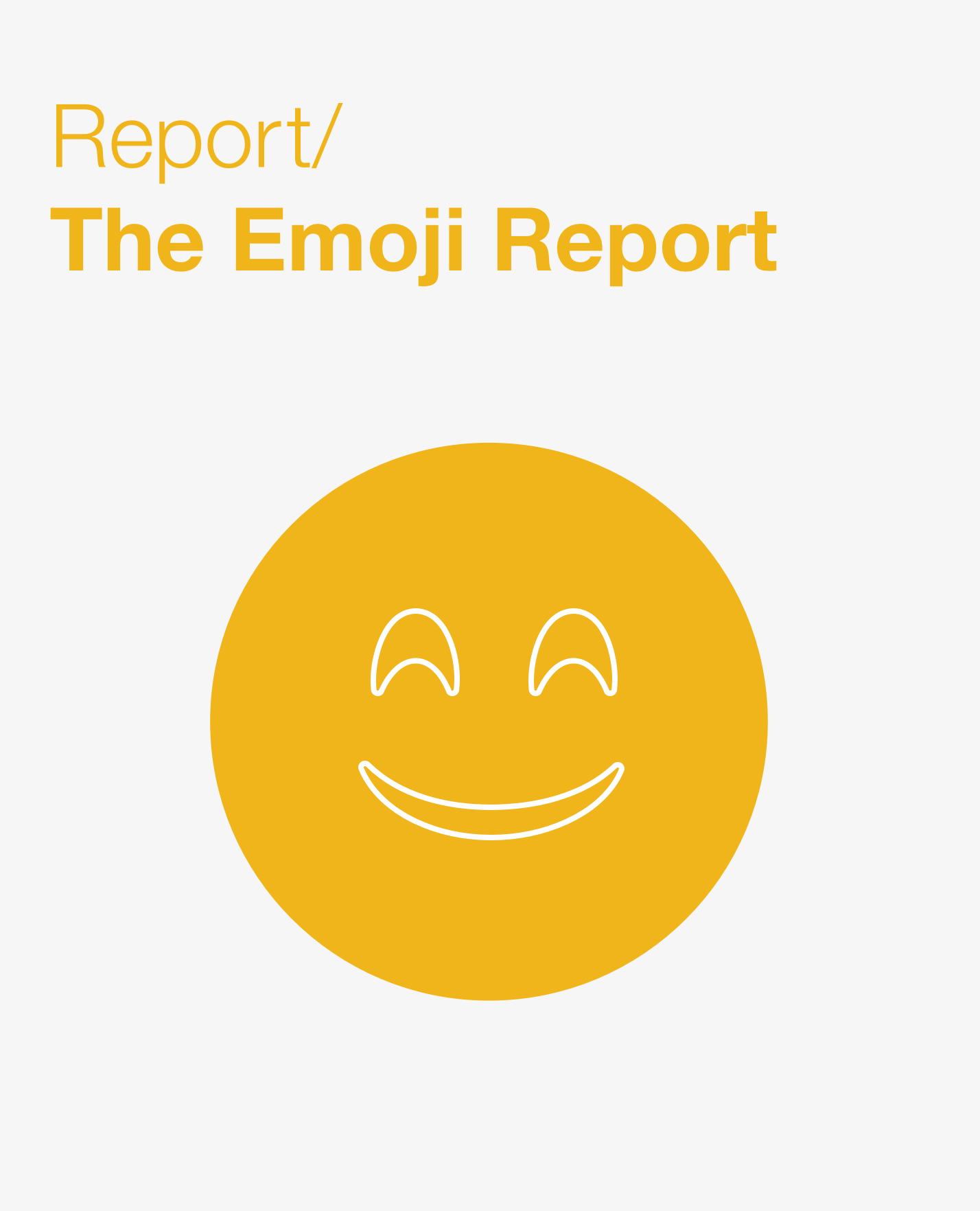 The Emoji Report
Over 10 billion emojis are sent each day. Find out what you can learn from them 📖
Get the report