What Can Social Data Tell Us About Matcha Tea Drinkers? Topic Analysis
You may not have noticed the growing numbers of matcha tea drinkers or steady expansion of matcha products into the English-speaking consciousness, but allow us to assure you that it has happened.

Matcha, for the uneducated tea drinker, is a specially nurtured, finely ground green tea used in traditional Japanese tea ceremonies.
While some have questioned the credentials of the now fashionable tea, it is said to have numerous health benefits and offer a preferable alternative to coffee.
The Brandwatch React team loves to take a social data microscope to trending topics, and since matcha tea is continuing to grow in popularity, we thought we'd take a look at what the online conversation looks like.
[Editor's Note: I'm actually ahead of the curve here – I have a pot on my desk.]
Matcha on social
Beginning with a Query looking at consumer conversation surrounding matcha in the USA and UK coming from Facebook, Instagram and Twitter, we were able to track thousands of mentions.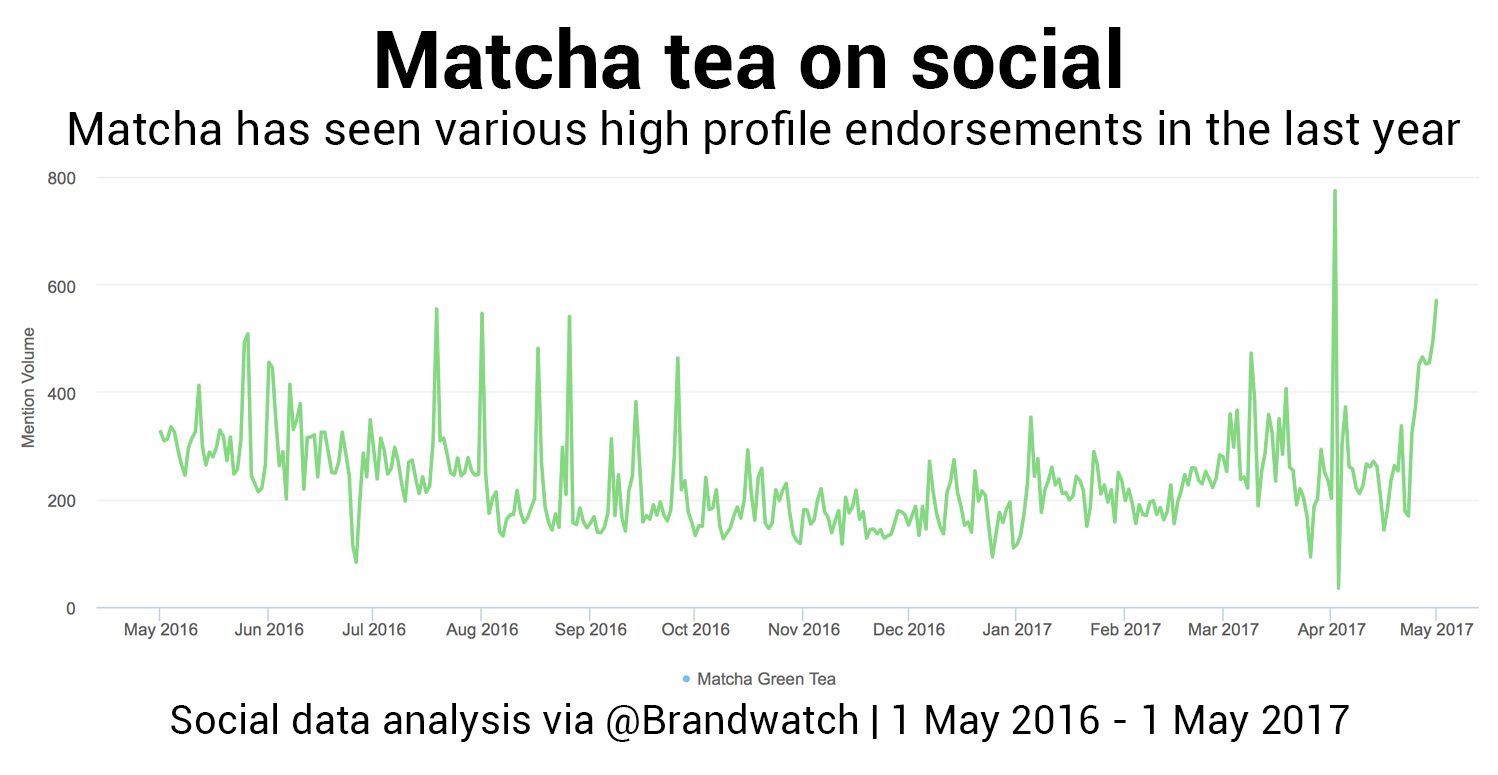 The tea has seen high praise from a variety of sources, including the Canadian Olympian Patrick Chan, causing the spike on 1 August 2016, and it formed a key ingredient in an episode of the Great British Bake Off later that month.
---
You might like
Social Data Reveals the Trends Influential Food Bloggers Are Tweeting About Most 2016
---
There's a lot of positive buzz around matcha tea, but not everyone is a fan.
Gemma Styles, sister of Harry Styles, tweeted about a bad reaction to a matcha iced tea, causing a spike towards the end of August 2016. The popularity of her tweet caused "matcha iced" to appear as a negative word in the overall topic cloud surrounding matcha.
The topic cloud gives a good indicator of the reasons people are falling in love with matcha. It is hailed as a healthy morning drink to replace coffee and can be consumed in an incredible number of ways, from lattes to ice cream and donuts.
Matcha products
Matcha's popularity as a beverage is obviously the dominant part of the conversation.
Starbucks, which has a range of matcha drinks, makes up a large chunk of mentions – although not necessarily for the best reasons. The sugar content of their matcha drinks has not gone down well with many health-conscious drinkers.
There's also no shortage of people talking about other products made using the ingredient. While using matcha in baked goods and ice cream isn't the healthiest way to consume it, these offer great introductions to matcha's flavor which can take some getting used to.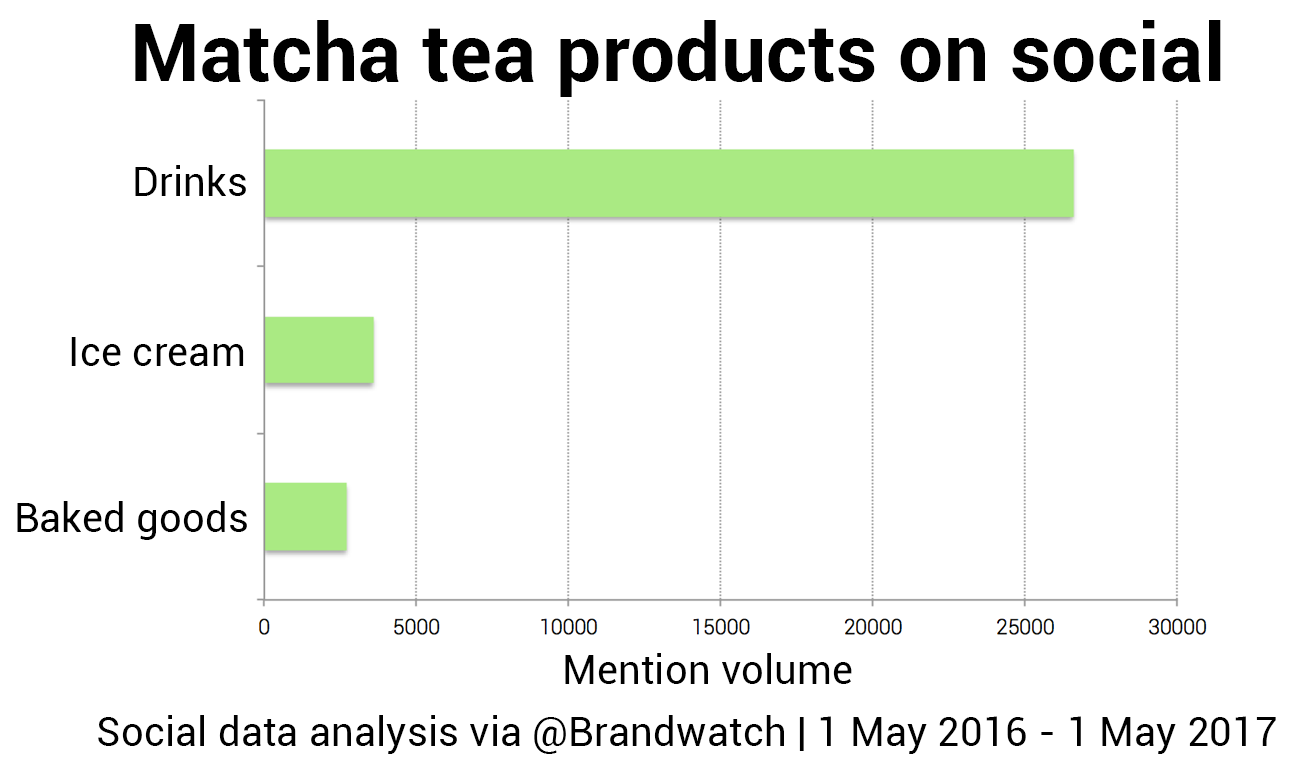 ---
You might like
Consumer Insights for the Food and Beverage Industry
---
Who loves matcha?
We also decided to take a look at the demographics of people talking about matcha tea, finding women were far more vocal about it than men.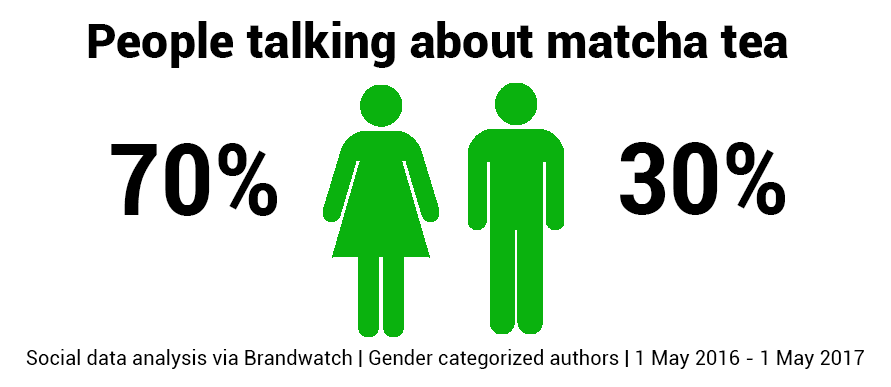 While a glance at US state-level mentions didn't offer any surprising results, we found that in the UK Brighton and Hove (the home of Brandwatch HQ) was the second largest matcha tea social hotspot outside of London.
Given its fairly small population compared to other large cities in Britain, this is quite a feat.
[Editor's Note: Well, I don't want to say I'm an influencer or anything, but you can draw your own conclusions from this data.]
The hunt for insights on matcha tea drinkers
Learning about matcha tea drinkers may seem a little random, but this research is a good example of the power of the Brandwatch platform to generate actionable answers to very specific questions quickly.
Many of the insights we used in this post could be found in just a few minutes, and this research was conducted by a new member of the Brandwatch team as part of her training in the platform.
It goes to show that you don't need to be a master-analyst to generate useful insights for your company, whether you're looking to refine your social strategy or learn about the online perception of your industry.
With thanks to Eve Plumridge, a brand new Social Media Monitoring Assistant at Brandwatch, who's passion for matcha tea and data made this post possible.
Are you a journalist looking to cover our data? Email us at react@brandwatch.com for more information.
---
Read our free report
Learn how food & beverage brands are using social intelligence for success.

Read more