Introducing Explore + Entities: No-Nonsense Intelligence Product

Most product launches contain nonsense.
"AI-Fuelled Social Insights Platform". "Aggregated Real-Time Customer Experience Clouds".
These phrases sound grandiose but it's difficult to determine what they mean, let alone what value they'd provide you.
At Brandwatch we prefer clarity. No buzzwords, just clear descriptions.
So, here are two product updates (minus buzzwords) which can make your work easier and faster.
Introducing Explore + Entities
Two features that give you the intelligence of a veteran analyst with just a click:
1. Explore
Apply expert-built filters and boolean strings to your data to discover insights in seconds: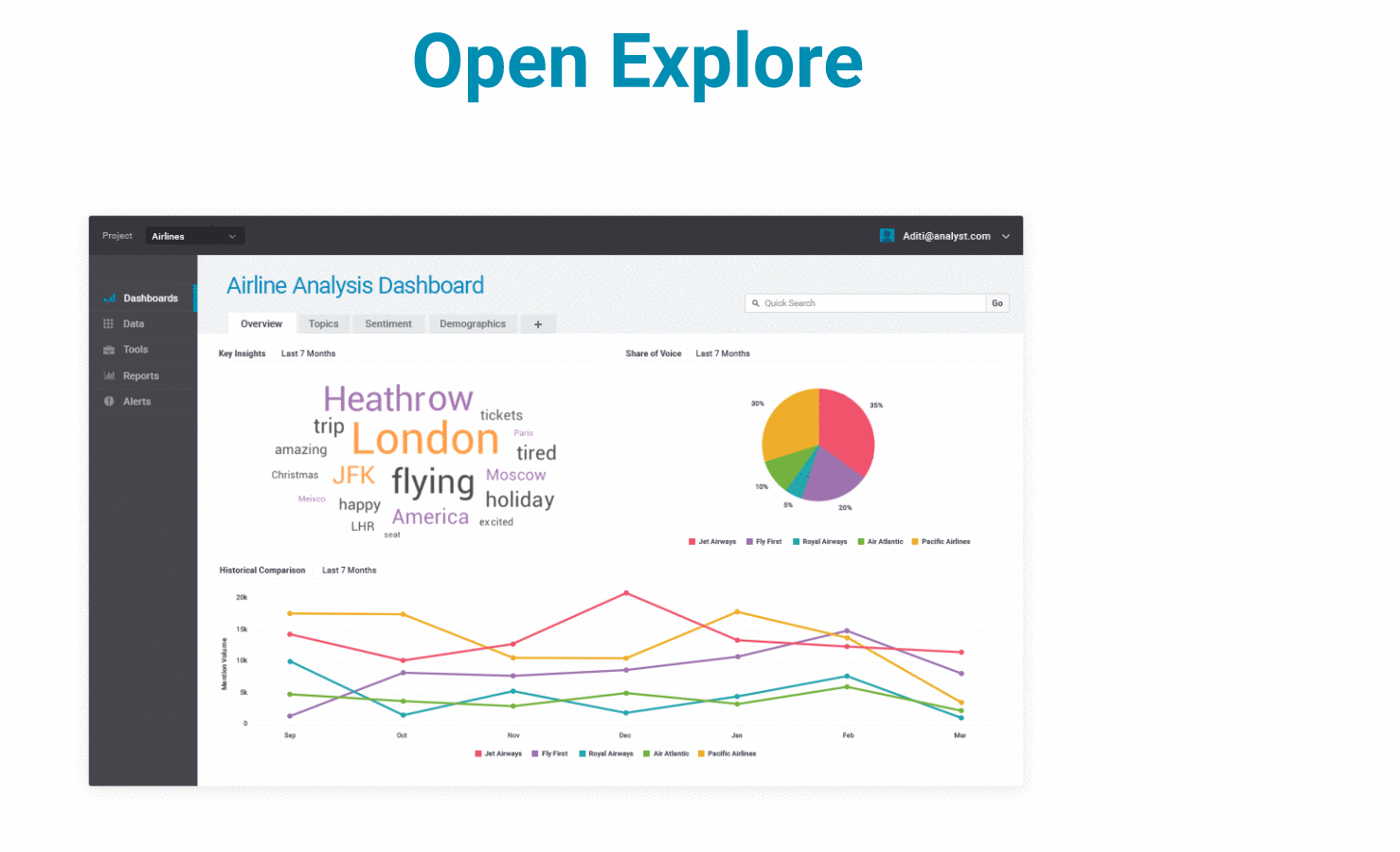 2. Entities
Automatic classification of mentions by people, organization, location, hashtag, and even emoji: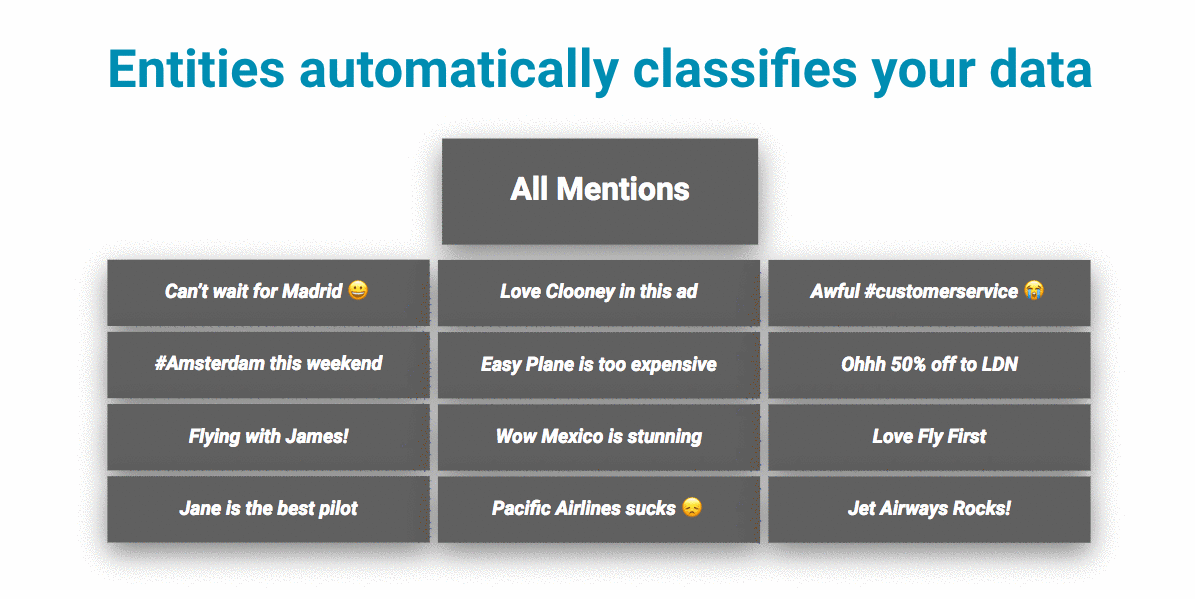 These two features make Brandwatch faster for data experts and easier to use for less experienced analysts.
Here are just some of the ways you might find value in them.
Four insights you can find with Explore + Entities
1. Share of voice in seconds 
It's Friday, 4:35pm. You've just remembered your brand manager asked for a share of voice report before the end of day.
Previously, determining the share of voice took hours. You had to create new searches for each competitor with complex boolean strings to filter out the noise.
Now it takes seconds. Simply sort your data by Entities > Organizations and immediately see the top organizations mentioned in your data set.
You download the report to PowerPoint and send it off before 5pm.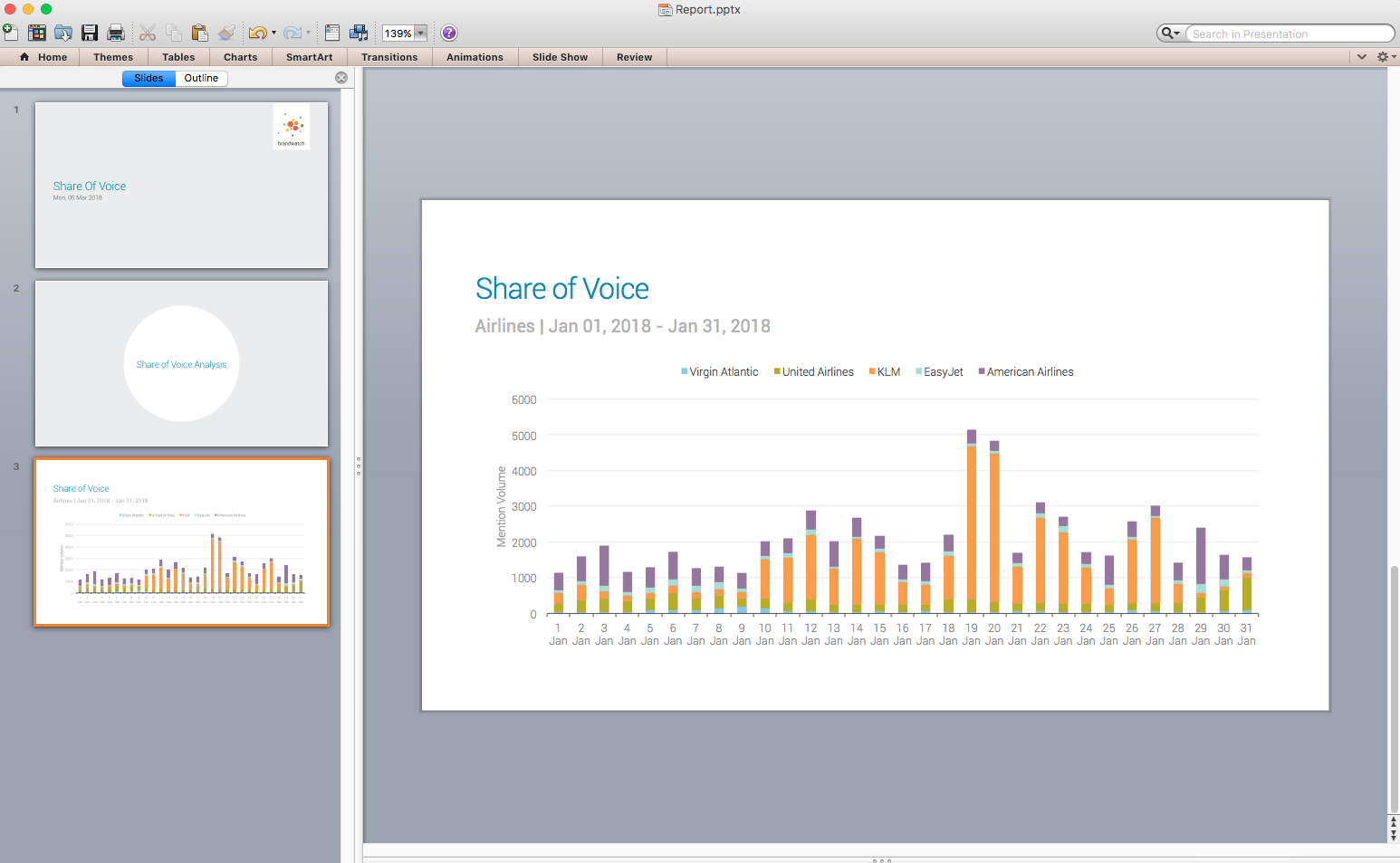 The new Brandwatch Explore + Entities features are real game changers for the social media monitoring industry. By giving users tools that takes away the need for hours of analysis, all that fantastic data becomes information and insights. This takes the tools well beyond 'monitoring' and they are a huge asset for strategic, brand and market insights.
2. Fast crisis monitoring 
You've just received a text from your boss. She's saying there are major delays and cancellations for your airline due to the snow.
You need to identify the scale of the problem on social. And you need to do it now.
Instead of fiddling with filters until you find what you're looking for, we've pre-built filters created by our expert users which you apply to your data.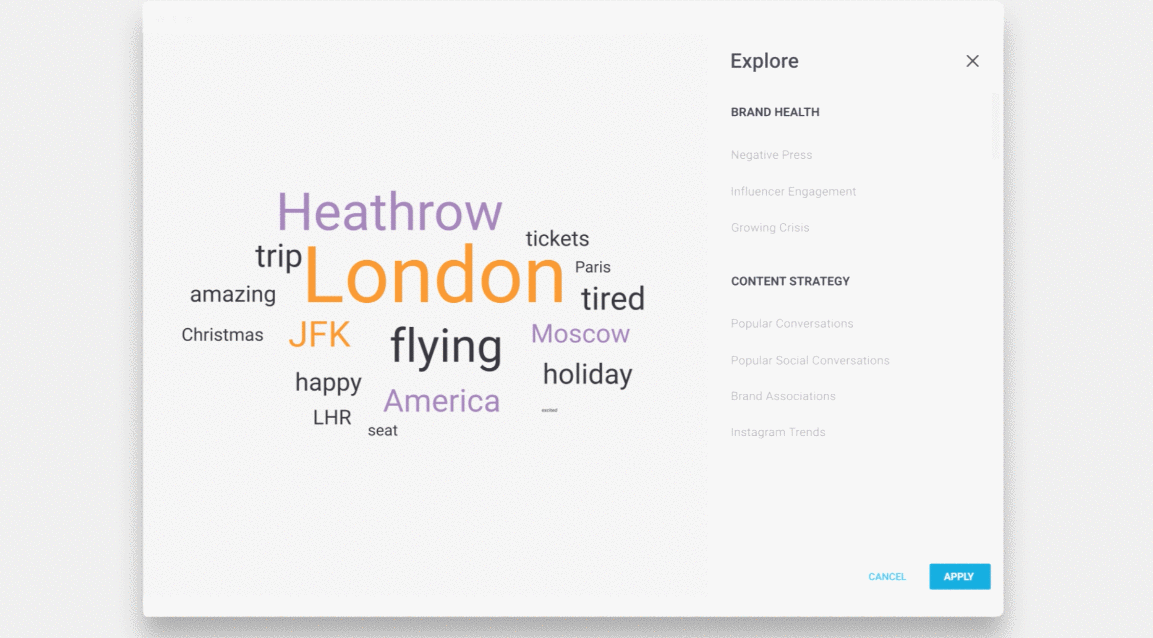 Simply hit Explore, select Growing Crisis and find your answer in seconds.
Hectic marketeers and existing Brandwatch customers are going to love this. In a world full of social data, but only precious hours in the day, the ability to get timely and meaningful 1-click insights is a godsend"

Matt Navarra, Director of Social Media, TNW
3. Quick consumer insight
Your agency just took on work for a major hotel brand.
They've asked you to classify the top holiday destinations their audience talks about in relation to their brand.
They will use this data to figure out where they should build their next resort.
Usually this would take days, going through and classifying conversations by the destinations each tweet, comment and post contains.
Now with Entities it takes seconds. Simply open your word cloud, select Entities > Location and immediately see which destination the audience mentions the most.
Here's how it looks for Hilton Hotels.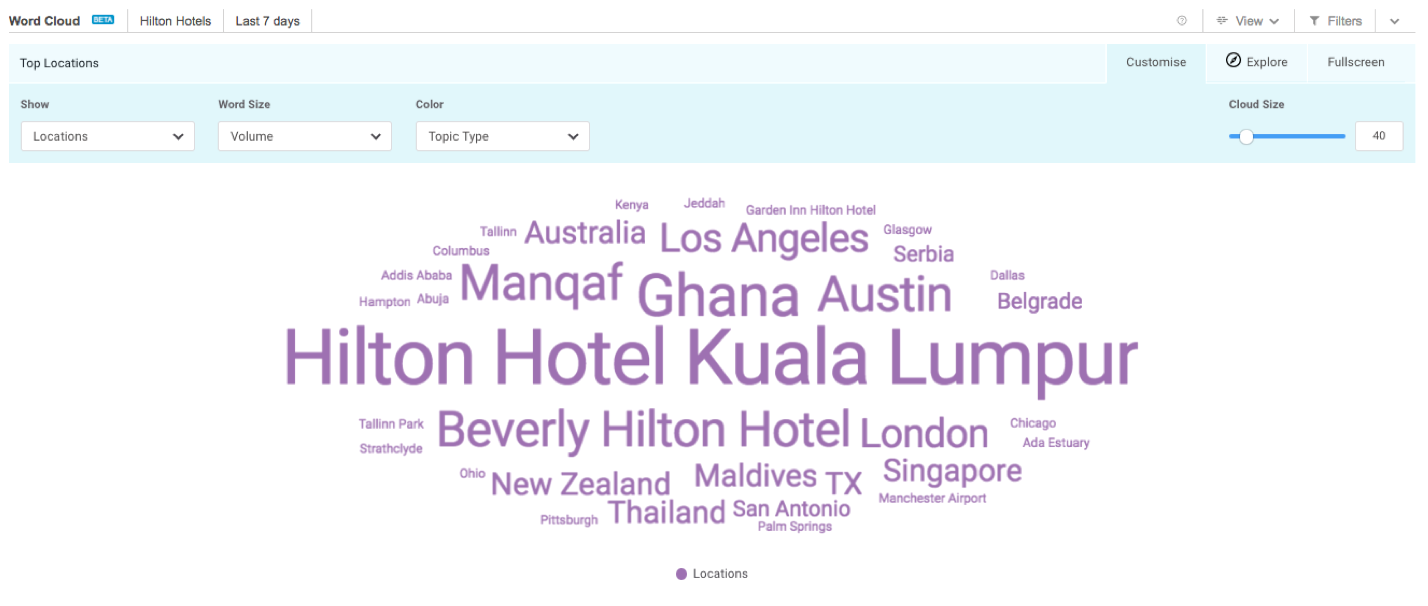 Brandwatch started out as a more powerful social listening tool because it gave you the tools to manually categorize your data into understandable buckets. This feature improvement gets the tool one step closer to one that does that automatically, moving beyond just counting keywords to contextualizing your data so you can use it to discover insights more efficiently. The platform just gets better and better.
4. Instant influencer identification
Marketing have asked you to find the top influencers for sports apparel.
Have they provided a list of influencers to measure? No.
Have they given some example influencers? Nope.
Did they specify which social networks they wanted? Absolutely not.
Great.
This – as you can imagine – would usually take hours. First finding a list of influencers to search for, then painstakingly adding their @handles, names and nicknames to the search to make sure you're not missing any conversation.
Entities lets you do the same in minutes. It automatically classifies and groups all the names in your dataset letting you determine which name is most popular or trending.
For Nike, it finds the top influencers in seconds, and shows who is trending: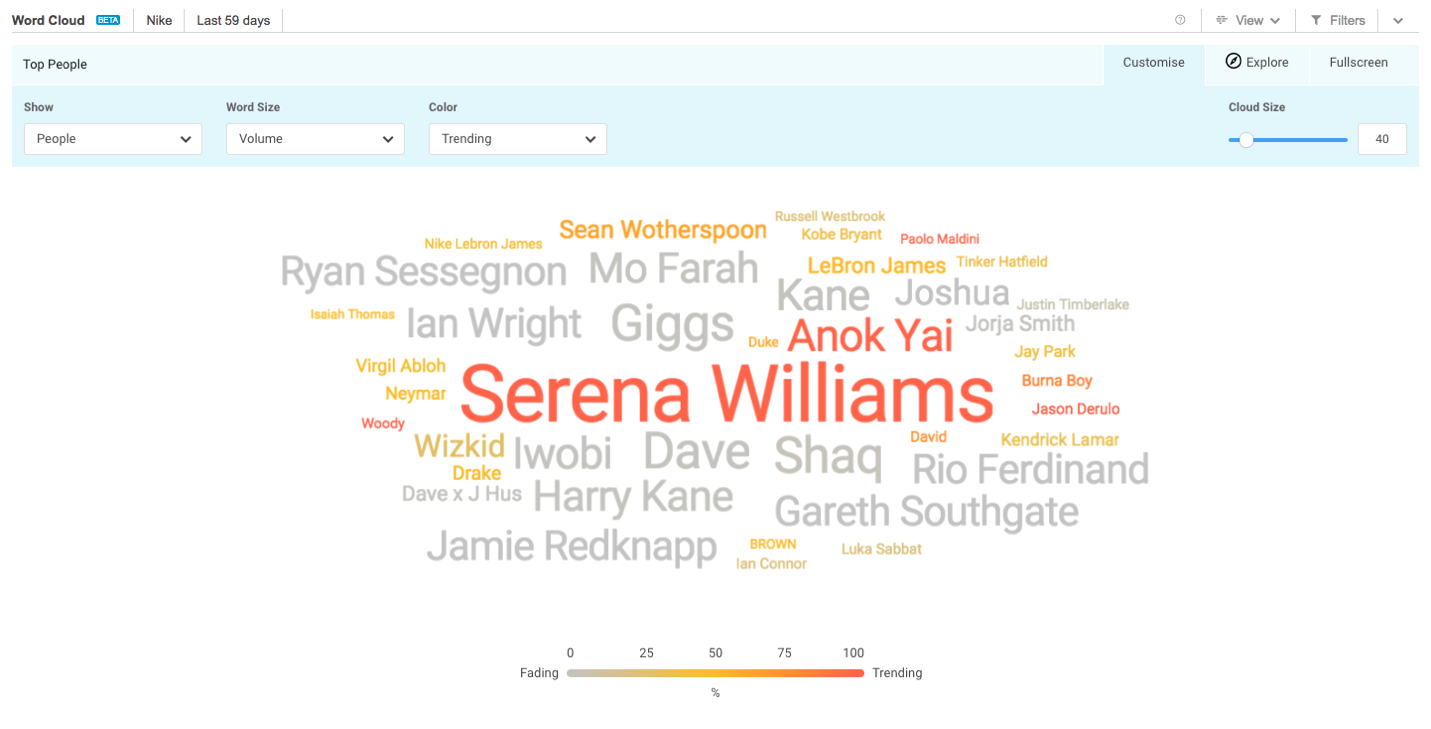 Brandwatch have done it again.

Non-analysts can now use Explore to answer questions like "What's happening? What topics are driving the conversation? Is there a social crisis brewing? What are the common brand associations?", while with Entities those same users can do their own topic analysis with context that was previously missing, context that isn't available on so many platforms, enough context for them to get the bigger picture they need.

I'm loving these features, and I can't wait to see what else Brandwatch has up its sleeves.
Ben Donkor, Director of Research and Insights, We Are Social
What's next?
We're building intelligence into every new product release this year.
That means each release will focus on making your work in Brandwatch faster and easier.
To see the next phase of releases, join us at NYK Chicago this May.
And, come along to our Explore + Entities webinar where Richard Shotton (author of The Choice Factory) explains how Brandwatch can be used to stop simple marketing mistakes.
---
Brandwatch Analytics
A world of consumer insights is waiting for you.
Find out more