Amazon Prime Day: 10 Things People Want to Buy Trending
Amazon Prime Day is upon us and thousands of people are discussing the deals online.
The Brandwatch React team jumped straight into the data to find out what people were talking about and what they intended to buy in the day of sales.
Amazon Prime Day: Like Black Friday, but without the fighting
Hype has been growing steadily over the last few days, but Amazon caused a significant spike in conversation on Monday when it announced that some deals would in fact be available early.
Overall, the conversation has been driven by more women than men.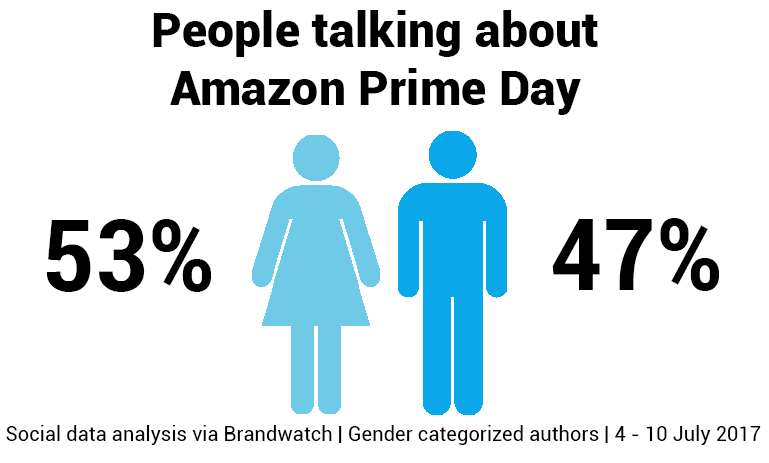 Amongst key topics of conversation have been coupons, promotions and giveaways, but these often spammy offers don't give much indication on what people might actually want to buy. We searched for "intent to purchase" strings to try to work out what people really want from Amazon Prime Day. 
1. Demi Lovato's music
Demi Lovato's #PrimeDay tweet gathered a huge amount of attention. If the 20,000 people who retweeted it remember to check the site, she could do great today.
My Lovatics!! Are You Ready?? @amazonmusic #PrimeDay https://t.co/TlrxRaCZU0 pic.twitter.com/txBrbutR2c

— Demi Lovato (@ddlovato) July 6, 2017
2. Something, everything, things and shit
There are a lot of people who want to give Amazon their money. They just don't always know what for.
One of the most common themes in the data was non-specific items – wanting to buy something, everything, or lots of things or lots of shit.
I want to buy something on #AmazonPrimeDay2017 but God knows it is not on my budget and I don't need anything, but I want something pic.twitter.com/muC5GXjgVW

— Lorena Flores (@loreeflores) July 11, 2017
Casually waiting for Prime Day because I have some expensive shit I want to buy @amazon

— Kenny (@Kennyitis) July 8, 2017
3. Tech
This might not be Cyber Monday (in fact, it is Tuesday), but tech is on the menu for many Amazon Prime shoppers today.
Whether it's Apple products or video games, people are keen to get their hands on the latest tech at the cheapest of prices.
I honestly don't even know what I want to buy for #PrimeDay. If they have Ipad Pros for sale, I might jump on that.

— Kailey (@KaileyTweets9) July 10, 2017
4. Amazon tech
Amazon are, predictably, pushing a lot of their own tech today with significant issues on the Amazon Echo.
These #PrimeDay deals have started and I really want to get that Kindle Fire 7 but I want to see if something else comes along later on Ugh

— Kennetta R. Prince (@AgirlNgaea) July 11, 2017
---
You might like
What Do People Really Think of Delivery Drones?
Read the Article
---
5.  Work out gear
We spotted supplements and health books in the spotlight deals – Amazon are definitely on this.
It's Amazon prime day but so far the only thing I want to buy is pre-workout… What is wrong with me

— Marina Ho (@Marinaho) July 11, 2017
6. Baby accessories
While a lot of the hype around Amazon Prime is focused on more trivial items, there's definitely a hunger for home essentials.
Want to buy a video baby monitor during Prime Day but also seen too many found footage films which have left me TERRIFIED of what I may see.

— Poppy Dinsey (@PoppyD) July 11, 2017
---
You might like
Amazon Anarchy: The Questions You Probably Shouldn't Ask Alexa
Read the Article
---
7. Outdoors items
Amazon are definitely catering to the outdoorsy among us, plugging garden storage and lawnmowers. Shoppers are also looking for accessories for their summer vacation.
Legit want to buy a tent ⛺️ from prime day on amazon and I'm not finding anything

— mariah🦋 (@miahashlee) July 11, 2017
8. Novelty gifts
For people who like to buy their holiday presents months in advance, today is like Christmas morning.
I legit want to get this #PacMan clock for my husband. #PrimeDay2017 –> https://t.co/ggPGKFCy84

— @CzarFancypants (@NotTeefus) July 11, 2017
9. Furniture
New homeowners in the office have already been heard enthusing about the homeware deals, from a pressure washer to this octagonal inflatable hot tub.
If you're looking to deck out your new house, move fast.
I have my fingers crossed that the L desk I want to buy will be available for a #PrimeDay deal on @amazon pic.twitter.com/sPFMMAUqNi

— 🌟ChibiTomboy🌟 (@ChibiTomBoy) July 10, 2017
10. Stranger items
While the above items were fairly predictable, these didn't exactly fit into a category…
Can I buy a person on Amazon Prime Day? I would like to buy a person.

— Ty (@Tyjames989) July 10, 2017
#PrimeDay I WANT TO GET COLDPLAY LIVE 2003 SOOO BADLY TONIGHT!

— Ian Calvillo (@BuggianBeing) July 10, 2017
Not everyone's ready to pay
Not all of the hype was about buying things, though.
We were interested to see Stop Funding Hate, a group that criticizes companies for advertising in certain publications, making a splash in the conversation.
A number of people were talking about Amazon advertising on Breitbart, and that they refused to get involved with Prime Day while it was happening.
The prominence of these topics is a good indicator of a growing group of people who are concerned with corporate social responsibility, although they weren't dominating the conversation.
We also found a lot of people saying they were struggling to find the things they wanted in Amazon's sales – something that's fairly inevitable, but also something that people like to complain about.
Why track intent to purchase strings?
Looking at what people are thinking about buying (and when they're thinking of buying them) offers companies an easy opportunity to jump in with some targeted ads with an irresistible deal, or to inform their wider strategy when it comes to sales.
It's just one of many use cases a tool like Brandwatch Analytics can offer.
Are you a journalist looking to cover our data? Email us at react@brandwatch.com for more information.
---
Brandwatch Analytics
Fast, agile market research at your fingertips.
Find out more