Falcon Heavy Launch Data: Analyzing 450k Social Media Reactions in 4 Charts Trending
Tuesday 6 February saw SpaceX make history. Your loyal data goblins in the Brandwatch React team have, of course, gathered the Falcon Heavy launch data.
Before we launch into it 🤓 if you've not watched the video of the take off (and the reveal of the "Star Man" with the Earth in the background) you should take a look now. It's definitely a must watch of the week.
Now you're up to speed, we can begin.
Falcon Heavy launch data: The stats
We tracked 456k mentions of the Falcon Heavy launch across social media on 6 February.
The highest spike in mentions didn't occur during lift off, but during celebrations of success as "Star Man" was discussed by Elon Musk.
Below you'll see how those live posting about the event on social media took a break as the rocket took off  before celebratory mentions exploded.
The peak at 4pm also saw the impressive simultaneous landing of the booster engines, adding to the social marvel.

It was this tweet from Elon Musk that seem to really get people excited on the day:
View from SpaceX Launch Control. Apparently, there is a car in orbit around Earth. pic.twitter.com/QljN2VnL1O

— Elon Musk (@elonmusk) February 6, 2018
75% of gender-categorized Twitter authors were male, 25% were female.
Strangely enough, this is the exact same ratio of people who were presenting SpaceX's live stream of the launch.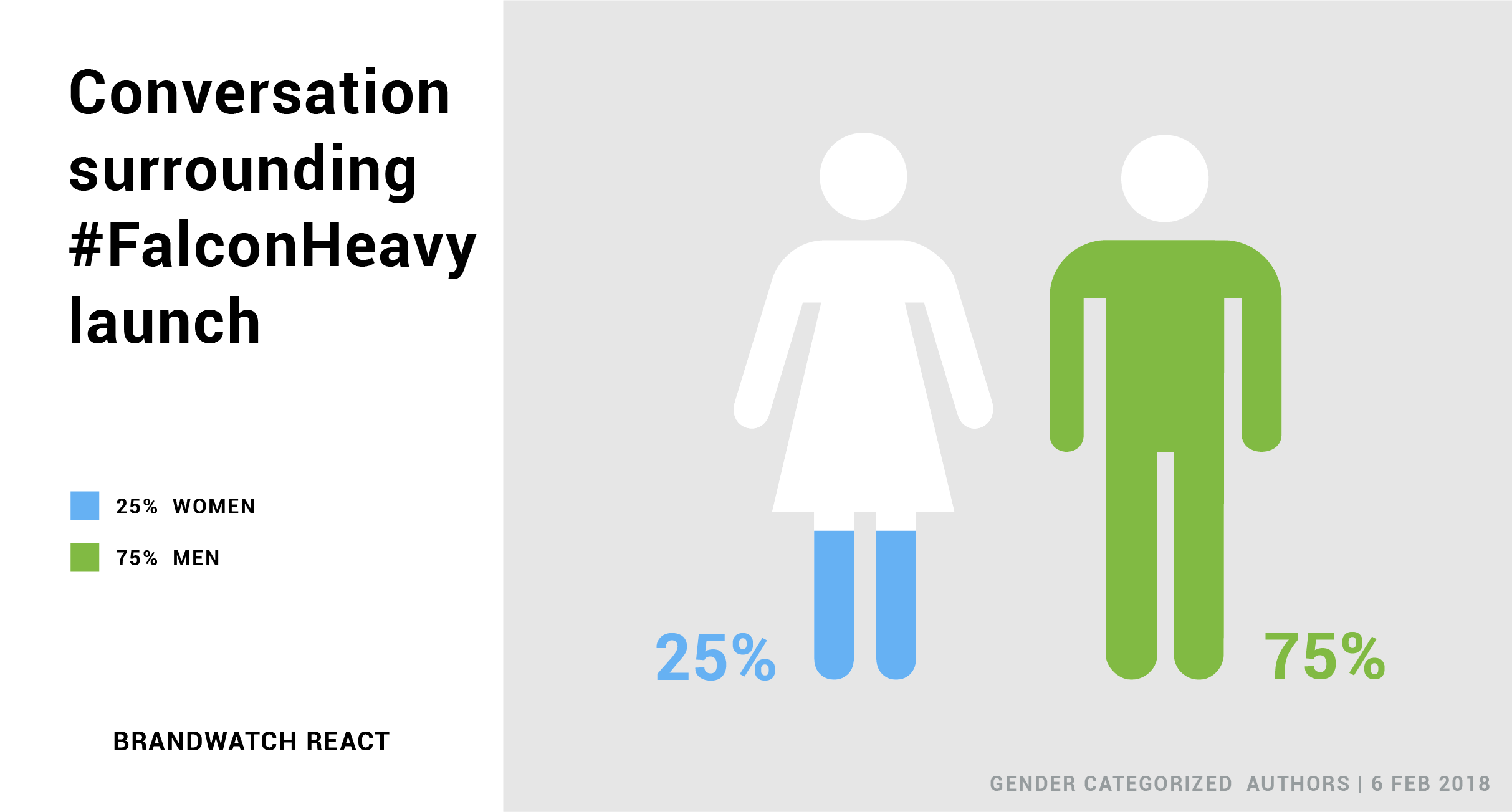 It isn't the most uplifting of graphs although to be fair we don't have any significant rocket launches to compare this to. The number of women tweeting about the launch might be higher now than it would have been on previous similar occasions.
Perhaps with the increase in initiatives designed to get women into STEM subjects it's a number that will continue to rise as more big launches inevitably come. Another variable might be representation – the more women seen presenting and commenting on events like this, the more female engagement we could see.
The top used emoji was, predictably, the rocket.
It was followed by danger signs and stars, although they weren't all relevant to the launch.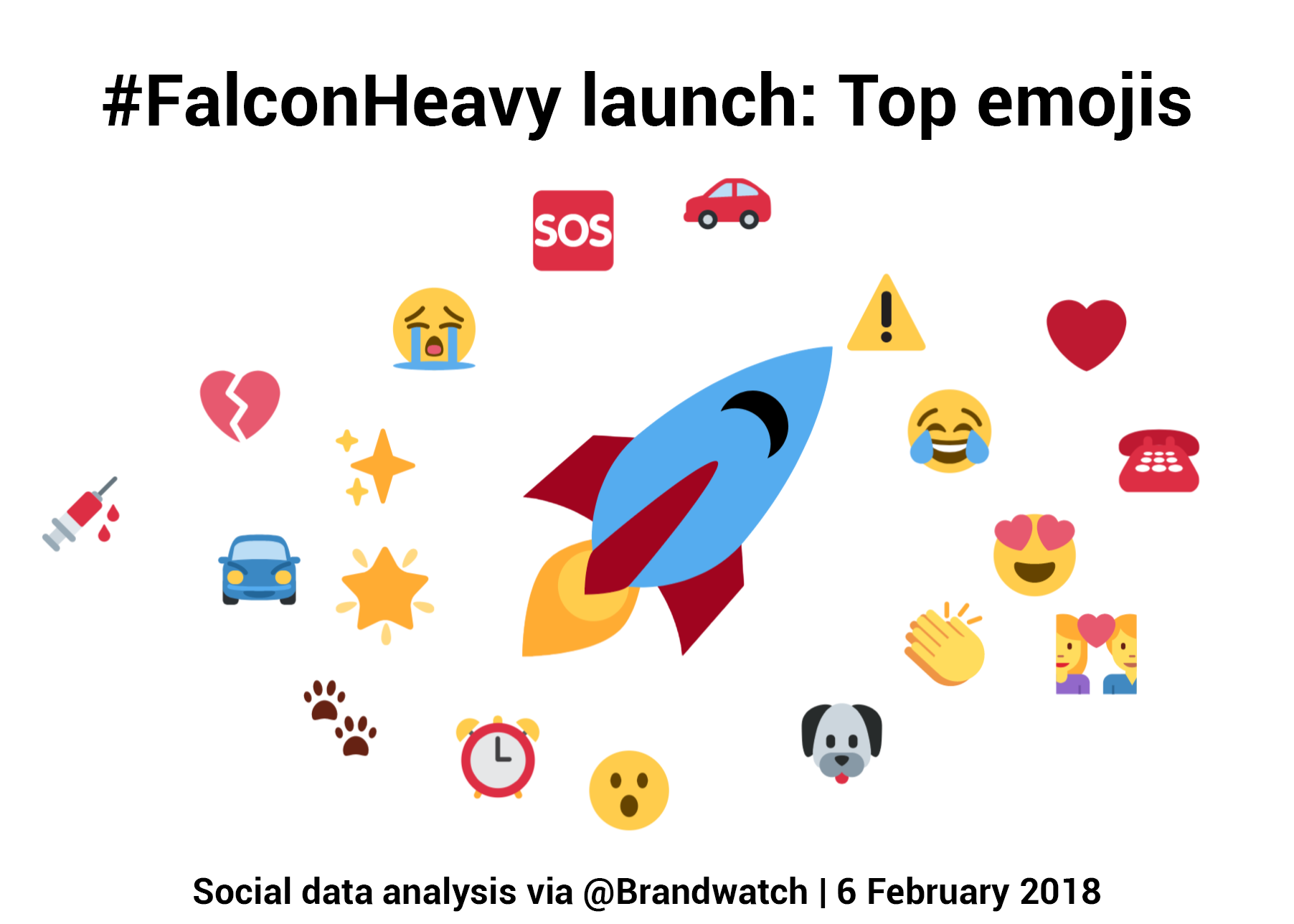 Somewhat strangely, tweets about rescuing dogs from being put down which included the hashtag made enough of a mark on the conversation to get the accompanying dog, clock, and syringe emojis into our emoji cloud.
The stars in the emoji cloud might not be what you expect either – the football team Galatasaray got involved in the conversation too, succeeding at getting attention within the busy #FalconHeavy conversation.
There are about 100 thousand million stars in space.

We added 4 more, so what?

Hey @elonmusk, would you mind stopping by and checking on them before reaching Mars?

Safe travels #FalconHeavy! #SpaceX 🚀🌟🌟🌟🌟 pic.twitter.com/PxF8TNLaOm

— Galatasaray EN (@Galatasaray) February 6, 2018
The world was watching
The conversation was a truly global one, even though we only searched in the English language for mentions of the launch and associated terms.
The US made up 62% of the global conversation followed by the UK with 7%, Canada with 3% and India with 2%.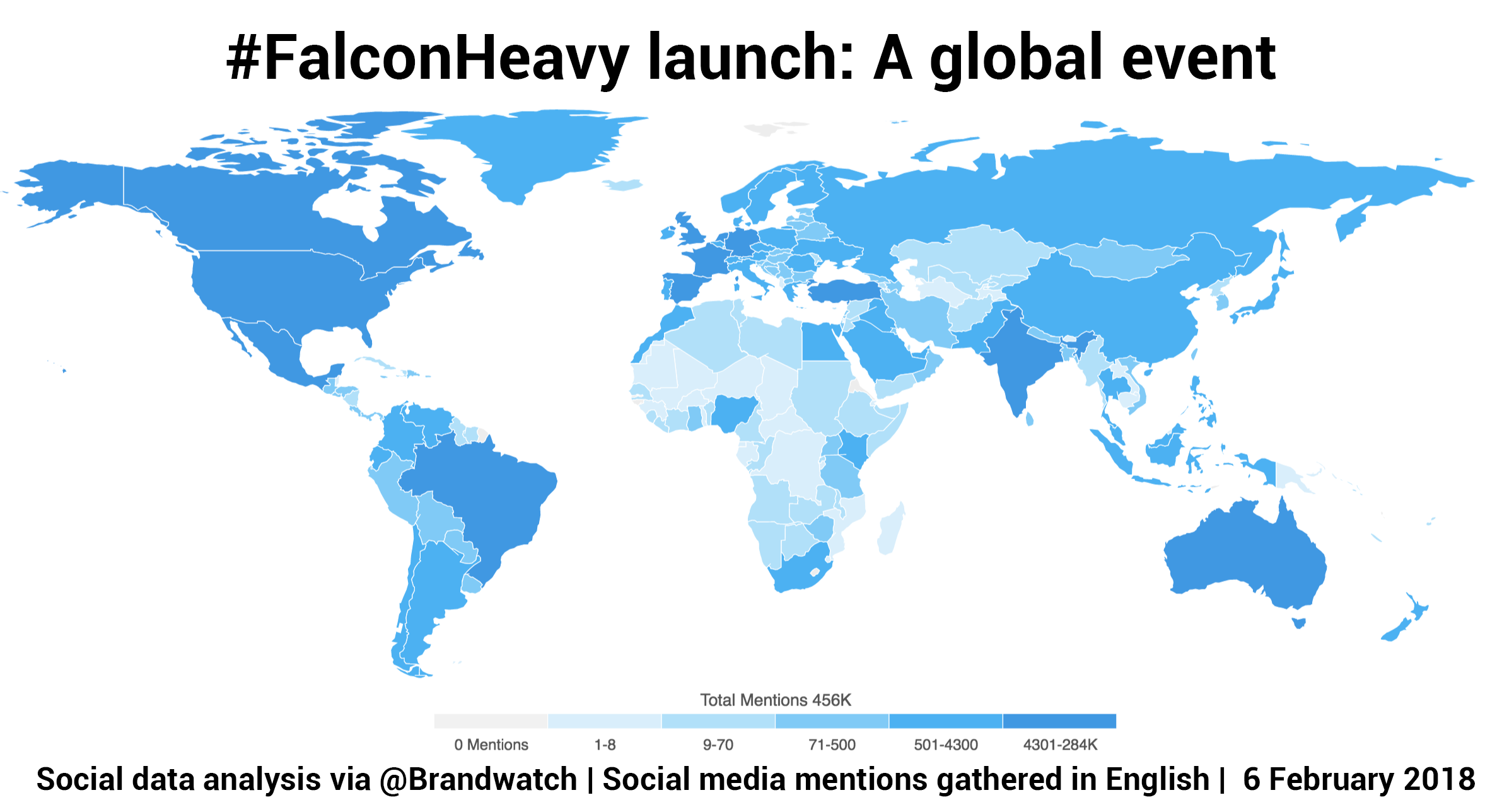 If launching something into space wasn't stressful enough, imagine having to appear on that live stream.
What worldly things could this space-bound miracle of human endeavour be compared to?
Watching the outstanding feat of engineering that is the Falcon Heavy launching into space, I couldn't help but think it looked like something. I couldn't quite put my finger on what, so I consulted the mentions in which people said what they thought it resembled.
THE TESLA ROCKET LOOKS LIKE A TAMPON!!!! SPACEX DID YOU NOTICE? ELON MUSK DID YOU THINK THIS THROUGH

— Rune (@Controlva540) February 7, 2018
Elon Musk Upstages White House Immigration Tough Talk w/ #SpaceX Launch Of World's Most Powerful Rocket. And maybe it's me, but #rocket looks like it's flipping the bird, too…? https://t.co/AreN2TjPPx via @deadline

— Mossappeal (@mossappeal) February 6, 2018
Do you think the top half of Falcon Heavy looks like a massive penis? pic.twitter.com/5gkhhpkQet

— Gee-Ra (GRS500) (@BaronSouthey) February 6, 2018
Hmm, no still can't think what it might be.
---
Brandwatch Analytics
Measure your big launch minute-by-minute. Prove the value of your work.
Find out more