How Fortnite is Bossing Reaching Mainstream Audiences With High Profile Collaborations Entertainment
Do you remember the happiness you felt as a child on a sandy beach, the tide three miles from the shore? Your ice cream has sand on it, your shoes have sand in them, your clothes are covered in sand, the sum of all your earthly possessions are drowning in waves of sand. But you sit there, stupid grin on your face, sandy ice cream in one hand, plastic spade in the other and you feel happy.
Do you remember the first time you fell in love? The butterflies in your stomach, the lump in your throat. Every waking thought consumed by the object of your infatuation. You see them every time you sleep. You know you want to spend the rest of your life with this person and they feel the same. Do your remember that? Do you remember how happy you felt?
Yeah, they have nothing on the feeling of winning your first game of Fortnite.
Heart racing, palms clammy, forehead sweating, deathly silence in the room, eyes bloodshot with concentration. A well placed snipe and then it happens.
Controller flying. Howls of joy. Tears of joy. Absolution for the 300+ games you've lost. Worth it.
Like a lot of people at the moment, my life is currently split between going to work and playing Fortnite so I decided to marry these two activities and look at how people talk about Fortnite on social media.
The unstoppable rise of Fortnite
Mentions of Fortnite were collected on Twitter between October 1st and March 31st. A 10% sample was taken.
One of the most notable things about Fortnite is it's rapid rise to become part of internet culture. Between the memes and the streams, Fortnite has cemented its place in internet lore.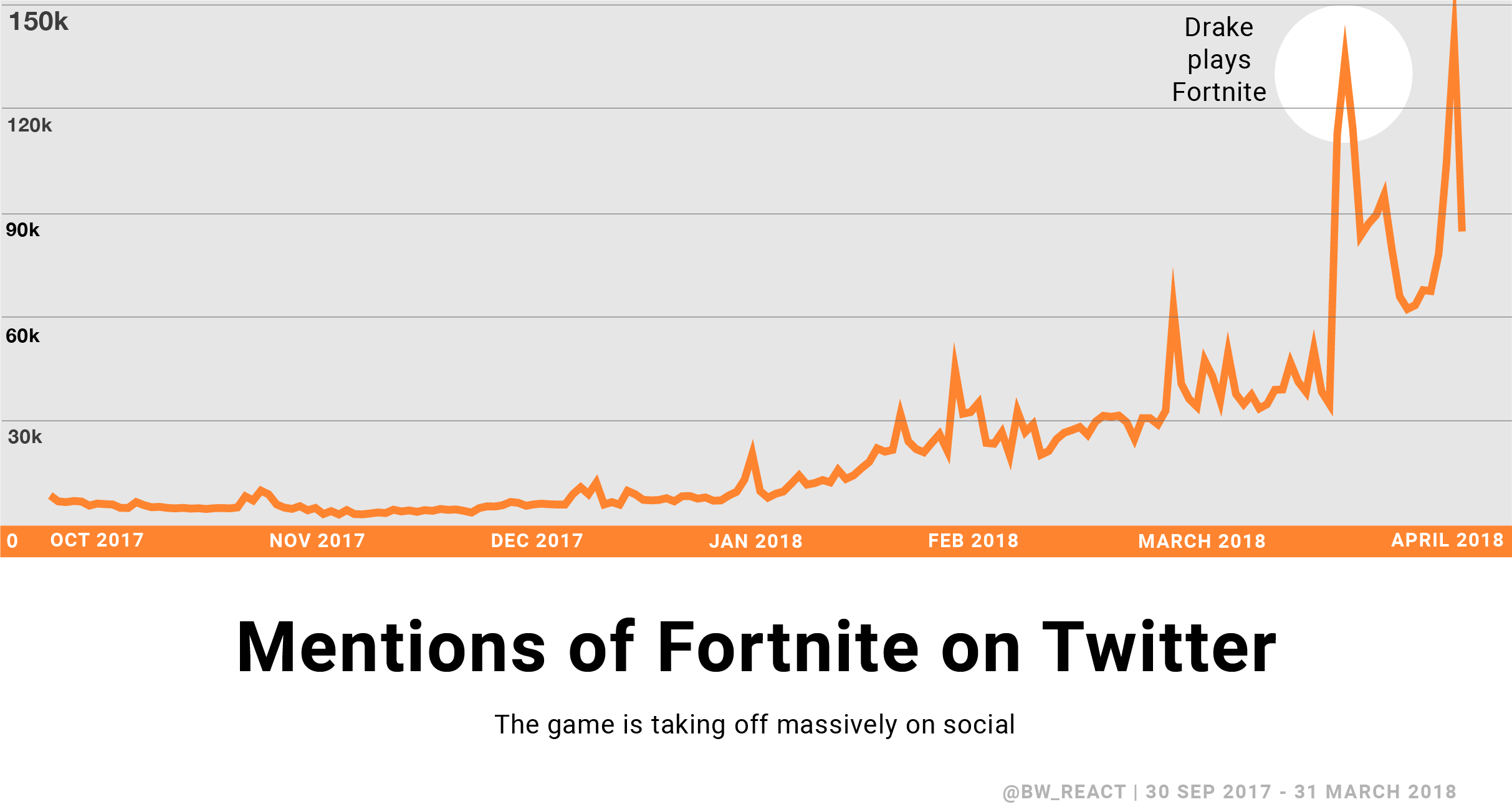 Figures in this chart were multiplied by 10 to account for the 10% sample, so they represent 100% of the mentions.
Drake expectations
March especially was a major month for Fortnite, although for very different reasons. On March 15th, rapper Drake joined legendary Twitch streamer, Ninja, for a few games creating massive publicity for the game. While mentions of Drake only accounted for 31% of all posts, the total number of Fortnite posts increased by 143% in the week after he played compared to the previous week as the game became mainstream with his endorsement.
The other major peak in volume was due to severe server outages that, it's fair to say, more than riled up some of Fortnite's loyal fanbase.
"Where we droppin'?"
This simple phrase represents unity in division, co-operation in chaos, hope in these uncertain times.
Despite this, you all know already the answer, don't you? The question doesn't need to be asked. You're going to Tilted Towers. One of you will get beaten to the green pump and downed straight away, while another gets shot in the head by a John Wick with a regular revolver as another gets swarmed by a squad of pickaxe-wielding maniacs and suddenly you're alone. I hope the pickaxe's remorseless swing can bring some comfort to you.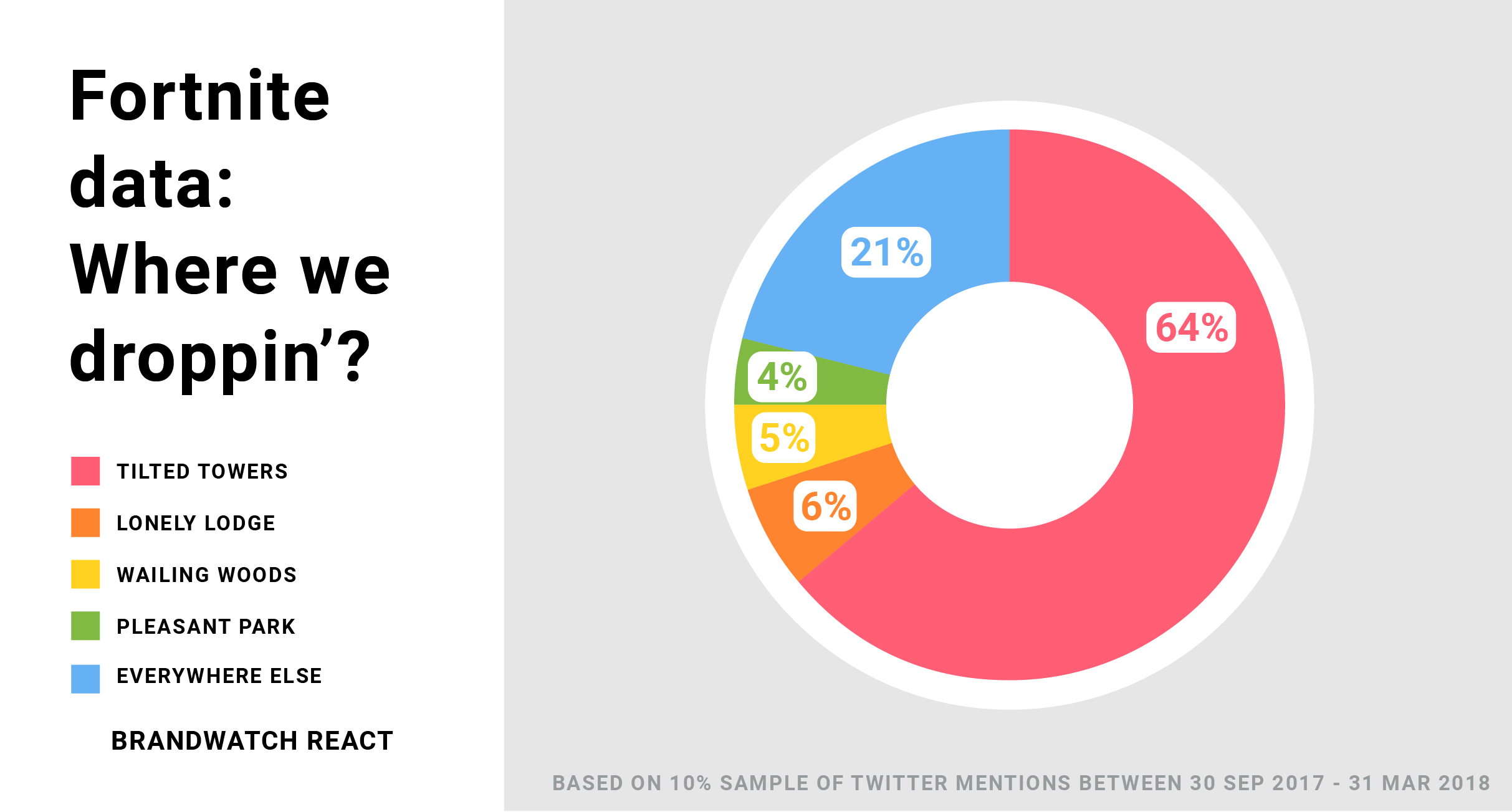 Using Brandwatch custom rules, we looked at people talking specifically about where they land on the map and unsurprisingly Tilted Towers was the clear winner, with 64% of people saying they land there. Surprisingly Lonely Lodge was second, however I reckon if you're the kind of person to consistently land at Lonely Lodge, you're also the kind of person to talk about landing at Lonely Lodge.
Mighty mashup: Fortnite + Avengers: Infinity War
Recently, Fortnite switched things up by adding a new game mode into the mix.
When the biggest game in the world merges with the biggest movie in the world you know there's going to be a huge reaction, and when the creators of Avengers: Infinity War got together with Fortnite to create "Infinity Gauntlet Limited Time Mashup" we found 1.2 million mentions across social in the first two days of release.
The mash-up means players are able to play as the impressively chinned Thanos from the Infinity War movie. You know, that record breaking flick that's leaking into all facets of popular culture right now.
Since the film has such a massive audience we expected to see it broadening the game's reach to new audiences. While it's generated a huge amount of hype, it's done nothing to improve Fortnite's concentrated male audience on Twitter.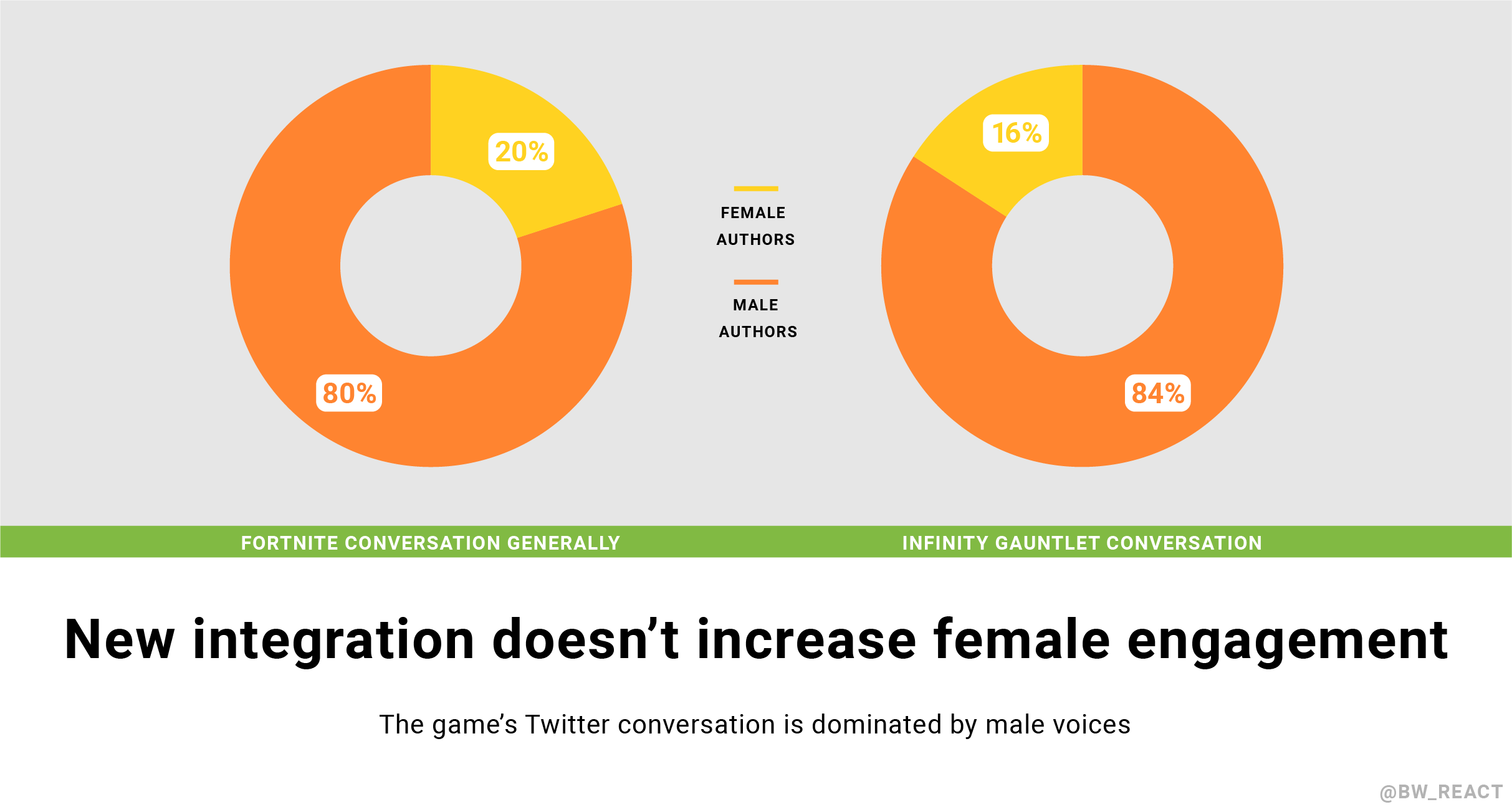 That aside, Fortnite's ability to generate interest and collaboration from mainstream pop culture icons like Drake and The Avengers says a lot about where the gaming industry needs to be if it's to stand out and get its products in front of a mainstream audience outside of the siloed core gaming community. In many ways, Fortnite is totally bossing it.
And finally…
Of course these charts are all very pretty and interesting but you came here to find out how you too could get that feeling of pure ecstasy, total nirvana upon getting that Victory Royale. Well that's simple…
Just build, lol.
Are you a journalist looking to cover our data? Email react@brandwatch.com for more information
---