Emoji Data Reveals How Men and Women Illustrate Their Tweets Topic Analysis
Emoji is the fastest growing language in the world, but the way we use emojis is deeply personal.
The Brandwatch React team, with our new tool Audiences, decided to explore the ways in which we use emojis by breaking down usage by gender.
We chose a collection of our favorite emojis and searched for them in Twitter bios and tweets to check out the gender data surrounding them.
Methodology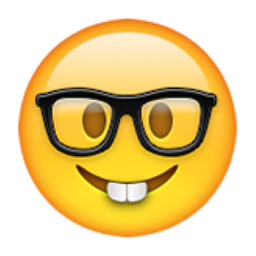 Brandwatch Audiences can scan active tweeters' bios as well as search a representative 10% sample of all tweets, giving us a good idea of which the most popular emojis are and who uses them.
To determine gender, we ran author names through a vast database and then categorized accounts as owned by men or women (where it is unsure or the account in question is organizational, it does not assign a gender).
Emojinal
We started by examining how we express our feelings online. It turns out men are less inclined to weep digital tears than women, and they really aren't fans of the crying cat emoji.
We used a couple of emojis here that could be interpreted as including tears but aren't always primarily used for that purpose (see the top right and bottom left).
Of those emojis, the "laughing crying face" was the most popular. In fact, it appears to be the most popular emoji out there.
Sci-fi/horror emoji data
Crying on Twitter is all well and good, but what about when we want to report a ghost sighting? Or that we have been possessed by an evil spirit?
It turns out once again that women are more inclined to use this set of emojis. The only one men significantly out-tweeted them on in this batch, was the robot face emoji (and it's not exactly a massively popular one).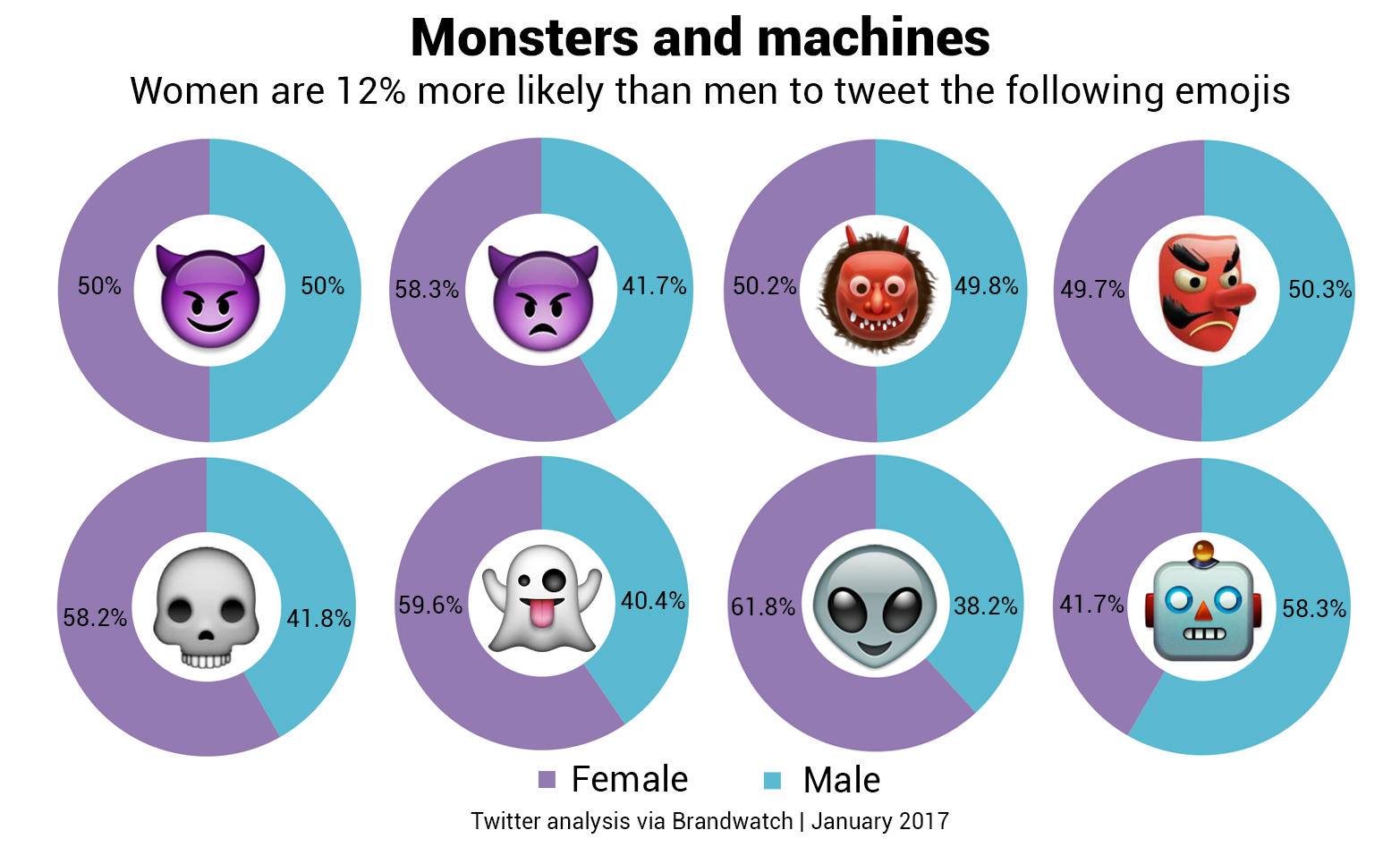 Of this set, we found the ghost emoji to be most popular, with smiley purple devil face and scary skull face just behind.
---
You might like
Opinion: Eggplants, Context and the Problem With Emojis
---
Immature emoji data
The humble eggplant emoji has been hijacked. As Know Your Meme puts it,
"The Eggplant Emoji, often referred to as the aubergine, is an ideogram depicting a narrow, oblong species of Japanese eggplant, often used in online and text message conversations to represent male genitalia or as a sexual innuendo. While the emoji set is standard worldwide, this association is generally confined to the United States."
Our data doesn't quite correlate with the statement that this is primarily a US trend (only around 20% of the tweeters using it were located in the US, based on location set out in their profile/geo-tagged tweets). However, it does show another predictable trend.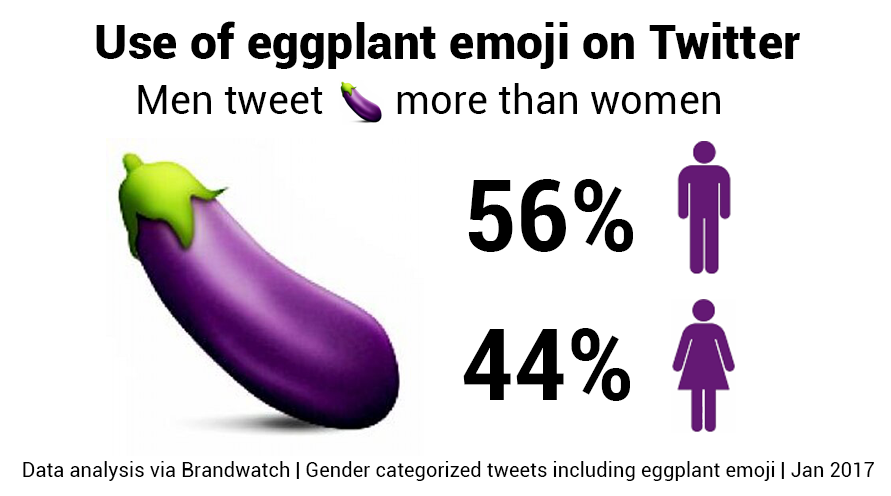 Since we're on an immature roll, we thought we'd research our favorite emoji. The one you've all been waiting for.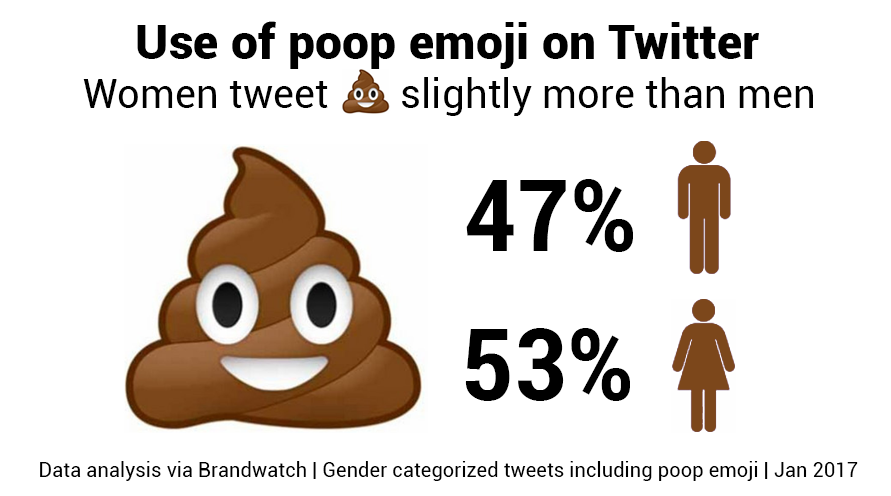 Emojis can speak louder than words 🐸
One of the best things about Audiences is that you can look further than individual authors and overall volumes. Aside from being able to export author lists of people who interest you for further analysis in Brandwatch Analytics, you can also take a look at trending content within your selected audience and the prominent groups within them.
For example, we searched for people with the frog face emoji in their bios, finding a large segment of Trump supporters used it.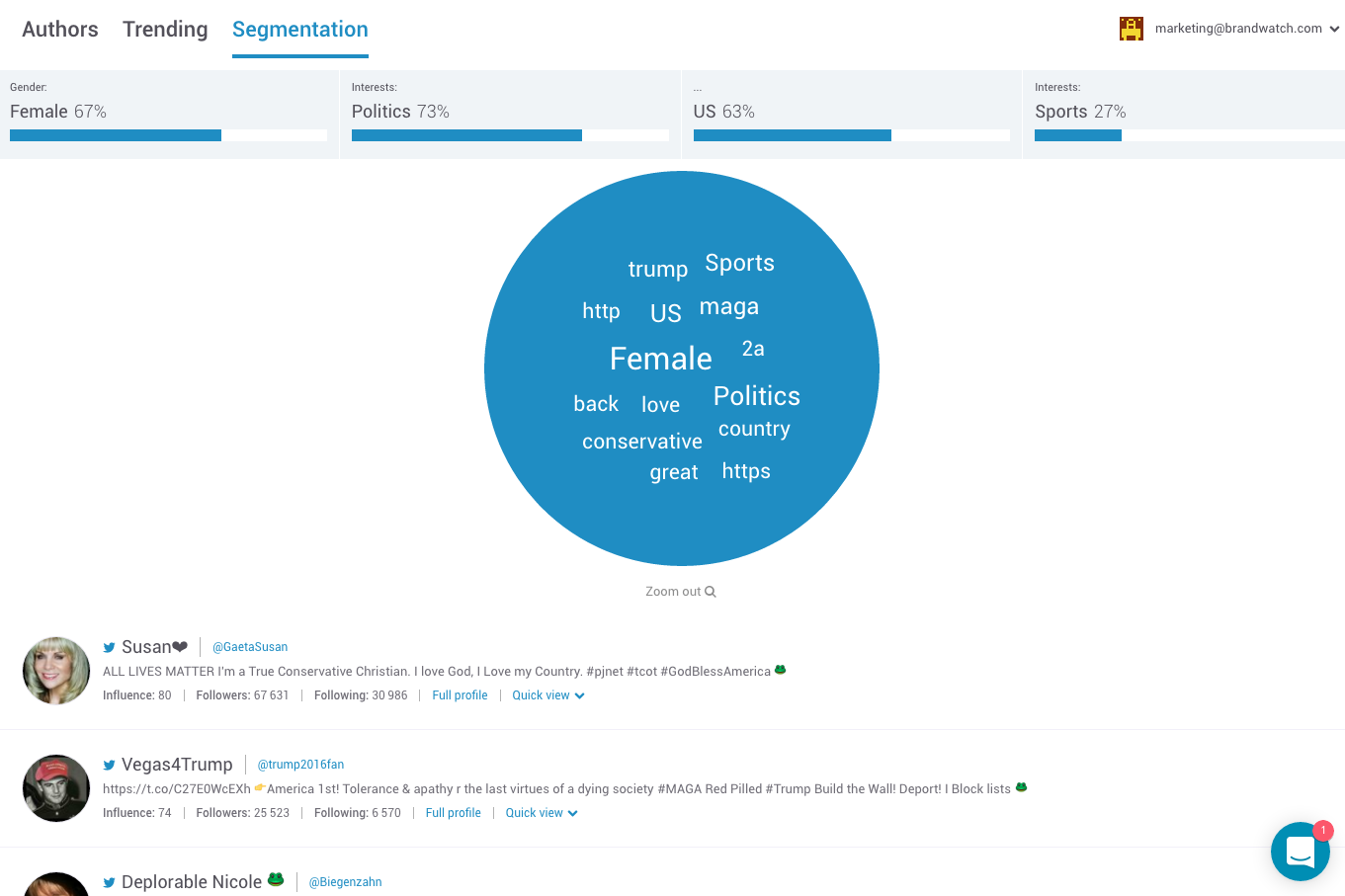 Pepe the Frog became a popular meme with Trump supporters during his election campaign.
The creator of Pepe was less than impressed, saying: "He was channeling some evil sh*t. It just kinda melts my spirit a little bit."
Are you a journalist looking to cover our data? We have plenty more. Email react@brandwatch.com for more info.