Golden Globes 2017: One of the Most Over-rated Actresses in Hollywood Steals the Show Entertainment

The 74th Golden Globe Awards took place in Beverly Hills on Sunday afternoon – and now, but 12 hours later – we hit you with the data and how it went down on social.
Although attention is often cast on the sartorial choices of its women attendees rather than the actual awards, we're here to redress the balance and concentrate on the bits the Daily Mail doesn't care about. The actual awards!
However, I feel it would be remiss to not mention Westworld star Evan Rachel Wood's pantsuit, and excellent response when asked about it. YES.
The numbers
Yesterday the Golden Globes ceremony was mentioned a whopping 1,645,785 times on social media. That's almost as big a number as the amount of popular votes Hillary Clinton beat Donald Trump by! However, that is a story for another day.
What caused the big spikes in conversation? The Brandwatch React team have looked into the data this morning and one thing is clear: Meryl Streep stole the show. And actually, it was her 'powerful critique' of Mr. Trump (whom she did not name) during her acceptance of the Cecil B. Demille Award that caused waves across the world.
There was one performance this year that stunned me. It sank its hooks in my heart. Not because it was good; there was nothing good about it. But it was effective and it did its job. It made its intended audience laugh, and show their teeth. It was that moment when the person asking to sit in the most respected seat in our country imitated a disabled reporter. Someone he outranked in privilege, power and the capacity to fight back.

It kind of broke my heart when I saw it, and I still can't get it out of my head, because it wasn't in a movie. It was real life. And this instinct to humiliate, when it's modeled by someone in the public platform, by someone powerful, it filters down into everybody's life, because it kinda gives permission for other people to do the same thing. Disrespect invites disrespect, violence incites violence. And when the powerful use their position to bully others we all lose.
MERYL STREEP, GOLDEN GLOBES 2017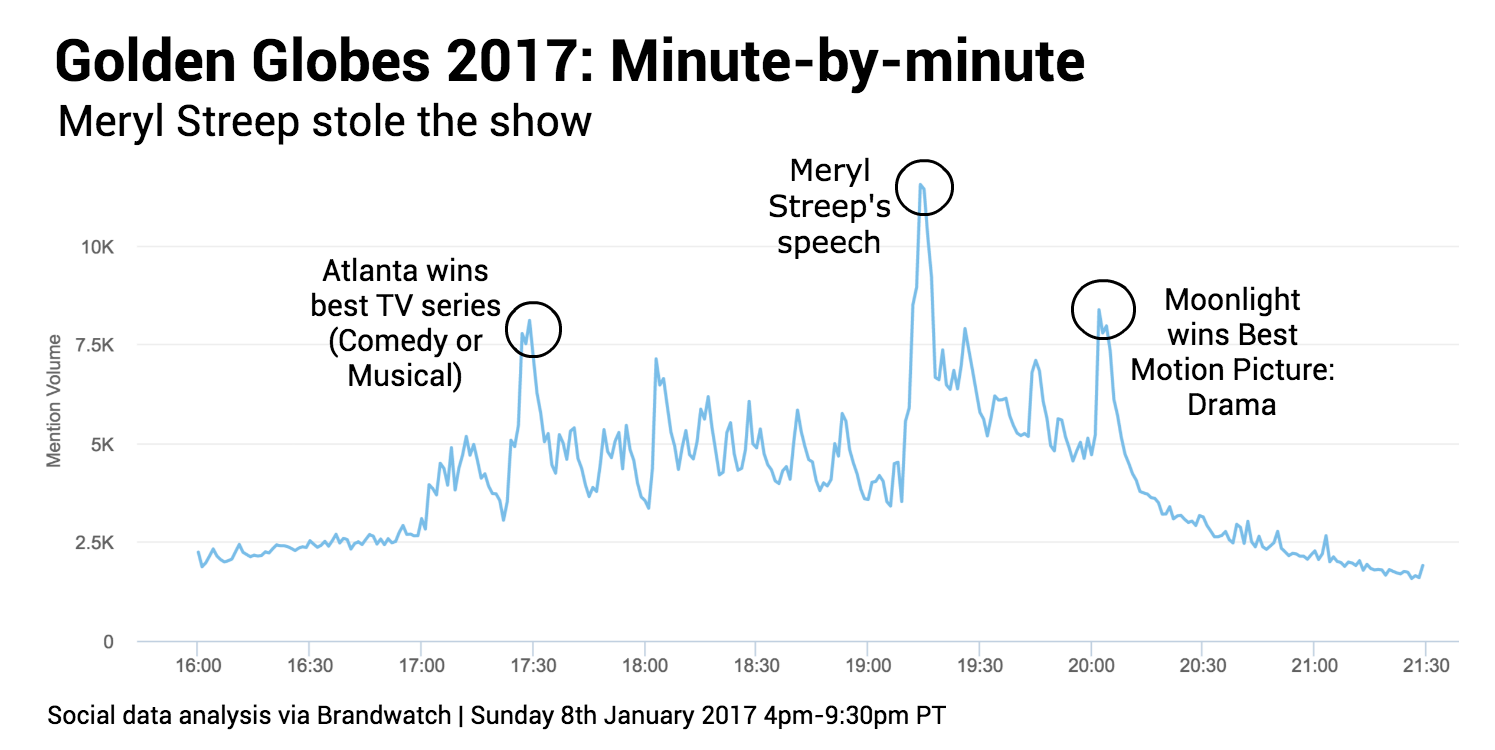 The spike in conversation was likely assisted by the huge amount of celebrities and journalists covering the event who took to their own Twitter accounts to support Streep.
find someone who looks at you the way literally everyone looks at meryl streep pic.twitter.com/ClnOwFsX02

— keely flaherty (@keelyflaherty) January 9, 2017
Is there anyone better? #Meryl

— Anna Kendrick (@AnnaKendrick47) January 9, 2017
#MerylStreep your work, your words.. & your heart is why you are the history lesson our young generation should aspire to be. #GoldenGlobes

— Wilmer Valderrama (@WValderrama) January 9, 2017
There has never been anyone like Meryl Streep. I love her. #GoldenGlobes

— Ellen DeGeneres (@TheEllenShow) January 9, 2017
But of course Mr. Trump couldn't let Streep's comments lie – he punched out a series of retaliation tweets this morning.
Meryl Streep, one of the most over-rated actresses in Hollywood, doesn't know me but attacked last night at the Golden Globes. She is a…..

— Donald J. Trump (@realDonaldTrump) January 9, 2017
Another big talking point was FX's hit Atlanta taking the award for Best Television Series (Musical or Comedy). Atlanta has also been lauded by the Producers Guild and Writers Guild in the past few weeks, and has been ranked as the best reviewed new show of the year on Metacritic.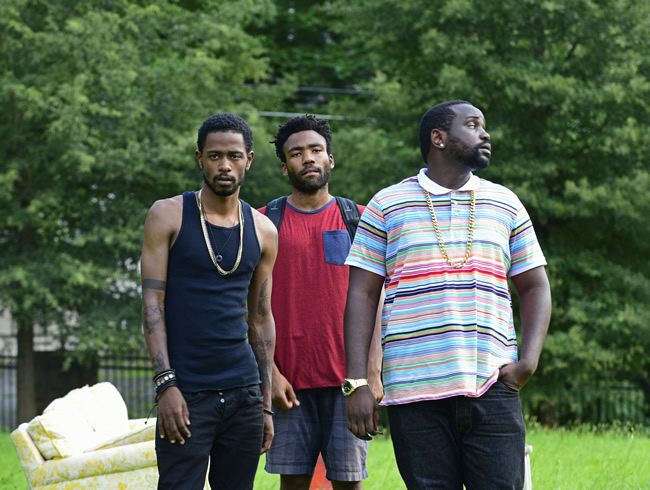 Did the social chat match the action?
As we love to make life difficult for ourselves, we're always keen to find out if social can predict a win.
Below we present the similarities and differences between the talk about each major category from Saturday to Sunday. The clear winner, on both social and on the stage, was La La Land, the musical starring the wondrous Emma Stone and future father of my children, Ryan Gosling.
The film has broken the records for most Golden Globe Award wins, netting seven – including Best Musical / Comedy Motion Picture, Best Director, Best Screenplay, and with its leads both winning in their respective acting categories.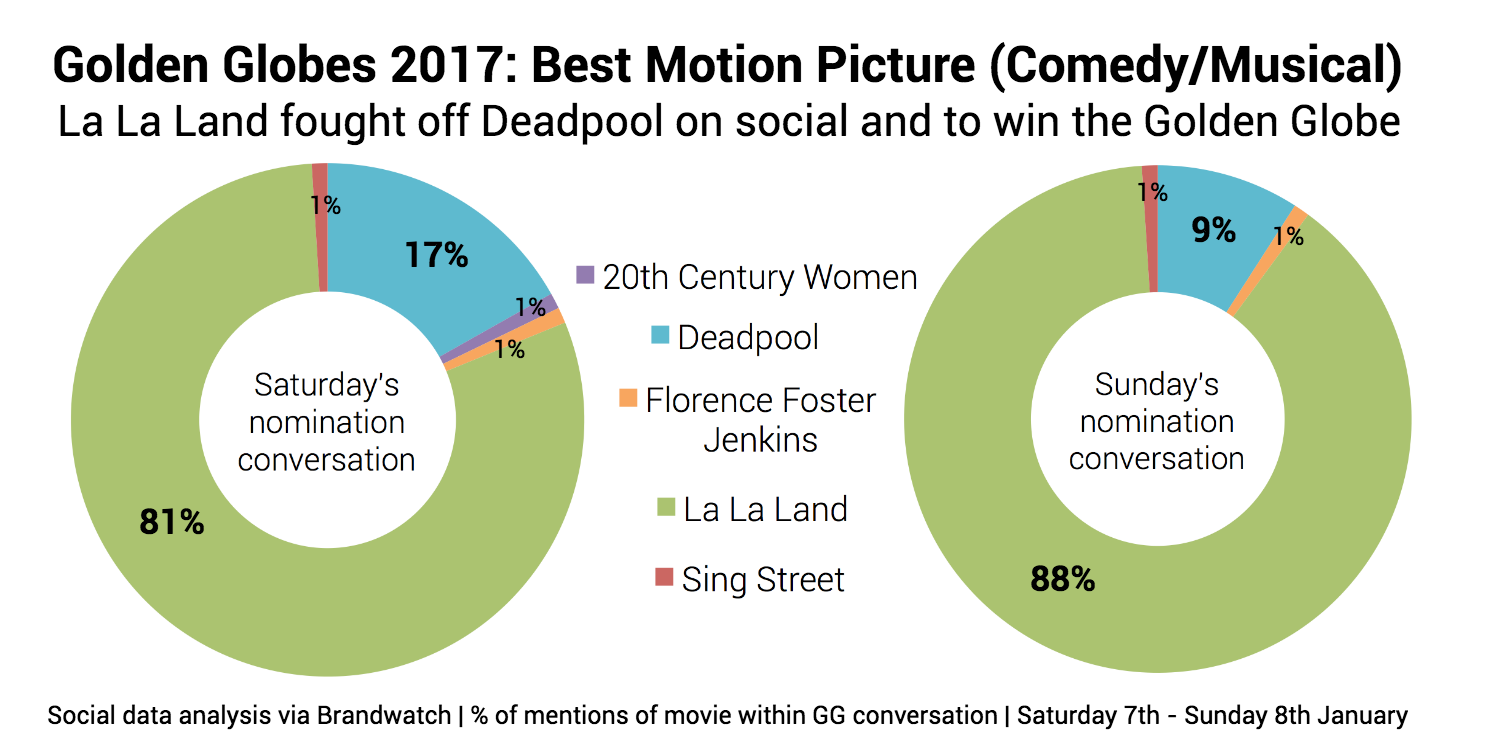 The win of Moonlight took social by storm, taking 85% of its category's mentions on Sunday. Prior to the awards, Manchester by the Sea was mentioned almost as much.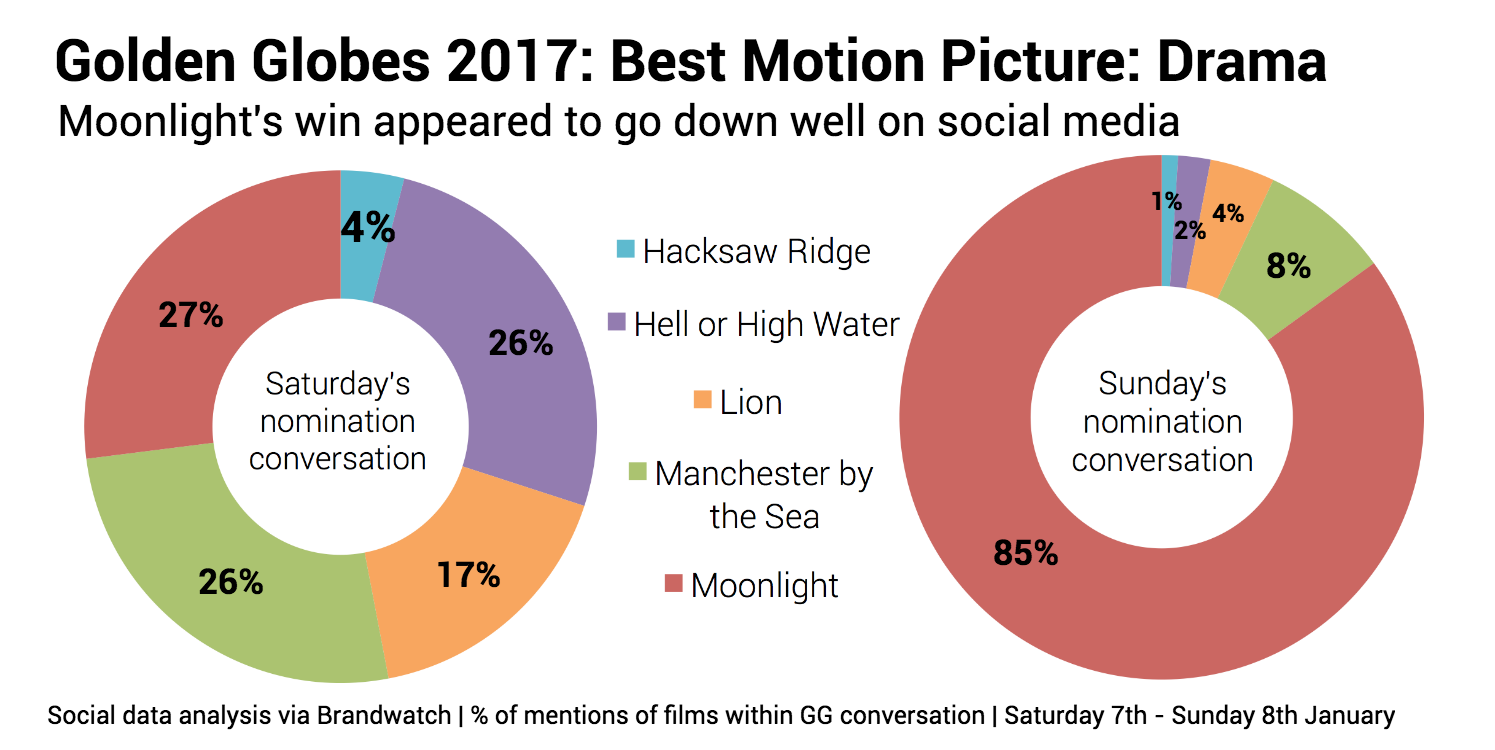 Game of Thrones and Stranger Things fought a hard battle, with the young cast of Stranger Things lighting up the red carpet and blowing up Twitter accounts everywhere on Sunday and taking the award for most mentioned precocious young stars from a tv show on social. That's not actually a real award, but maybe it will be next year!
Actually, starting a petition for the @Stranger_Things kids to host the #GoldenGlobes next year. pic.twitter.com/p1dE9JWbTK

— Complex Pop Culture (@ComplexPop) January 9, 2017
Social Booby Prize goes to The Crown, which despite winning an award made up a paltry 19% of the award night chatter.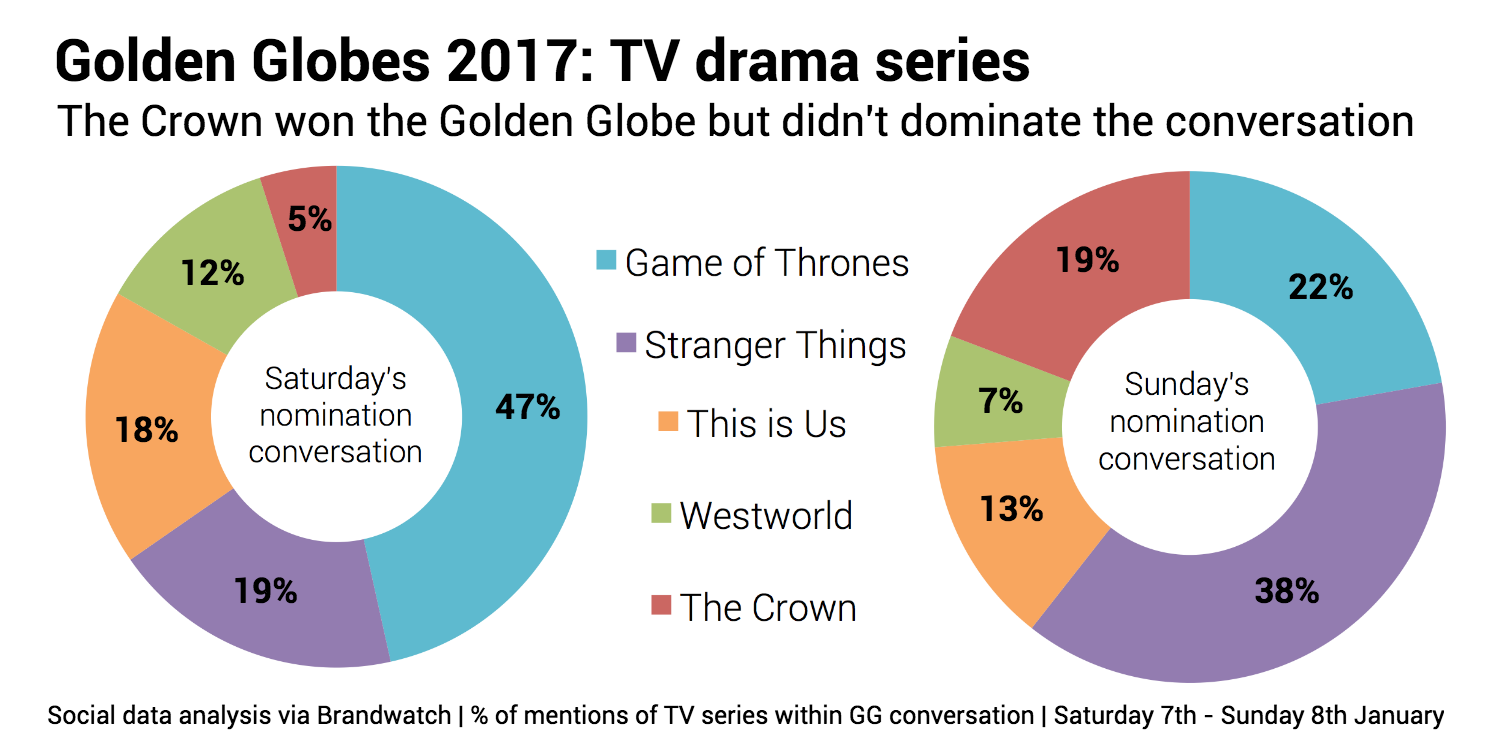 So, will Moonlight and La La Land sweep the Academy Awards next month? Will the Stranger Things kids get a presenting gig? Will Trump ever put his phone down? Maybe social intelligence can give us the answer. Stay tuned.
Are you a journalist looking to cover our data? We have plenty more. Email us react@brandwatch.com for more information
---