The Best (And Worst) Reactions to Channel 4's Great British Bake Off Trailer Entertainment
The latest Great British Bake Off trailer is out now, and fans of the show are displaying every possible emotion on the human spectrum of feeling.
The trailer, which features singing baked goods who seem unperturbed by the unbearable heat of the oven or drowning in chocolate icing, was released at midday on 3rd August (UK time) to a huge reaction.
It was soon trending on Twitter as surprised fans posted their confused reactions.
The Great British Bake Off trailer
If you've not seen it yet, here it is.
We all bake together. The Great British Bake Off. Coming soon. #GBBO pic.twitter.com/6QWHdghTFh

— British Bake Off (@BritishBakeOff) August 3, 2017
The Brandwatch React team has long been a fan of the Great British Bake Off, but we we're treating this trailer with some skepticism.
After all, GBBO previously aired on BBC and this is the first we've seen of Channel 4's new iteration of the show.
The show that's coming will not feature fan favorites Mel, Sue or Mary.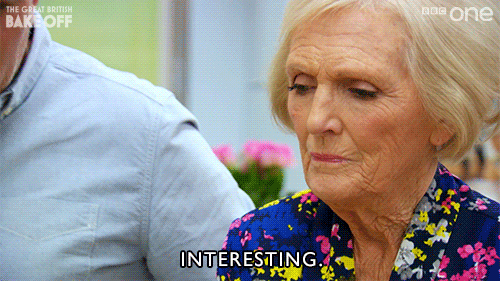 But what does Twitter think? We looked at sentiment-categorized tweets to find the good, the bad and the ugly.
Naturally, the ugly is the funniest so we'll save it to the end.
---
You might like
Doctor Who 13: How the World Reacted to the New, Female, Doctor
---
The Good
Lots of people watched the trailer and enjoyed it.
I don't think I've ever loved a trailer more! #gbbo https://t.co/Ou6hgakOga

— Matt Thompson (@jumpytiny) August 3, 2017
Excellent start! Love the ad and the song. #CantWait #GBBO https://t.co/ey8Un4MF0M

— Carla. TCUK (@CarlaLuxford) August 3, 2017
https://twitter.com/OohhShinies/statuses/893106058398511105
Don't understand everyone's bellyaching about this, I think it's charming and joyful #gbbo https://t.co/1s7PBWcQVp

— Rhys Jones (@Rbjaber) August 3, 2017
The Bad
Others were reluctantly positive. What was "charming and joyful" to some was an eerie experience for others.
To be totally fair, I love #GBBO so I'll watch it regardless of unsettling talking banana bread

— anna romanska 🍑 (@atromanska) August 3, 2017
Say what you want about #GBBO (I, myself, am a bit of a boycott-er) but I LOVE this 👇 https://t.co/dIvUO3m4wv

— Hungry Harriet (@hihungryharriet) August 3, 2017
They're trying too hard. It's all a bit too much. I really don't want to like this…but I might still give it a go… https://t.co/jwfTCzr1Gy

— Marian Riley-Poku (@mriley005) August 3, 2017
BBO lost its main ingredient. Bootylicious, berrylicious, delicious, my precious Mary Berry.

— Jana Valekova (@JanaValekova) August 3, 2017
---
You might like
The Social Data Review of Great British Bake Off 2016
---
The Ugly
We don't think this lot will be tuning in.
It's like a pastry-based version of the film @sausage_party, with sponge, dough and icing chucked in for good measure. #shit #gbbo https://t.co/XsA3hRoB1i

— Katie Matthews (@_katie_matthews) August 3, 2017
This is the actual stuff of nightmares.. https://t.co/7y11J4k12q

— Jennifer Frank (@jenniferleighf_) August 3, 2017
https://twitter.com/MiaSanMyles/statuses/893100583732862976
Fuck Off https://t.co/Yi3avaD9Xg

— Charlie Sewell (@Charlie__Sewell) August 3, 2017
What are we to make of this?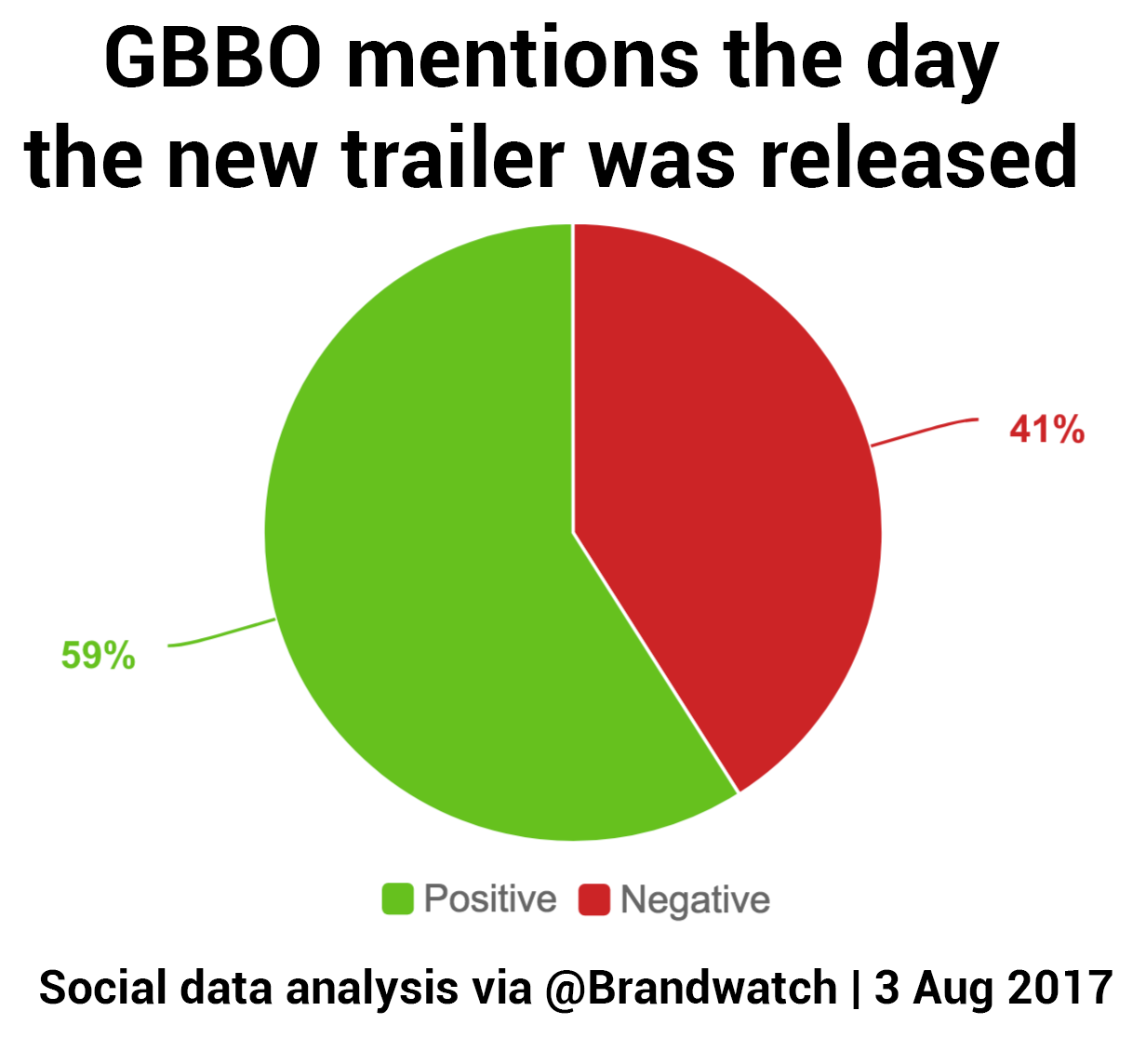 Will the show be a success? Has this trailer changed everything? Is it too different?
Early indications suggest that more people like the trailer than hate it – so it seems to have been successful in drumming up some interest in the upcoming show.
Once we've got a solid graph with a few thousand mentions, we'll update the post.
Are you a journalist looking to cover our data? Email react@brandwatch.com for more information.
---
Brandwatch Analytics
Find out how insightful social data can be for you.
Find out more