Is Avril Lavigne Dead? A Social Data Investigation Into The Popular Theory Topic Analysis
Why does the internet have to go and make things complicated? Today, once again, the theory surrounding the death of Avril Lavigne, and replacement by a lady named Melissa, has resurfaced.
And, once again, we fell down the rabbit hole.
Why is it back?
Basically, this Twitter thread went viral. If you're not aware of the general theory, go ahead. See you in five minutes (or maybe five hours depending on how deep you go).
avril lavigne is dead & was replaced by a look alike: a conspiracy theory thread pic.twitter.com/9eearQ2rte

— yeehaw girl (@givenchyass) May 13, 2017
What can social data tell us about the "Is Avril Lavigne dead?" conspiracy theory?
The theory has been around for a long time.
We used Unlimited Historical Data to search for mentions of Avril Lavigne near "clone" or "replaced" or "lookalike" (and other terms/misspellings) for the past three years. As you can see, there've been bumps in interest in the story for a while (although, admittedly, they're kind of drowned out by the current huge spike.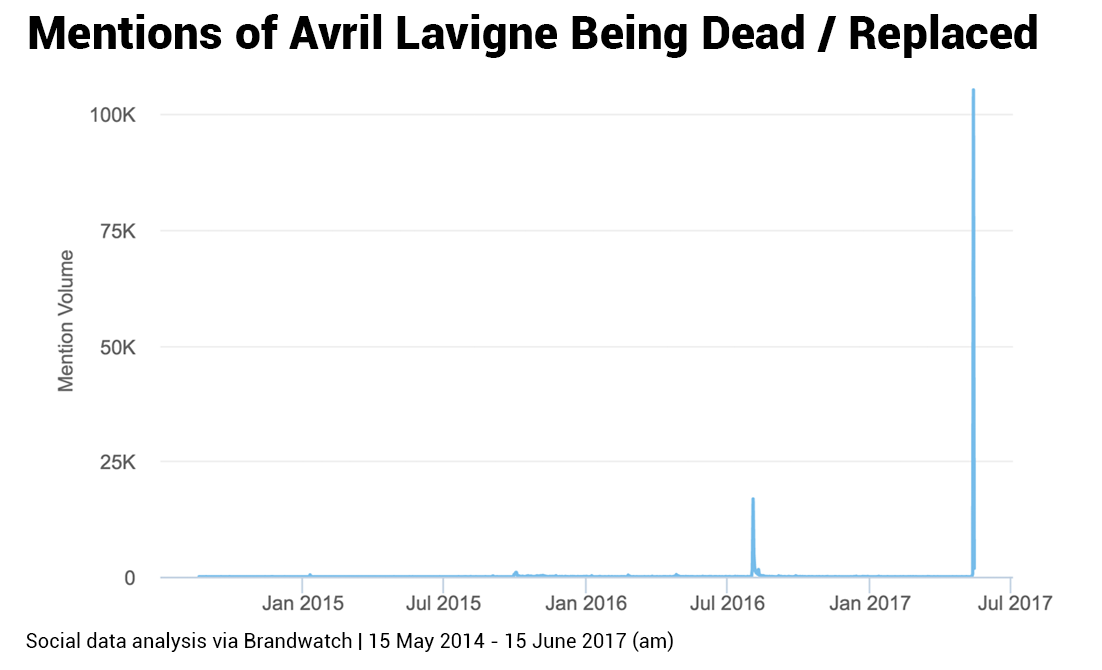 Going back further with Google Trends, you can see how the question "is Avril Lavigne dead" has grown in search popularity. Presumably, the trend grew as the pile of totally legit evidence towered higher.
1. A good story never dies (but Avril Lavigne did, in 2003).
One of the most famous artifacts in the Avril Lavigne conspiracy theory story is the Brazilian blog "Avril esta morta", dated in May 2011. It's been six years and this theory still hasn't been put to bed.
Everyone loves a conspiracy theory and, it appears, is willing to spend chunks of their working day examining the sometimes dubiously curated evidence for a compelling and dramatic (yet often fairly trivial) narrative.
There's never been a shortage of suspense-loaded dramas in the public consciousness, real or unreal. However, with Netflix and other networks continuing to invest in drawn out true-crime stories like Making a Murderer, it seems there's a real hunger for stories with macabre themes right now. That might be why the story of Avril Lavigne's alleged demise has resurfaced again so enormously.
2. There are multiple theories, and the details are very inconsistent.
Some people think she died in 2002, some in 2003, some in 2004. Others, who are just stumbling on the trend, probably think she died this week.
Some think it is her altered handwriting, others that she now prefers wearing dresses as opposed to pants on the red carpet. Some think it is her makeup preferences, others the way that her eyes are a slightly different shape.
But the overwhelming theme is that she is dead and that a body-double named Melissa Vandella took her place.
Maybe it's not Melissa Vandella, though – we searched for mentions of "Avril Lavigne lookalike" and found people posting fairly convincing pictures of themselves tagged with the words. Maybe it's not just Melissa Vandella. Maybe there are hundreds of Avril Lavigne lookalikes. Maybe everyone is Aril Lavigne in the right light.
3. It's pretty hilarious, really.
You only need to have a quick scroll through Twitter to find the "evidence" and resulting sarcasm.
Who's talking about Avril Lavigne's death?
Female authors are around doubly as likely as male authors to talk about the conspiracy theory online.
We also thought we'd take a look at what the real fans were saying using Brandwatch Audiences. Trending amongst the tweets of people who use the words "Avril Lavigne" in their Twitter bios (of which there were over 9,000) were pictures of old vs new Avril as well as a picture circling Avril's nose (a common part of the theory is that her nose shape has changed).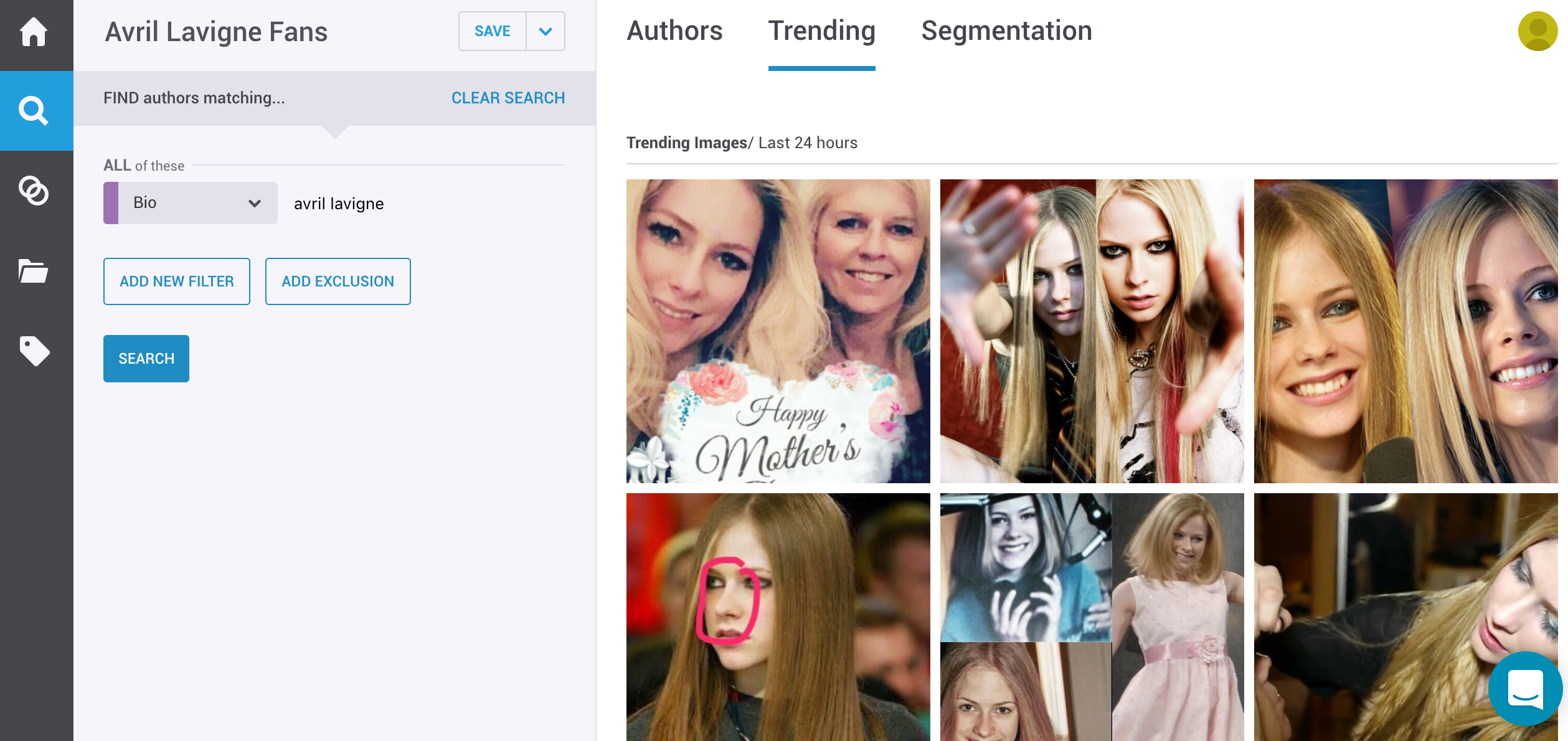 When will it end?
We may not be able to reveal whether the conspiracy theory is true using social data alone, but we know when it will be solved.
the avril lavigne is dead theory will be true unless she posts a picture of her and her look alike together

— nicole (@wcapaIdi) May 14, 2017
Are you a journalist looking to cover our data? Drop us an email at react@brandwatch.com for more information.
---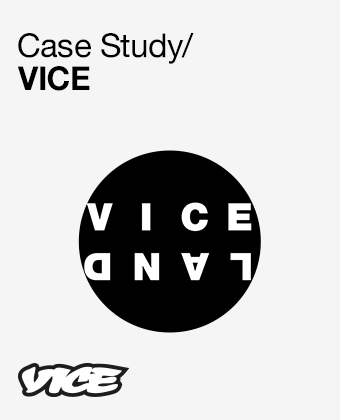 Using audience insights for a smart launch
Download the case study and learn more.
GET THE CASE STUDY