The Rise of M-Commerce: Why Retailers Can't Afford to Ignore Mobile Marketing

E-commerce has been firmly established for years and continues to see healthy growth. In 2015, the US Department of Commerce declared US web sales totalled $341.7 billion for the year, growing 14.6% from the previous year.
Recently, however, mobile commerce has started chipping away at desktop dominance. In 2014, Shopify reported a study of 100,000 stores on their platform where 50.3% of the traffic came from mobile devices.
Mobile devices are changing the way we shop in a number of ways. From increased research in store to the mobile effect on s-commerce, and the continued rise of m-commerce, the relationship between mobile and commerce is changing.
As mobile internet access has surpassed desktop, its growing importance is reflected in shopping habits. Businesses cannot afford to ignore how mobile internet access is changing the landscape, and this growth is predicted to continue to increase. In this post, we'll take a look at some of the factors that are driving these changes and that retailers should prepare for.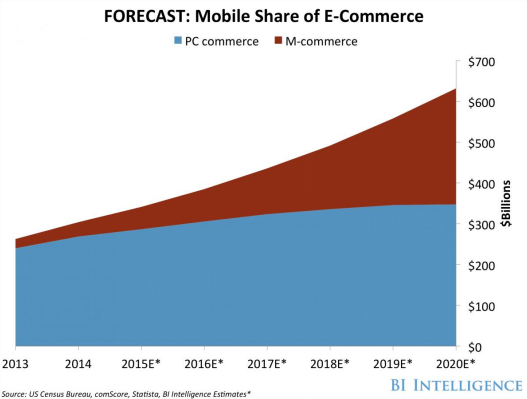 ---
Mobilegeddon
On 21 April 2015, Google introduced what has come to be known as the mobilegeddon update. Sites that were not mobile friendly were penalised, whereas those with responsive design received a boost.
This cemented what was already widely accepted: websites of all kinds need to provide a user-friendly experience on mobile. This shift has largely happened, meaning anyone now offering a subpar experience will see users bouncing off their site in large numbers.
---
Mobile Payments
The recent introduction of Apple Pay and Android Pay may help to accelerate the mobile commerce industry. Deloitte has predicted that we are about to transition to "touch commerce", where payment services such as Apple Pay can be accessed from any merchants mobile site or app to complete a payment. Currently, only a limited number of apps accept payment via Apple Pay.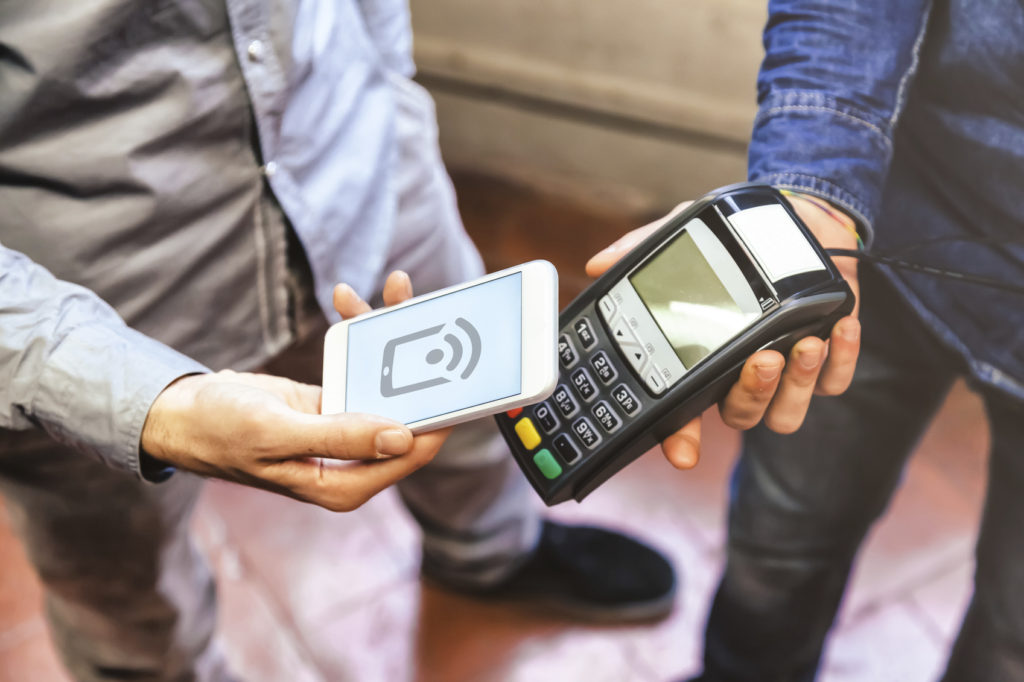 This one-touch payment will include delivery information, getting rid of a large part of the chore involved in a transaction. They believe this development will significantly increase the number of mobile transactions, and become the standard for in-app payments. It may also help to reduce the millions of shopping carts that are abandoned midway through shopping by simplifying the entire process.
---
The blending of traditional and mobile commerce
For brands that have bricks and mortar stores as well as an ecommerce offering, the rise in mobile access has seen a blending of these spheres. When in store, 82% of smartphone users turn to their device to help them make a product decision, and 51% have purchased from a brand they weren't previously considering because of the information discovered.
---
You might like
Social Selling: How to Increase Sales on Social Media
Read the Article
---
Recent developments may see this blending of mobile, technology and real-life shopping continue. Beacon technology delivers offers to smartphones when the user nears the entrance to a store. Up to 30% of retailers are using facial recognition to target in-store adverts to consumers. Facebook has announced a new feature where ads will display store locations and then inform the retailer if someone who saw an advert later physically visited the store.
---
Wearable Devices
Smartwatches and smartglasses might not have taken off the way some predicted, and VR sets have only recently gone on sale. For now, wearable devices are likely to remain a niche market. But for some industries it could become a useful, immersive tool in the not-too-distant future.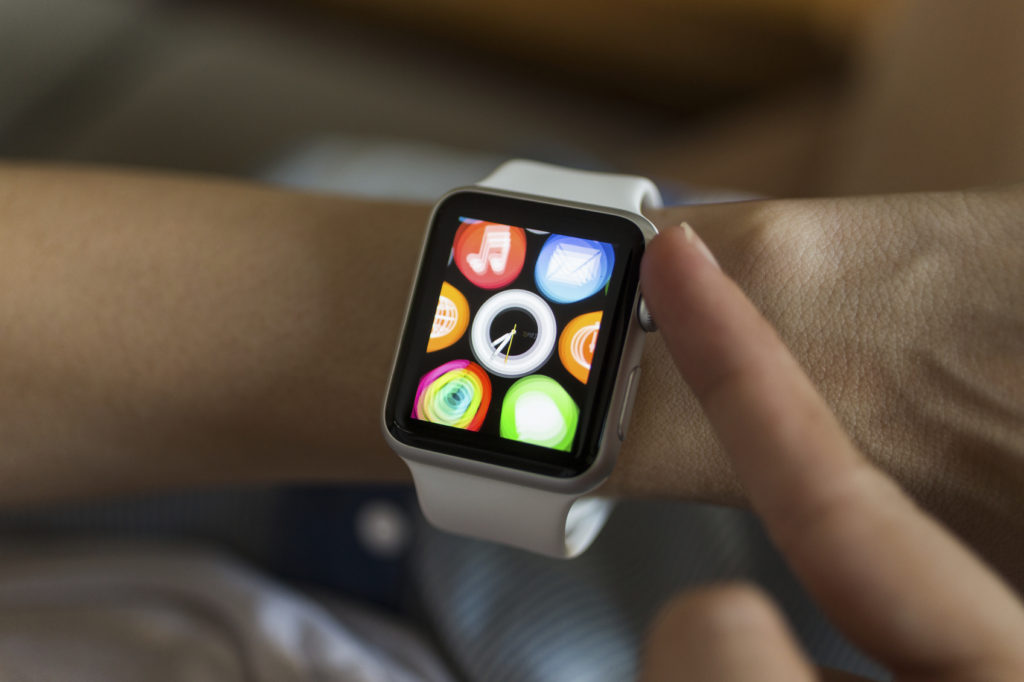 Ikea recently developed an app that uses augmented reality to project an item into a shopper's home, by overlaying the item onto the camera's view of the room. River Island used Google Cardboard to deliver their latest fashion show to consumers in an immersive way, allowing them to experience the show from the runway audience.
---
Chat Bots
Recent events have hinted that we may be about to witness the rise of the chat bot. While time spent in apps is high, ComScore research shows that the majority of users spend their time in just three apps. Retailers are unlikely to have a dedicated app on a user's phone, but they can have a dedicated chat bot inside a commonly used app.
WeChat in China is ahead of the West in this regard, and seen as the model Facebook will try to emulate. Businesses have built m-commerce offerings inside the WeChat ecosystem. WeChat's wallet allows users to make seamless purchases, and the social side of the app allows consumers to influence each other's purchases. The analytics behind these actions and relationships provide brands with an added benefit.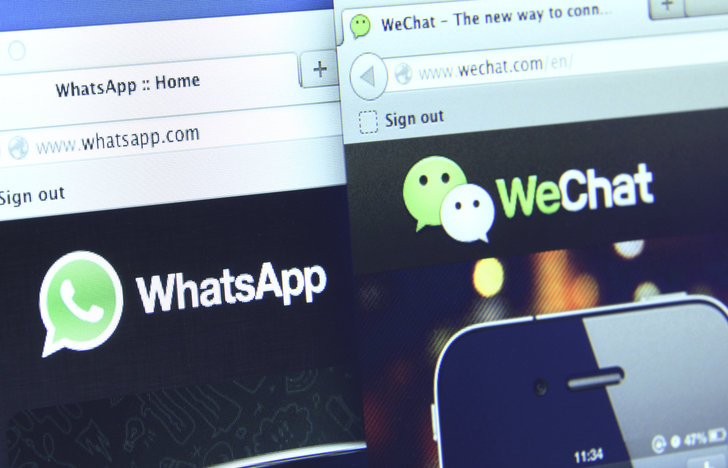 Facebook's F8 conference showed that they mean to catch up with WeChat, allowing developers to build their own chat bots within Messenger. Dutch airline KLM is already using messenger to confirm flights, issue boarding passes, and answer customer questions.
---
Social Commerce
Social commerce is on the rise, with the introduction of Buy Now buttons and increased advertising options. This development goes hand-in-hand with m-commerce, as increasingly social media users are accessing networks on mobile. 47% of Facebook users access the platform exclusively through mobile.
While social commerce hasn't grown as quickly as expected, the sites themselves believe increased options will help to make social an important part of the e-commerce set. Social commerce is increasingly impossible to ignore, as growth outstrips all other channels. Again, the peer to peer influencing of social networks is an attractive proposition to retailers.
---
As m-commerce continues to grow these developments are likely to increase in importance. Staying abreast of the latest developments is the key to success in a fast-changing field. Jumping on a trend early can make all the difference in getting a vital head start on competitors, and ensuring future success.
---
Brandwatch Analytics
Use social data to power smarter decisions across your organization.
Find out more