Industry Opinion: Snake Oil Social Media Gurus are out of Control Opinion
Earlier this week I got angry, (possibly angrier than I should have done, but hey, what's Twitter without a little irrational ire?), with a slide shared in a presentation given by a self-styled 'social media guru' which had been shared to an audience looking for strategic social/digital advice.
The slide had five bullets, under the title, "Twitter basics". I'll repeat them here, verbatim:
Steal the good stuff, only RT compliments
Tweet the same (article) 5 times
Pictures most likely to be retweeted
Tweet lots – 50 – 100 tweets a day is fine
Tweepi gets you followers literally today
Seriously.
---
Breaking down slide-gate
Crappy grammar aside, there's so much wrong with this slide from the basics up that it's hard to know where to start. So I'll run through it in order.
Bullet one – he's condoning theft of material and suggesting that accounts should become online ego-driven narcissistic personality disorders. This is just wrong. On all levels.
Bullet two – spamming. No, leave the spamming to the news media and those who serve a function which befits sharing the same material regularly. We've all got a friend that tells the same 'hilarious' story several times over and over – don't be that person online.
Bullet three – a common point in presentations and probably accurate, but it still forgets that pictures without a point won't get retweeted.
Bullet four – spamming again. I tweet regularly, sure, but I share a lot of things I've seen from elsewhere (and, contrary to bullet one, I always credit and never steal). I also chat a lot on Twitter, so my daily figures are high, but volume for volume's sake is spamming.
Bullet five – I'm not dignifying this with a comment.
However, what's so fundamentally wrong about this is that at a macro level there's nothing in here about having a personality, being interesting, listening, talking with people not at them and doing so in a manner which you would socially.
This is basically a slide dedicated kneeling at the altar of antisocial.
---
You might like
Interview: In Conversation with The Economist on Social Intelligence
---
Accreditation could deter the snake oil salesman
The speaker who presented the slide is pushing a message based on quantity, not quality – backed up with the pitch at the end for an app which "gets you followers literally today", (don't get me started on abuse of the word 'literally').
People are paying – either in time or in cold hard cash, (in this instance, the event was free, as confirmed by the organisers) – to attend these events, as they have genuine business challenges they want to resolve by learning about best social media practice.
The self-styled social media guru is nothing new – search for 'maven', 'jedi', and 'visionary' in lieu of 'guru' in that last sentence and you'll see they're found far and wide.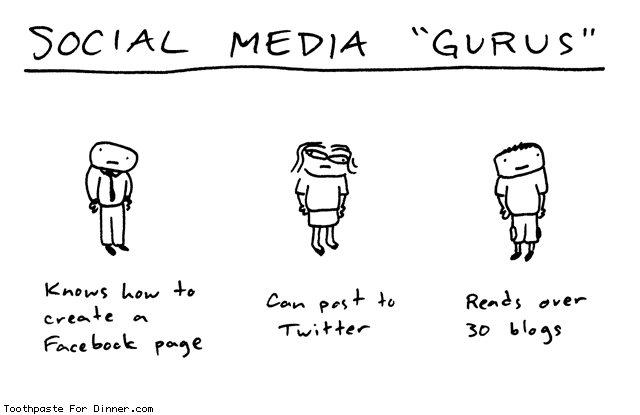 The problem is, this has got out of control and these people are peddling advice which could be tangibly detrimental to a business or start-up – there's no quality control as there is in other industries.
All many event and conference organisers have to go on is the guru's own word.
A solid social media strategy is a key pillar of a company's growth – we can't continue to let snake oil salespeople lead the way.
There's a lot of good out there, but there's also a lot of self-aggrandising nonsense. We need to find a filter and establish the rails by which companies can be assured they're getting genuine, reliable, strategic acumen from someone they can trust.
---
---
Brandwatch Analytics
Brandwatch Analytics: Discover more about your world
Find out more