The Best Christmas Movies According to Twitter Data Entertainment
We're making a list, we're checking it twice, you're gonna find out which Christmas movies are naughty or nice…
Brandwatch React is coming to town with the 2016 list of tweeters' favorite Christmas flicks.
In search of the best Christmas movie
Last week we sought the best Christmas songs of 2016. The data may have been good but the resulting playlist was a little hit and miss depending on your taste.
We decided to take a slightly different approach with our Christmas movie search.
Firstly, we looked up the top 15 Christmas movies appearing on Rotten Tomatoes, Empire and Google search, mashed them into a search list and then looked for their frequencies alongside "best christmas movie" or "favorite Christmas movie" between 1st and 15th December.
A manual search of the individual mentions revealed the overwhelmingly majority to be genuine, though a few of "Love Actually is the best movie – said no one ever"-esque tweets may have slipped through the net.
Omitting movies that got 0 mentions and including retweets, we ended up with a list of 29 Christmas classics.
---
You might like
A Playlist Fit for 2016: The Best Christmas Songs According to Data
---
An odd mix
Within the remaining 29 we found an incredibe mix of movies, from Finnish horror to controversial Christmas flick Die Hard.
Best Christmas movie ever? #christmas #diehard #yipeekiyaymotherfucker pic.twitter.com/Iw8GJLKpL8

— ActionFigureTherapy (@AFTherapy) December 13, 2016
Considering the latter half of the list had down to one or two mentions – that's The Shop Around the Corner, Miracle of Morgan's Creek and aforementioned Rare Exports, we cut our final list to the top 20.
The top 20 sees honorable mentions for The Nightmare Before Christmas and Bad Santa and Batman Returns, though none of them made it into the coveted best ten.
There was a clear winner. Skip to it here, or enjoy the top 10 countdown.
Countdown
10. Gremlins
A movie about little green monsters terrorizing a town probably isn't the most Christmassy thing you've ever seen, but there are definitely weirder things on the list. Despite Gizmo being really cute, it's definitely not for kids.
Kids in bed, time for the best Christmas movie ever: GREMLINS!! @zwgman

— Lori Sadler (@lori_sadler) December 15, 2016
9. It's A Wonderful Life
Since it came out in 1946 it's not exactly a modern classic, but it's still a lovely movie. It may not be number 1 but it's definitely the oldest film in the top ten.
If you're favorite Christmas movie is anything other than It's A Wonderful Life, you are WRONG

— Master O' Puppers (@AndrewLueker) December 15, 2016
8. The Santa Clause
A magical movie about what happens when you accidentally kill Santa. Lovely.
#TheSantaClause is on Netflix!!!!!!!! Best Christmas movie ever made!!! 🎅🏼❤️

— Taylor (@TaylrGameOrDie) December 16, 2016
7. National Lampoon's Christmas Vacation
"Yule Crack Up" reads the movie poster. Hmm.
National lampoons Christmas vacation is the best Christmas movie everrrrr

— Amanda Johnson (@Amanda_Nicole10) December 14, 2016
6. Love Actually
So many storylines and so much love for this British movie. It'll definitely be on TV if you've not seen it already.
Love Actually is on! My favorite Christmas movie. ❤️

— Rachel DePompa (@RachelDePompa) December 13, 2016
5. The Grinch
"Counting down the Christmas clock!" We're at number five with "The Grinch", or "Doctor Seuss' How the Grinch Stole Christmas" for short.
I feel bad for actors like Jim Carrey bc he prob doesn't watch his own work & misses out on the best Christmas movie, The Grinch, each year

— alexandra (@alexxhaley) December 16, 2016
4. Home Alone
There's nothing to hate about Home Alone (or its various sequels), and that's why it's at number four on the list with a healthy 608 mentions.
Home alone is one of my favorite Christmas movie I always tear up at the end 😢

— skylynn🍁🎃 (@geehonestysky) December 15, 2016
3. The Polar Express
A magical adventure to the North Pole starring Tom Hanks. What could get you into the Christmas spirit any better?
Polar Express the best christmas movie 🎄

don't @ me

— brikeria ✨👑 (@killakeriaa) December 1, 2016
Well, maybe Die Hard.
2. Die Hard
Unless you're one of those people that thinks Die Hard isn't a Christmas movie, you'll probably love it.
Die Hard! Best Christmas movie to watch. :D

— Hydro (@DiHydrogenO) December 15, 2016
1. Elf
Clearing Die Hard by 2,000 tweets, the Twitter crown undoubtedly goes to Will Ferrell's Elf.
The movie elf makes me so happy it's the best Christmas movie

— auterpop (@Autumn__raee) December 1, 2016
Spread the joy: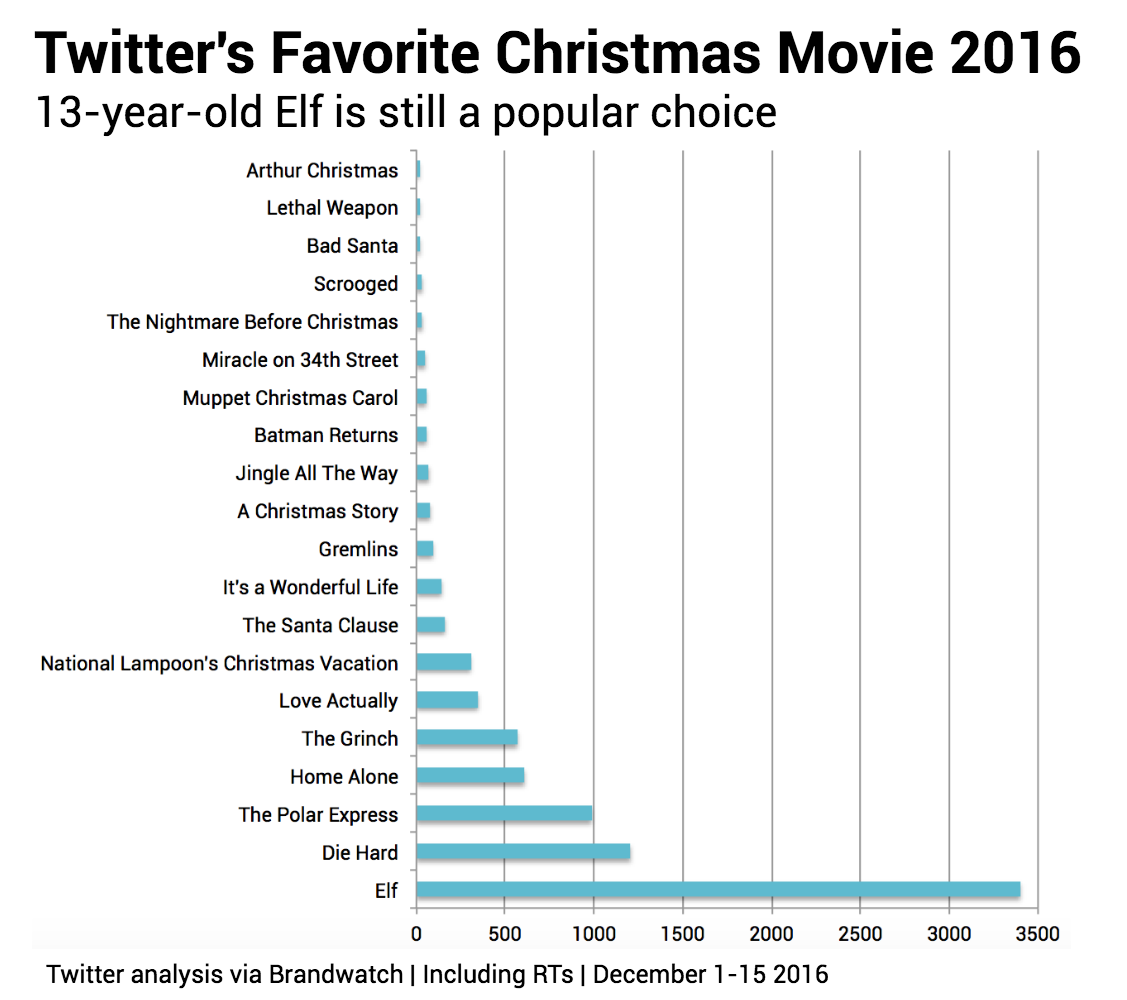 Are you a journalist looking to cover our data? We have plenty more. Email us react@brandwatch.com for more information
---