Game of Thrones Season 7 Data: Five Fun Social Media facts to Round-up the Season Entertainment

We tracked 6.9 million social media mentions of Game of Thrones across Twitter, Facebook and Instagram from episode one to seven. Game of Thrones Season 7 data doesn't come better than this.
We've broken the data down in all kinds of ways this season, and we thought we'd present it in a digestible way, so here come five fun facts.
Game of Thrones Season 7 data: Five fun facts
1. Women tweeted A LOT this season
We're unsure what drove women to tweet more, especially given that this genre of TV show might traditionally be regarded as a target for male audiences, but we've noticed throughout the season that they've been more inclined to live-tweet the individual episodes.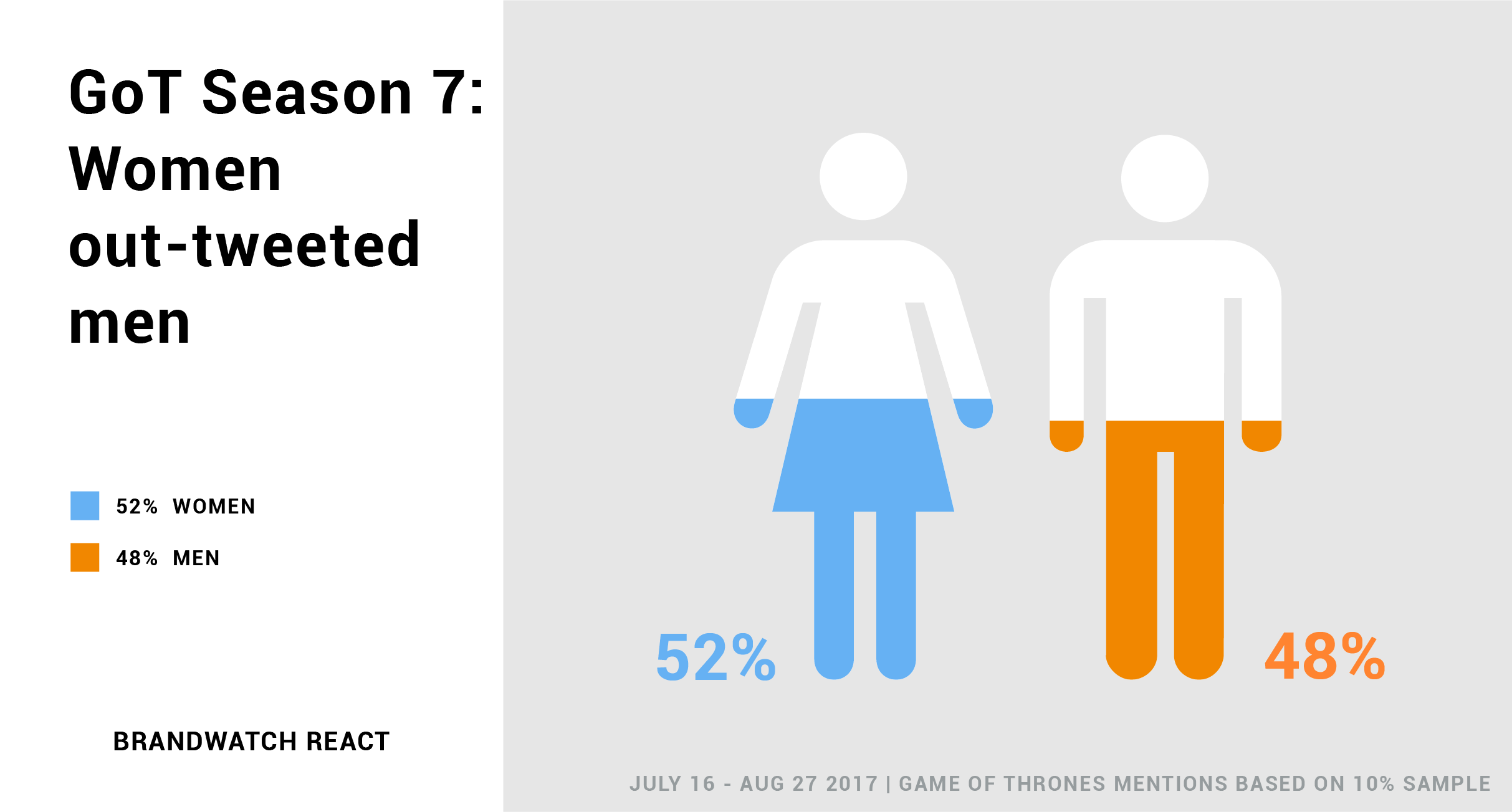 There wasn't a huge difference in what men and women tweeted about, either – both tweeted the same two characters the most (coming up) in the same way, although men tweeted more about the Night King while women tweeted more about Arya.
Either way, the data shows that it's a TV show for everyone. Except maybe children. Definitely not for children.
2. The biggest episode wasn't the last episode
Looking at social media mentions during air time, it was episode six, not seven (the finale) that got the most.
We found this curious, since episode six was the one that was leaked by HBO Spain, so was more readily available for naughty spoiler-fearing viewers to stream in advance of the official air date.
Our theory is that people may have watched it in advance and during the official airing, thus giving them more brain space on the second viewing to live tweet it. Also, there were some huge, huge moments. More on that later.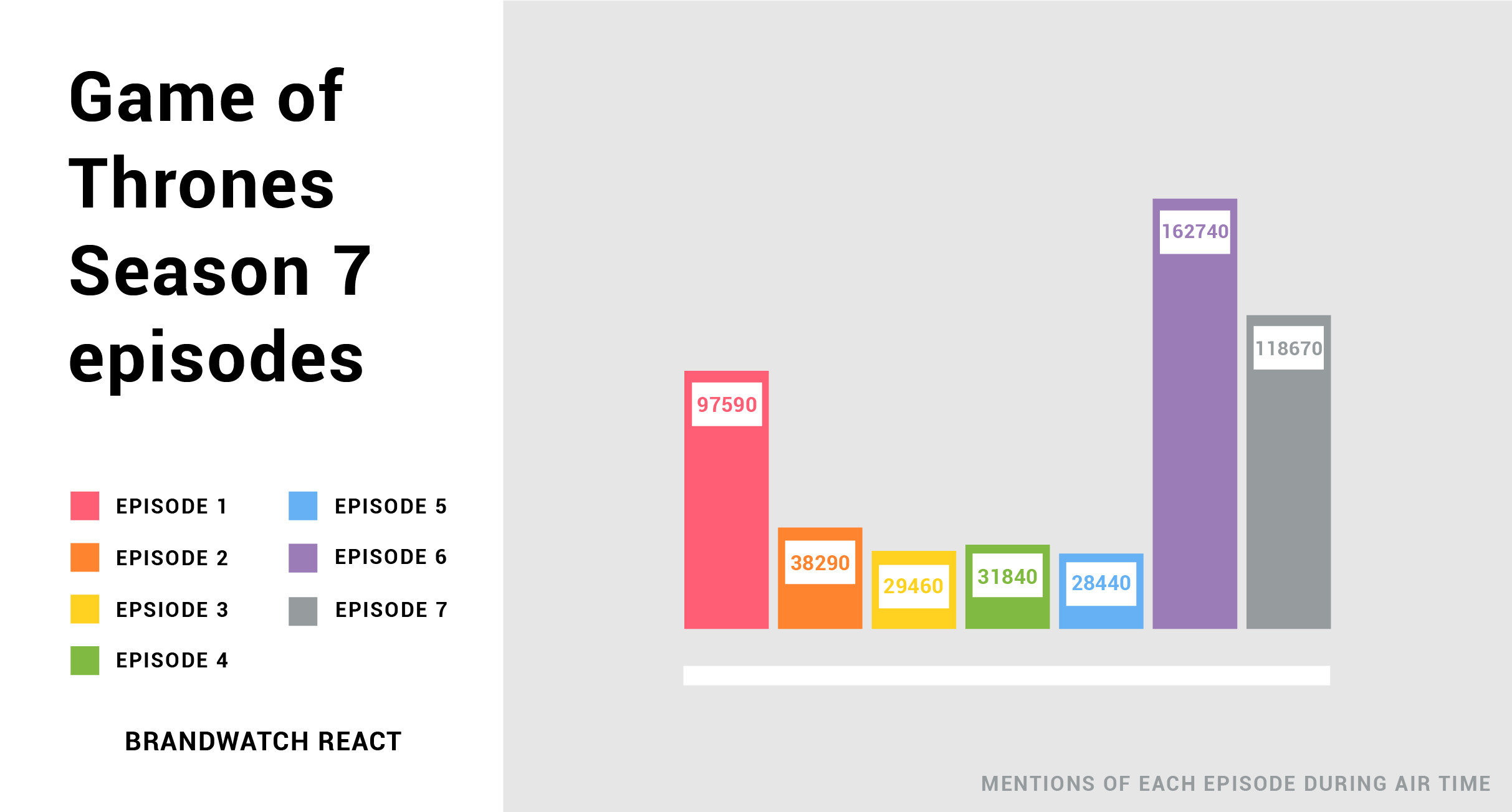 3. The biggest character (in mentions, not size) was Daenerys
This may not be a surprise to the army of Dany lovers on the internet. She's certainly had an eventful season, from agreeing to fight the White Walker army, to confronting Queen Cersei face to face to having incestuous relations with her nephew…
Speaking of her nephew, the much-loved Jon Snow was second on the list of top-mentioned characters this season.
His sort-of sisters, Arya and Sansa also made the list, while the Night King also made a predictable appearance at number four.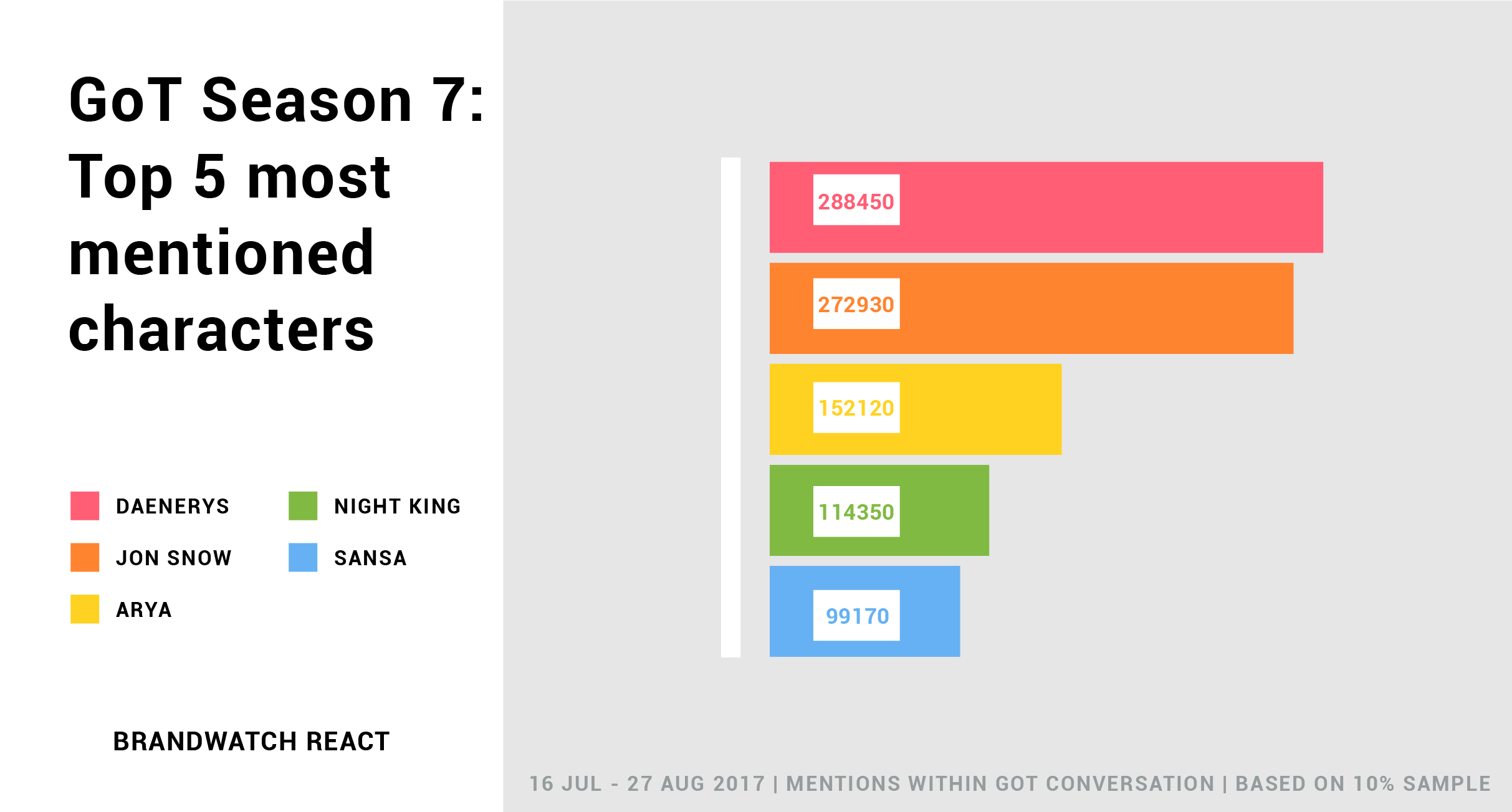 Perhaps the most shocking thing about the list is who's not on there. Where's Tyrion? Where's Cersei? The Lannisters made no real splash.
---
You might like
Infographic: We Analyzed 1 Million Game of Thrones Reddit Posts. Here's What We Found
---
4. Drogon is the biggest dragon on social and in the show
But Viserion, the now zombie dragon, is catching up to him with 41% of the dragon-related mentions.
Perhaps being the least mentioned dragon isn't such a bad thing, since it involves not getting shot by a giant spear like the other two, but poor old Rhaegal doesn't have much going for him on social media at the moment. Perhaps his presence will be more prominent in season 8.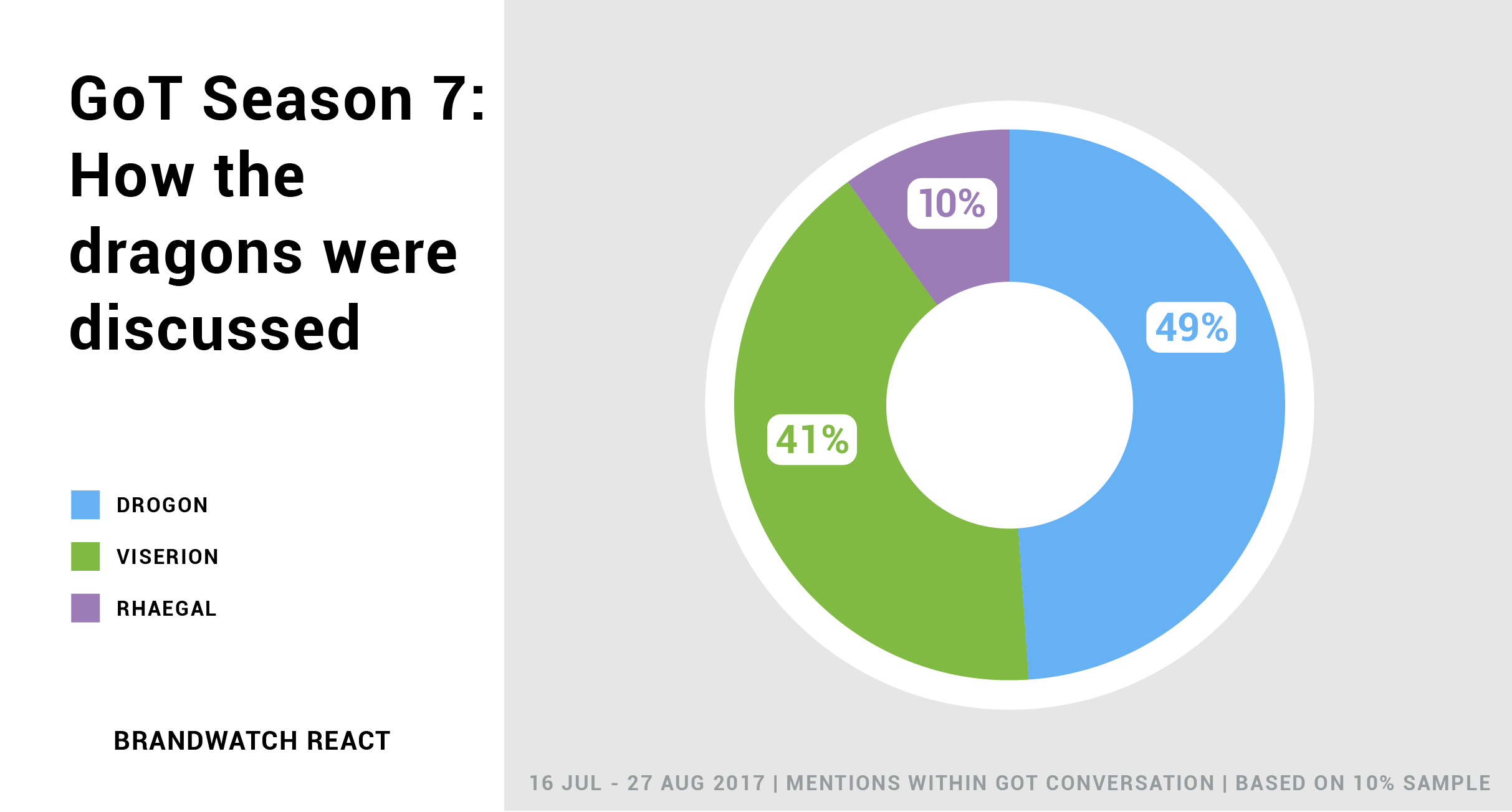 5. The top three biggest moments of the season are from the very beginning and the very end.
We examined the mention volumes per minute for each episode of the season so far.
3. 4,000 mentions in a single minute: Viserion brings the wall down in the season finale, clearing a path for the White Walker army.
2. 4,200 mentions in a single minute: Arya poisons the remainder of House Frey in the opening episode of the season.
1. 6,080 mentions in a single minute: The Night King has Viserion the dragon dragged from the frozen lake. He wakes up to become part of the White Walker army, boosting their power enormously.
---
You might like
The Internet Reacts to Game of Thrones Season 7, Episode 7: The Dragon & The Wolf
---
Want MORE Game of Thrones Season 7 data?
You can check out each episode's social data run down here:
Our coverage of Game of Thrones data spans years, and we have a huge archive of season and episode specific data over at react.brandwatch.com/gameofthrones. Our wavey data visualisations will also be covering season 7 as it goes on. (Note: You may notice some subtle differences in how the viz looks to how the charts in blogs do – we're using slightly different methods of tracking character mentions).
You can also take a look at our Game of Thrones infographic that we released ahead of season 7 alongside Dr. Jillian Ney. It analyzes a million Reddit posts to find the most loved, overrated and underrated characters and more.
Still want more? You can download our case study on how Brandwatch helped DDB and Sky inspire New Zealanders who had previously dismissed the show to get excited about the upcoming season.
If you're a journalist looking to cover our data email us at react@brandwatch.com for more information
---
Bridging the gap between GoT fans online and real life
Download the case study and learn more.
GET THE CASE STUDY