The Internet Reacts to Game of Thrones Season 7, Episode 7: The Dragon & The Wolf Entertainment

Episode seven of Game of Thrones Season 7, The Dragon & The Wolf (the season finale) has finally graced our screens.
We, of course, have the data.
**SPOILER NOTES: There are two parts to this post. In the first, we won't go into the details of what happened in the episode but we'll tell you which characters were mentioned most and when spikes in mentions occur. In the second, we'll tell you exactly what the top mentioned moments are. Big time spoilers. You've been warned.**
The Dragon & The Wolf: Top line stats
118,670 mentions of the show between 9pm and 10.30pm ET
The biggest mention spike came at 10:25pm, with 4,020 tweets in a single minute
59% of gender-categorized authors were female, 41% male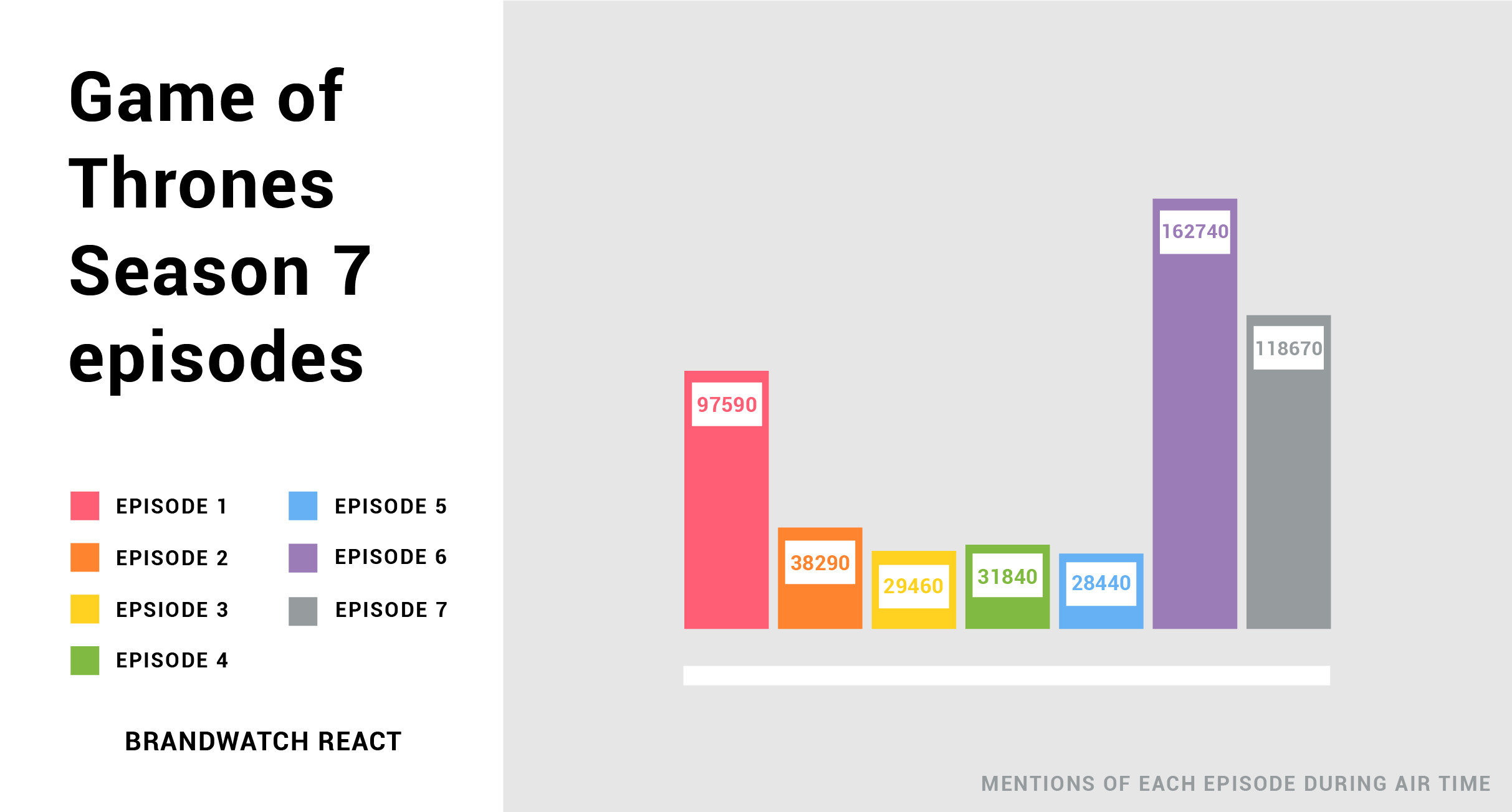 You can check out our social data run-downs of all of the episodes this season here:
---
You might like
The Internet Reacts to Game of Thrones Season 7, Episode 6: Beyond the Wall
---
The non-specific highlights
It looks like the last moments are the most intense, so prepare yourself for the end of the end of the season if you've not seen it yet.
9pm-9.45pm are fairly tame on social compared to the finale.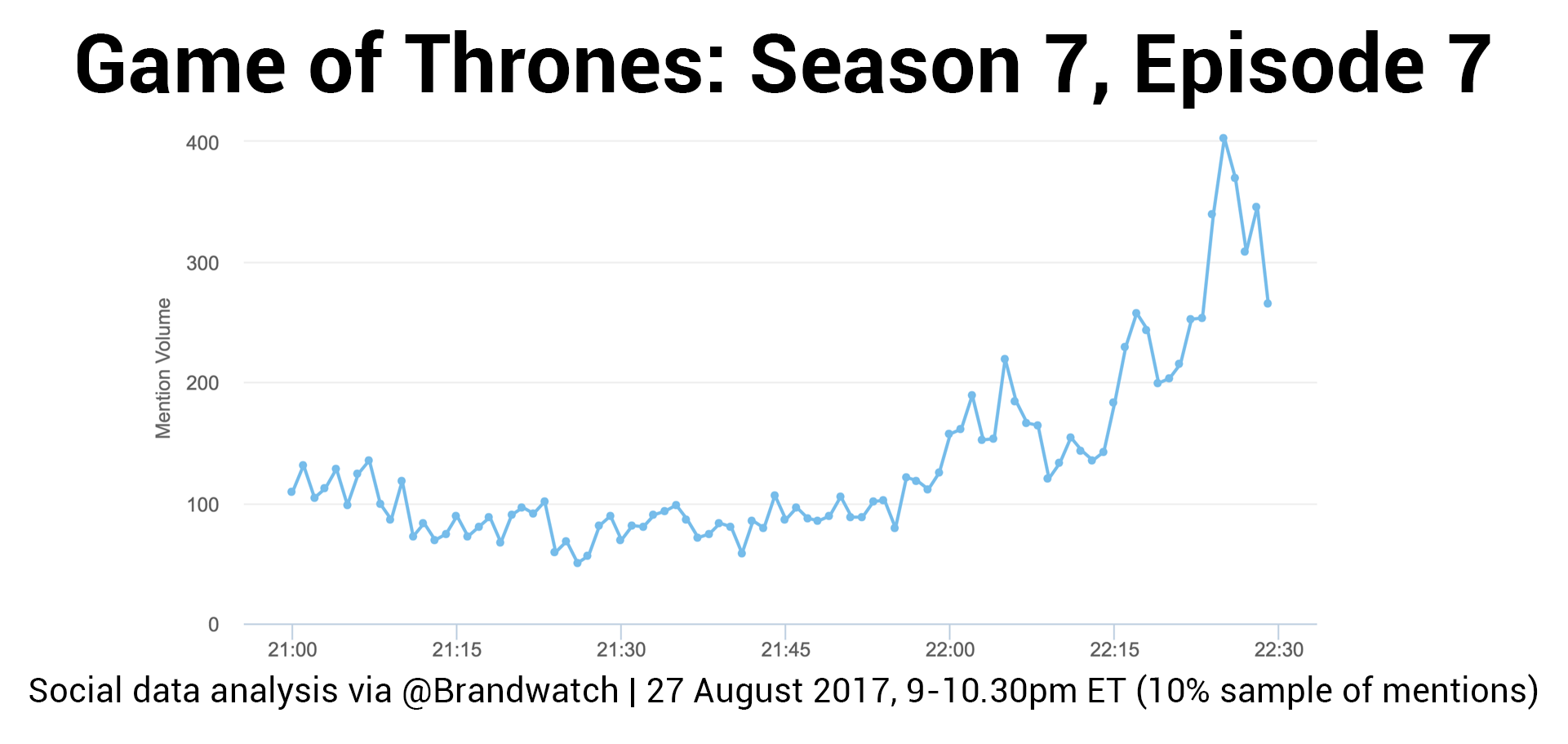 The top-mentioned characters
The most surprising thing about this chart is that Jon Snow isn't the number one character – a very rare occurrence this season.
Instead, it's Petyr Baelish…Curious, if you've not seen the episode yet.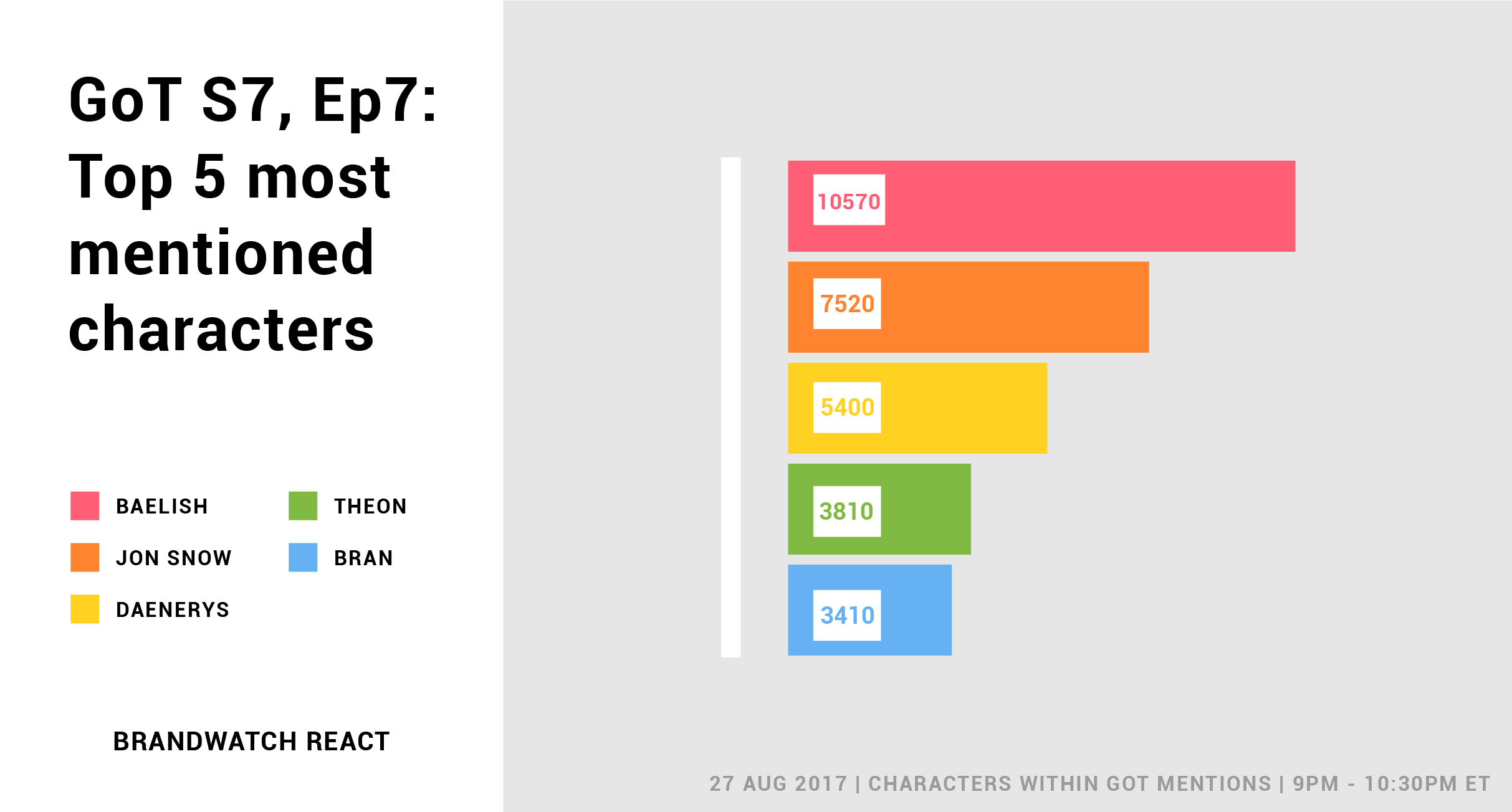 Arya and Sansa, who have been regulars in the top five this season don't get much traction this episode. Meanwhile, Jon Snow and Daenerys, who are always near the top, are at 2nd and 3rd.
The top five moments (big time spoilers)
5. Euron is a chicken (9:44pm ET, around 1000 mentions)
Euron's uncharacteristic departure from the council meeting after seeing a wight confused fans (although the truth would soon be revealed).
4. Theon decides to rescue Yara (9:56pm ET, around 1,200 mentions)
Theon earns Jon Snow's forgiveness and convinces his men to help him rescue his sister Yara, who Euron claims is still alive.
3. Littlefinger dies and everyone cheers (10:05pm ET, around 2,200 mentions)
After trying to turn Sansa against her sister, the youngest remaining Stark children (if we're still counting Jon Snow) take revenge.
2. Jon Snow and Daenerys get it on on a boat while Bran's voiceover explains how they are related (10.17pm ET, 2,570 mentions)
Awks, although incest doesn't seem like much of a big deal anymore in GoT.
1. Viserion obliterates The Wall with blue fire and opens a path for the White Walkers (10:24pm ET, around 4,000 mentions)
Snow fell on Kings Landing, the White Walkers have got past The Wall, Cersei is her usual scheming self, Jon Snow and Daenerys may have to face the Night King's massive army without any help from the Lannisters' Army. Sounds like the perfect set up for season 8.
We'll be marking the end of the season with a full social data round-up of the biggest moments and audience reaction in a Facebook Live session on Wednesday 30th August and with a final blog post. It's been a pleasure serving you data this season.
---
You might like
Infographic: We Analyzed 1 Million Game of Thrones Reddit Posts. Here's What We Found
---
Want more Game of Thrones data?
Our coverage of Game of Thrones data spans years, and we have a huge archive of season and episode specific data over at react.brandwatch.com/gameofthrones. Our wavey data visualizations have been covering season 7 as it goes on. (Note: You may notice some subtle differences in how the viz looks to how the charts in blogs do – we're using slightly different methods of tracking character mentions).
You can also take a look at our recently released Game of Thrones infographic that we released alongside Dr. Jillian Ney. It analyzes a million Reddit posts to find the most loved, overrated and underrated characters and more.
Still want more? You can download our case study on how Brandwatch helped DDB and Sky inspire New Zealanders who had previously dismissed the show to get excited about the upcoming season.
If you're a journalist looking to cover our data email us at react@brandwatch.com for more information
---
Bridging the gap between GoT fans online and real life
Download the case study and learn more.
GET THE CASE STUDY