The Internet Reacts to Game of Thrones Season 7, Episode 6: Beyond the Wall Entertainment
Episode six of Game of Thrones Season 7, Beyond the Wall, has (officially) come to our screens and we have the data.
**SPOILER NOTES: There are two parts to this post. In the first, we won't go into the details of what happened in the episode but we'll tell you which characters were mentioned most and when spikes in mentions occur. In the second, we'll tell you exactly what the top mentioned moments are. Big time spoilers. You've been warned.**
Oh, HBO
Last week saw HBO Spain accidentally air episode 6 instead of episode 5 during the usual slot. So basically everyone (not us) watched the show online in advance of its official air date.
We found 29,620 mentions of "leak" (or leaked, or leaking, or leaks) in the week leading up to the show airing.
That was a bit of a blunder, HBO.
Anyway, we still measured data during the official show time as usual.
Beyond the Wall: Top line stats
162,740 mentions of the show between 9pm and 10.15pm ET (the episode was 70 minutes long). This was the top-mentioned of the whole season so far – a surprising level of live engagement given how many people streamed the show before it came out officially.
The biggest mention spike came at 10:13pm, with 6080 tweets in a single minute
58% of gender-categorized authors were female, 42% male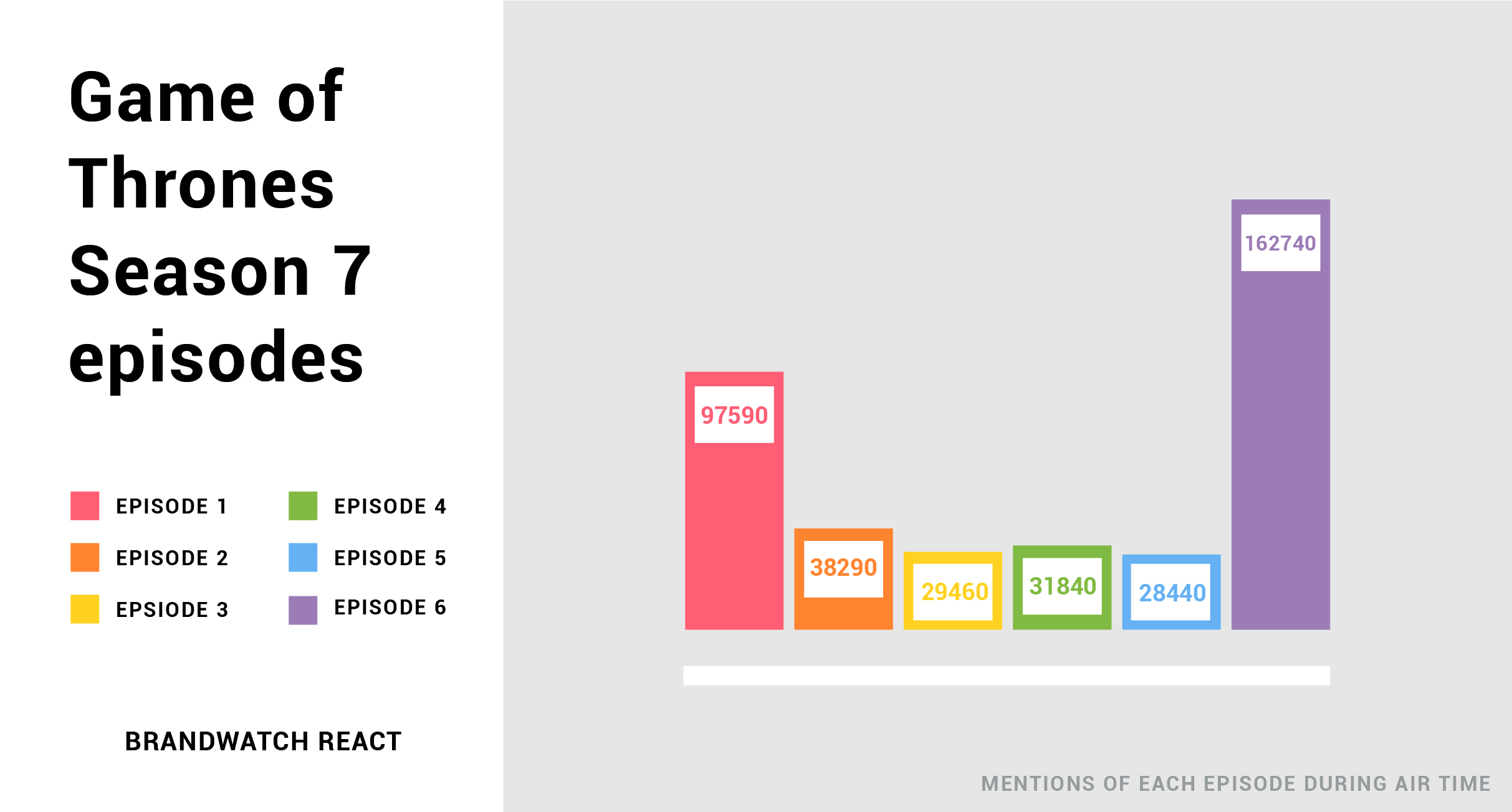 You can check out our social data run-downs of all of the episodes so far this season here:
---
You might like
The Internet Reacts to Game of Thrones Season 7, Episode 5: Eastwatch
---
The non-specific highlights
Mentions undoubtedly peaked at the end of the episode, so brace yourself for a big finish if you've not watched yet.
This spike in mentions is huge in comparison to what we've seen so far. Expect drama.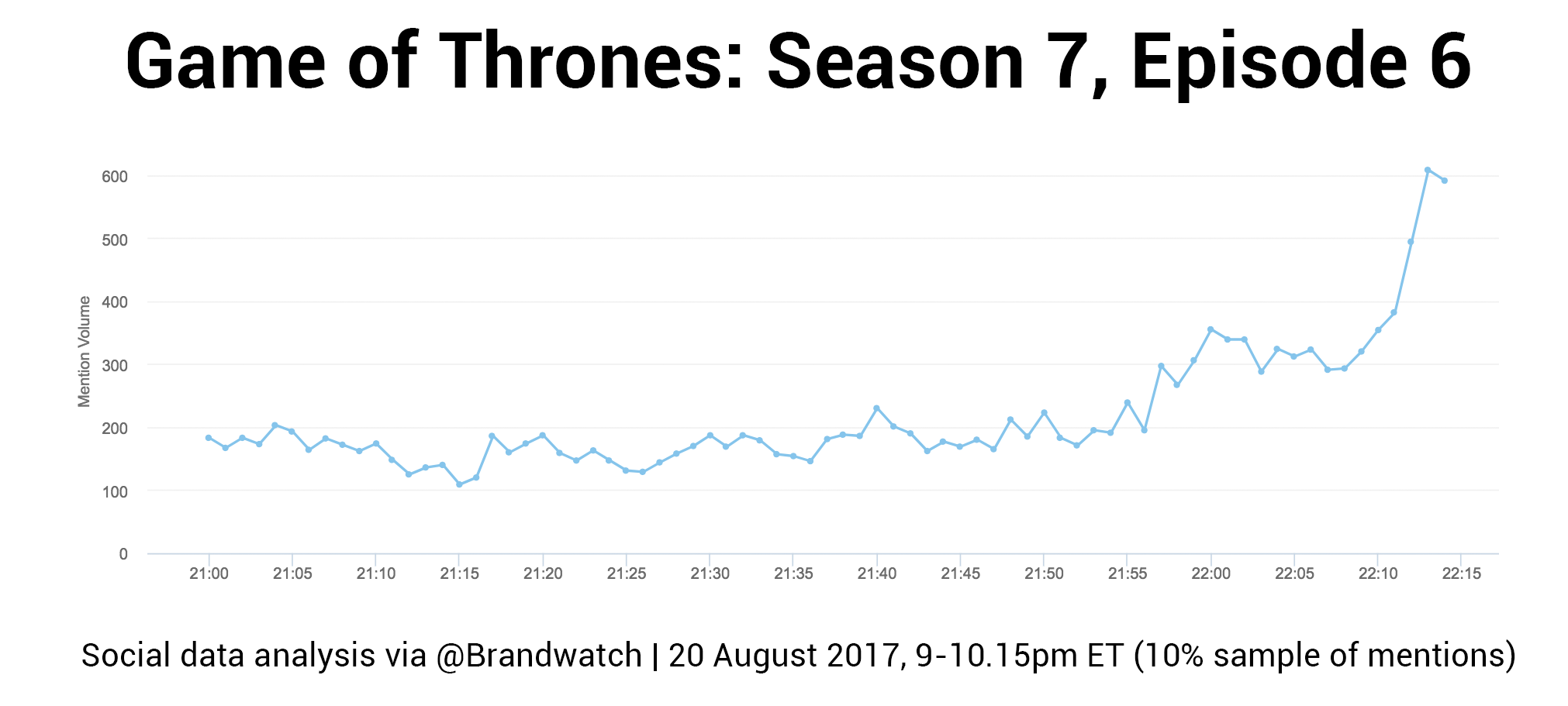 The top-mentioned characters
Surprise, surprise. Jon Snow is (for the fourth time) the top-mentioned GoT character this week.
Actual surprise: The Night King made his first appearance in our chat-stirring character chart.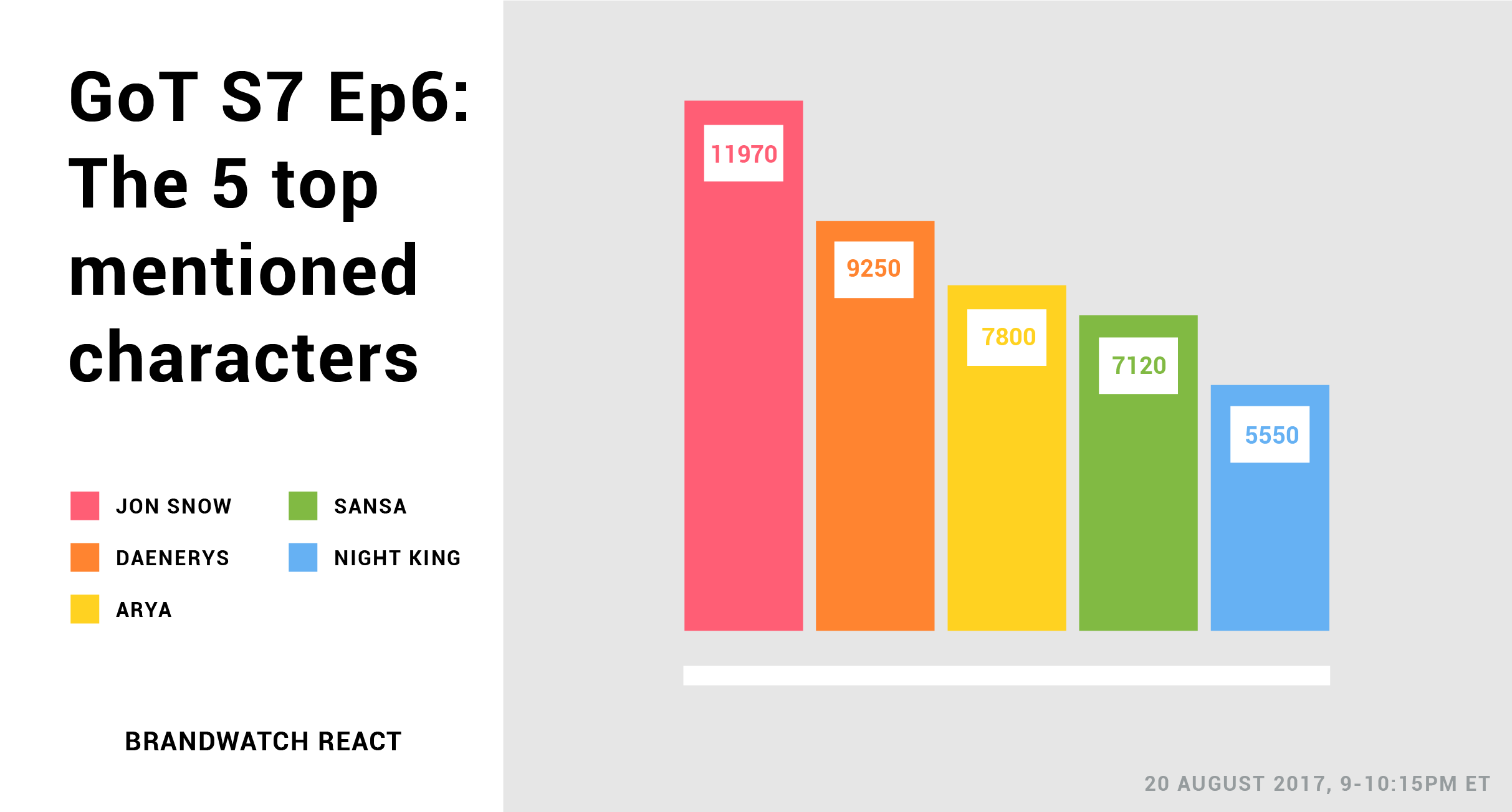 Arya, Sansa and Daenerys have also been regulars in this chart so far this season, while Bran has also made an appearance. The Stark family are basically the Kardashians of Game of Thrones.
Spoiler time: The top 5 most mentioned moments:
5. Jon dragged beneath the frozen lake (9:57 p.m. ET, 2,970 mentions)
During the tense fight with the white walkers Jon is pulled into the frozen lake. It doesn't look good for Jon at this point, with Daenerys taking off with the others aboard Drogon the dragon.
4. Jon calls Daenerys 'Dany' (10:06pm ET, 3,230 mentions)
Daenerys is known as Dany across social media – it's one of the search terms we use to find mentions of Daenerys for our 'top mentioned character' graph.
She isn't a big fan of it on screen, though.
3. Uncle Benjen saves Jon (10:02pm ET, 3,390 mentions)
Through some convenient twist of fate, as Jon Snow emerges from the frozen lake, alone to face the White Walker army, Uncle Benjen Stark swoops in and gives him his horse. For some reason he says there is no time for them both to flee on the horse, so he takes on the White Walkers with his fiery rope thing while Jon gets away.
Uncle Benjen not being able to fit on that horse with Jon is like Jack not being able to fit on the door with Rose. #GameOfThrones pic.twitter.com/VM4ZerzfG1

— Steph Seacat Hulesch (@stephhulesch) August 21, 2017
2. Viserion is knocked out of the sky by the Night King (10:00pm ET, 3,550 mentions)
The death of Viserion was a huge moment for the season, and it was pretty traumatic for dragon lovers. He was hit by an ice spike thrown by the Night King, causing him to plummet from the sky, and slip dead into the frozen lake.
1. WTF ZOMBIE DRAGON (10:13pm ET, 6,080 mentions)
The final scene will go down as one of the biggest moments in the GoT social data history book which is, of course, a heavily referenced text.
The Night King looks on as Viserion's corpse is dragged from the frozen lake (quite a feat given that those pulling the chains are dead and Viserion is a massive dragon).
Stroking him on the nose, the Night King wakes Viserion up to his new reality: Blue-eyed zombie dragon.
Will he breath ice or fire? Will he turn on his mother in battle? Is he any match for Drogon? Only time will tell, but the White Walkers are now far more powerful.
Want more Game of Thrones data?
Our coverage of Game of Thrones data spans years, and we have a huge archive of season and episode specific data over at react.brandwatch.com/gameofthrones. Our wavey data visualisations will also be covering season 7 as it goes on. (Note: You may notice some subtle differences in how the viz looks to how the charts in blogs do – we're using slightly different methods of tracking character mentions).
You can also take a look at our recently released Game of Thrones infographic that we released alongside Dr. Jillian Ney. It analyzes a million Reddit posts to find the most loved, overrated and underrated characters and more.
Still want more? You can download our case study on how Brandwatch helped DDB and Sky inspire New Zealanders who had previously dismissed the show to get excited about the upcoming season.
If you're a journalist looking to cover our data email us at react@brandwatch.com for more information
---
Bridging the gap between GoT fans online and real life
Download the case study and learn more.
GET THE CASE STUDY