The Internet Reacts to Game of Thrones Season 7, Episode 5: Eastwatch Entertainment
Episode five of Game of Thrones Season 7, Eastwatch, has hit our screens and we have the data.
**SPOILER NOTES: There are two parts to this post. In the first, we won't go into the details of what happened in the episode but we'll tell you which characters were mentioned most and when spikes in mentions occur. In the second, we'll tell you exactly what the top mentioned moments are. Big time spoilers. You've been warned.**
Eastwatch: Top line stats
28,440 mentions of the show between 9pm and 10pm ET (this is the lowest mention volume for an episode so far this season)
The biggest mention spike came at 9:50pm, with 780 tweets in a single minute
60% of gender-categorized authors were female, 40% male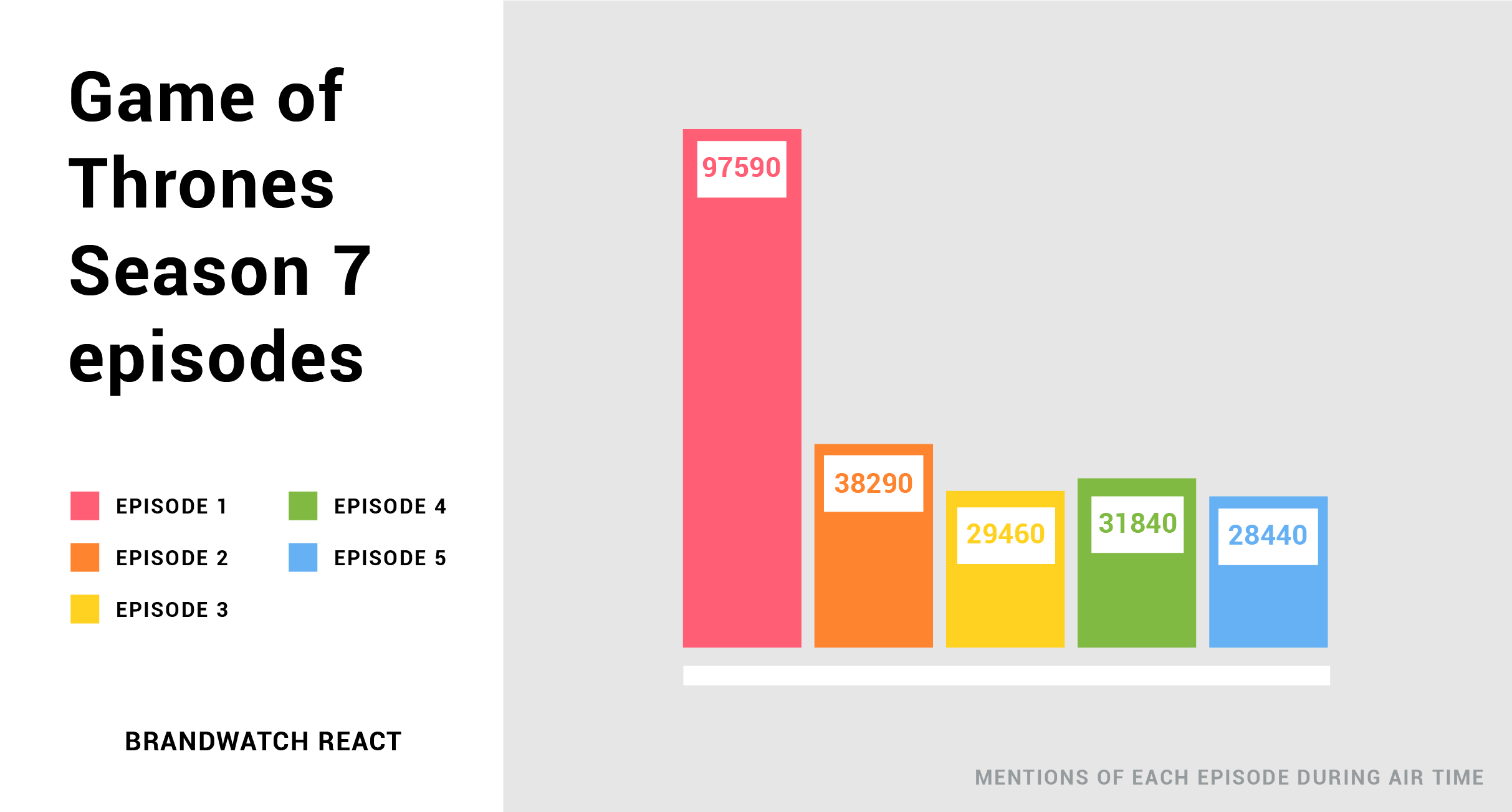 You can check out our social data run-downs of all of the episodes so far this season here:
---
You might like
The Internet Reacts to Game of Thrones Season 7, Episode 4: Spoils of War
---
The non-specific highlights
There was a fairly unusual pattern in mention spikes for episode five.
Usually, there's one big stand out moment or scene that dominates the chart and makes all the other scenes look dull in comparison.
That's not so much the case here. Instead, it looks like a fairly balanced episode, with peaks around 9:37 and 9:50, as well as in the final moments.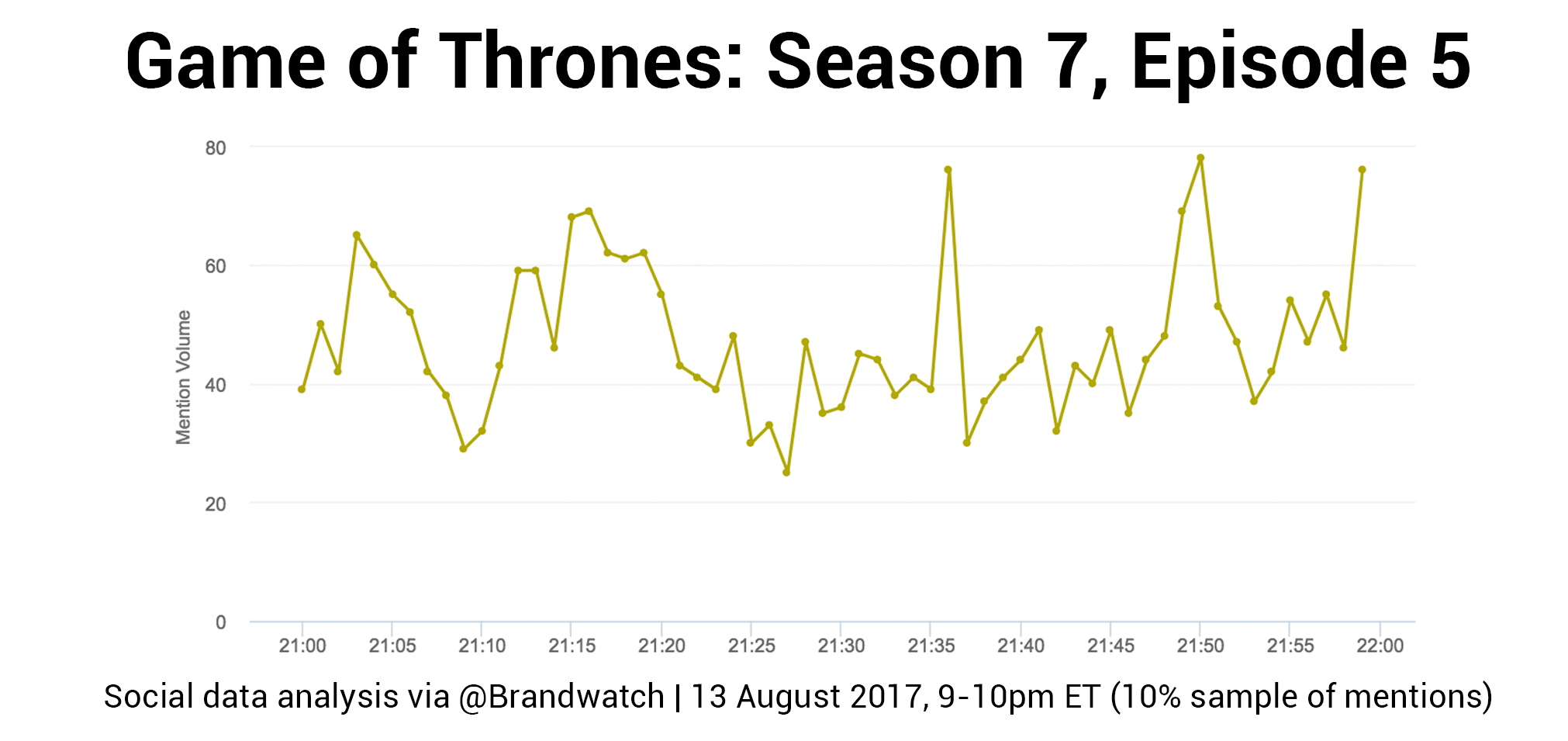 If you're watching the episodes and have to leave the room, it looks like 9:25 is a good mid-way bathroom break point.
The top-mentioned characters
Usually this section doesn't give way to spoilers, but today I'm afraid it does.
Without revealing anything specific, the much-loved and not recently seen character Gendry has made it into our top five most mentioned characters.
We'll say no more.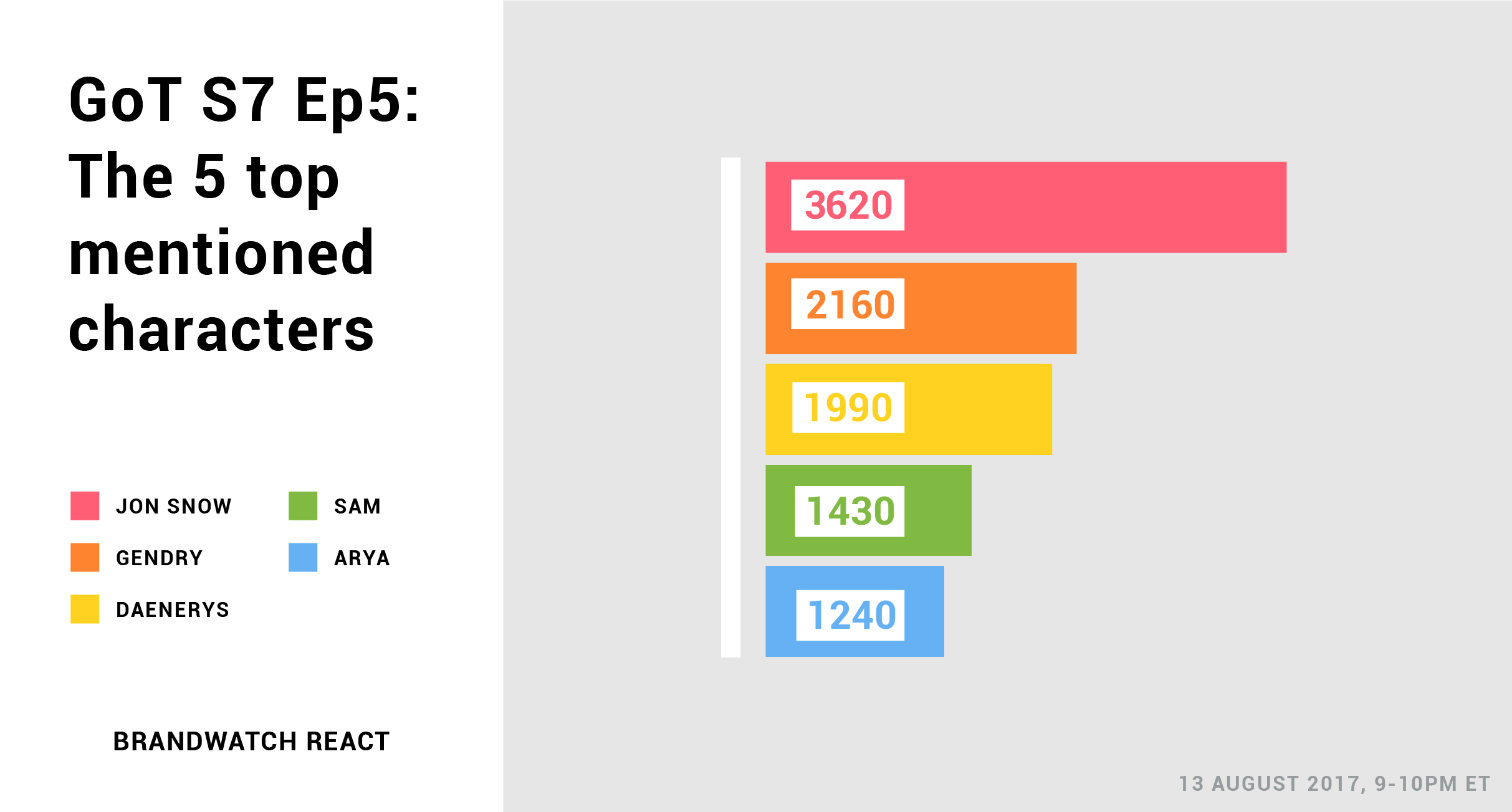 Meanwhile, Jon Snow was the top-mentioned character again (for the third time so far this season).
---
You might like
Infographic: We Analyzed 1 Million Game of Thrones Reddit Posts. Here's What We Found
---
Spoiler time: The five top-mentioned moments
You might recognise this data from This Is Insider where it was featured earlier this week.
5. Jaime is alive! (9.03pm ET – 640 mentions)
Fans didn't have to wait long to find out the fate of Jaime Lannister, last seen sinking into the bottom of a lake after attempting to attack Daenerys and Drogon.
Bronn pulls him from the water as the episode begins.
4. Jon Snow pets Drogon like he's a puppy (9.16pm ET – 690 mentions)
At first it looked like Drogon was going to eat Jon, then he seemed pretty chill as Jon patted him on the nose. Aww.
Did he sense that Jon is really a Targaryen? Or did Jon just have some dog treats hidden in his coat? Who knows? (Jon Snow definitely doesn't).
3. Jon Snow and team go looking for a White Walker (9.59 – 750 mentions)
To prove the existence of the army of the dead marching slowly but surely towards an unexpecting population on the other side of The Wall, Jon gets a team together to catch a White Walker.
2. Gendry is alive! (9.36pm – 760 mentions)
Fans have waited a long time to see Gendry again. And now he's back and he's not afraid to smash a man's face in.
1. Gilly shares an important piece of information that Sam totally ignores (9.50pm – 780 mentions)
Sam stops listening to Gilly who's reading out some seemingly unimportant facts about the Citadel, followed by the knowledge bombshell about Jon's parents.
This could place Jon next in line for the Iron Throne, but Sam ignores Gilly. Not smart, Sam.
GILLY WAS LITERALLY PROVING R+L=J AND SAM DID NOT LISTEN I AM UPSET 🗣🗣🗣 #GameOfThrones #GoTS7 #ThronesYall pic.twitter.com/zG0ZFKM1Z0

— Jon Winterfell (@JonWinterfall) August 14, 2017
Sam interrupting Gilly as she makes THE MOST IMPORTANT REVEAL in #GameOfThrones is every woman's experience in every meeting ever

— Abigail Brooks (@_abigailbrooks) August 14, 2017
Want more Game of Thrones data?
Our coverage of Game of Thrones data spans years, and we have a huge archive of season and episode specific data over at react.brandwatch.com/gameofthrones. Our wavey data visualisations will also be covering season 7 as it goes on. (Note: You may notice some subtle differences in how the viz looks to how the charts in blogs do – we're using slightly different methods of tracking character mentions).
You can also take a look at our recently released Game of Thrones infographic that we released alongside Dr. Jillian Ney. It analyzes a million Reddit posts to find the most loved, overrated and underrated characters and more.
Still want more? You can download our case study on how Brandwatch helped DDB and Sky inspire New Zealanders who had previously dismissed the show to get excited about the upcoming season.
If you're a journalist looking to cover our data email us at react@brandwatch.com for more information
---
Bridging the gap between GoT fans online and real life
Download the case study and learn more.
GET THE CASE STUDY