New Ken Dolls: How The Internet Is Reacting To Barbie's New Man Trending

A range of new Ken Dolls has been announced by Mattel. Naturally this caused swathes of people, many of whom's Barbie and Ken dolls are holding hands in a landfill croaking out "When somebody loved me", to take to the internet to voice their thoughts.
There are now 15 new and diverse Ken dolls available, with three body types and a variety of skin tones, eye colors and hairstyles. Mattel claims the new range makes the Ken dolls, alongside the rest of the Fashionistas, the most diverse fashion doll line in the marketplace.
Thousands of people in a Barbie world
Ken may have traditionally taken a back seat compared to Barbie, but not this week. We tracked over 30,000 mentions across Facebook, Twitter and Instagram 20th and 21st June.
The story was covered by BBC News (World), Reuters, TIME, the Wall Street Journal and plenty of other huge news organizations.
That said, the reaction wasn't nearly as big as last year's new Barbie range reveal when we tracked over 60,000 tweets on the first day of announcement alone.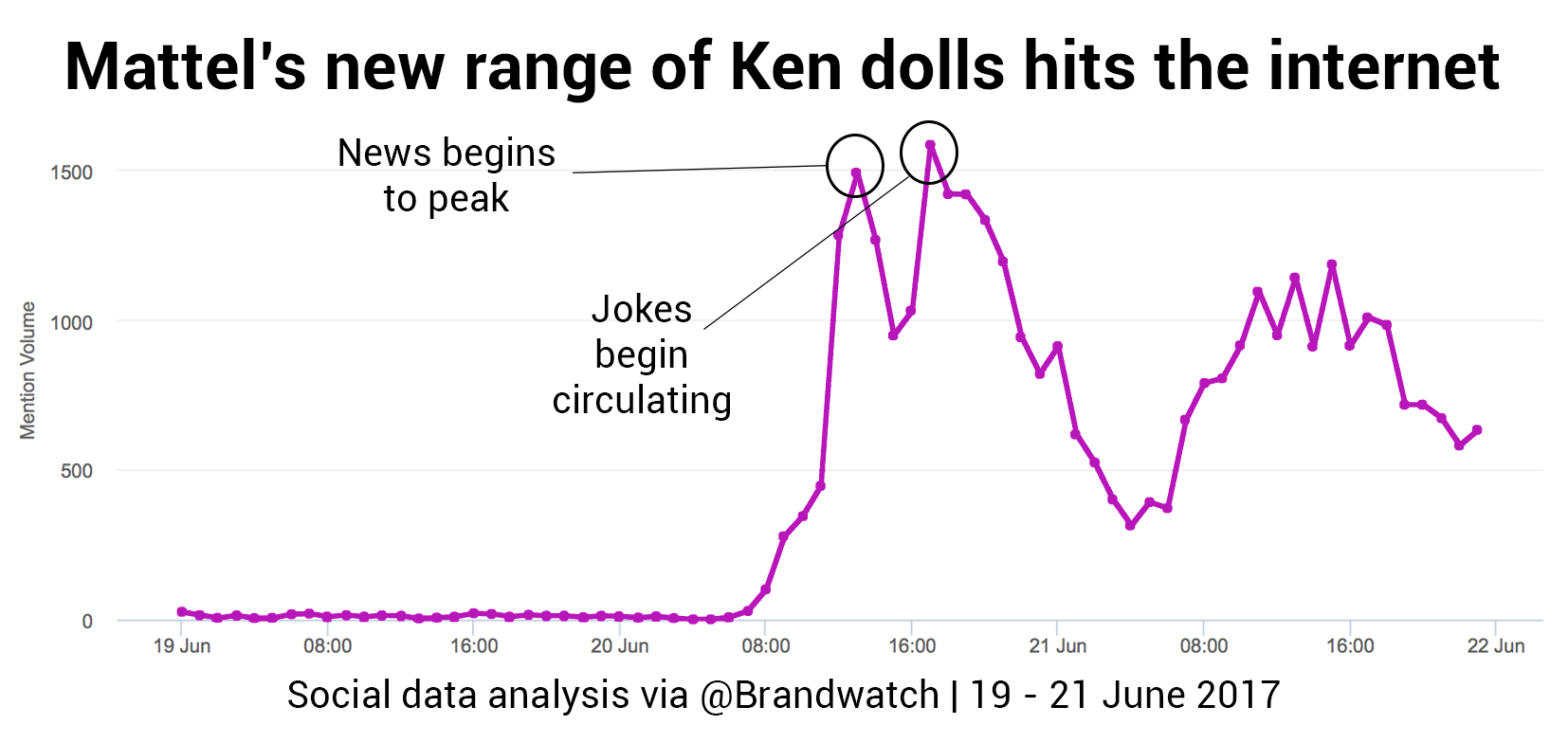 It being the internet, it didn't take long for jokes about the new Ken dolls to emerge. Man-bun Ken appears to be the butt of most of them.
Man-bun Ken doll just interrupted me to tell me that Bernie would have won. pic.twitter.com/Mnu8pAXV7F

— Jessie Dean (@NicCageMatch) June 20, 2017
In fact, while plenty of people were commenting on the diversity of the new range, "man bun Ken" was one of the most prominent terms in the conversation.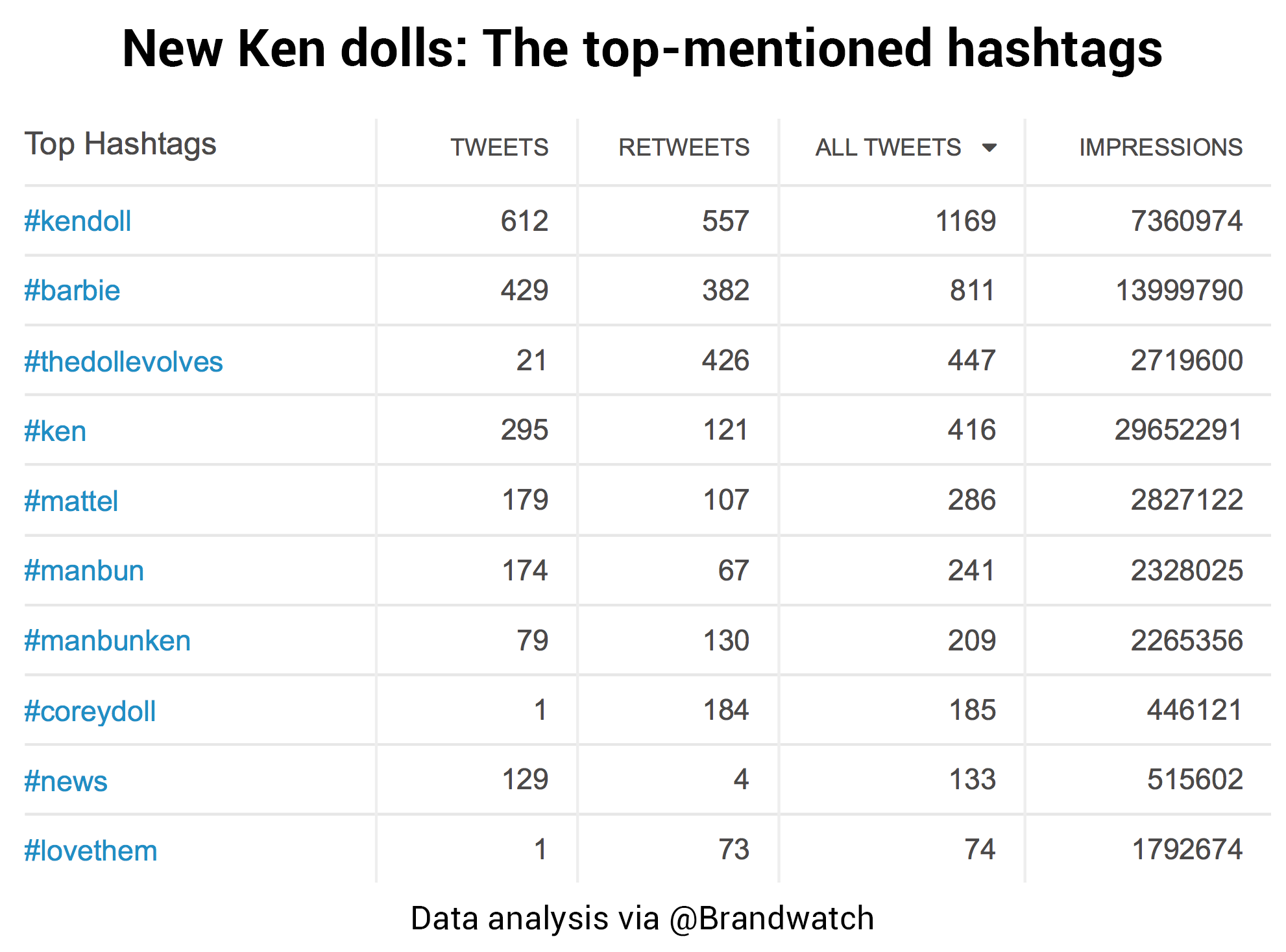 While negative-categorized mentions were in the minority, "man bun Ken" made up a large part of them, with a lot of comments on his faded jeans and (imagined) attitude.
Poor man-bun Ken. Although it does look like he's caused the biggest spike in man-bun conversation so far this year which is quite the achievement.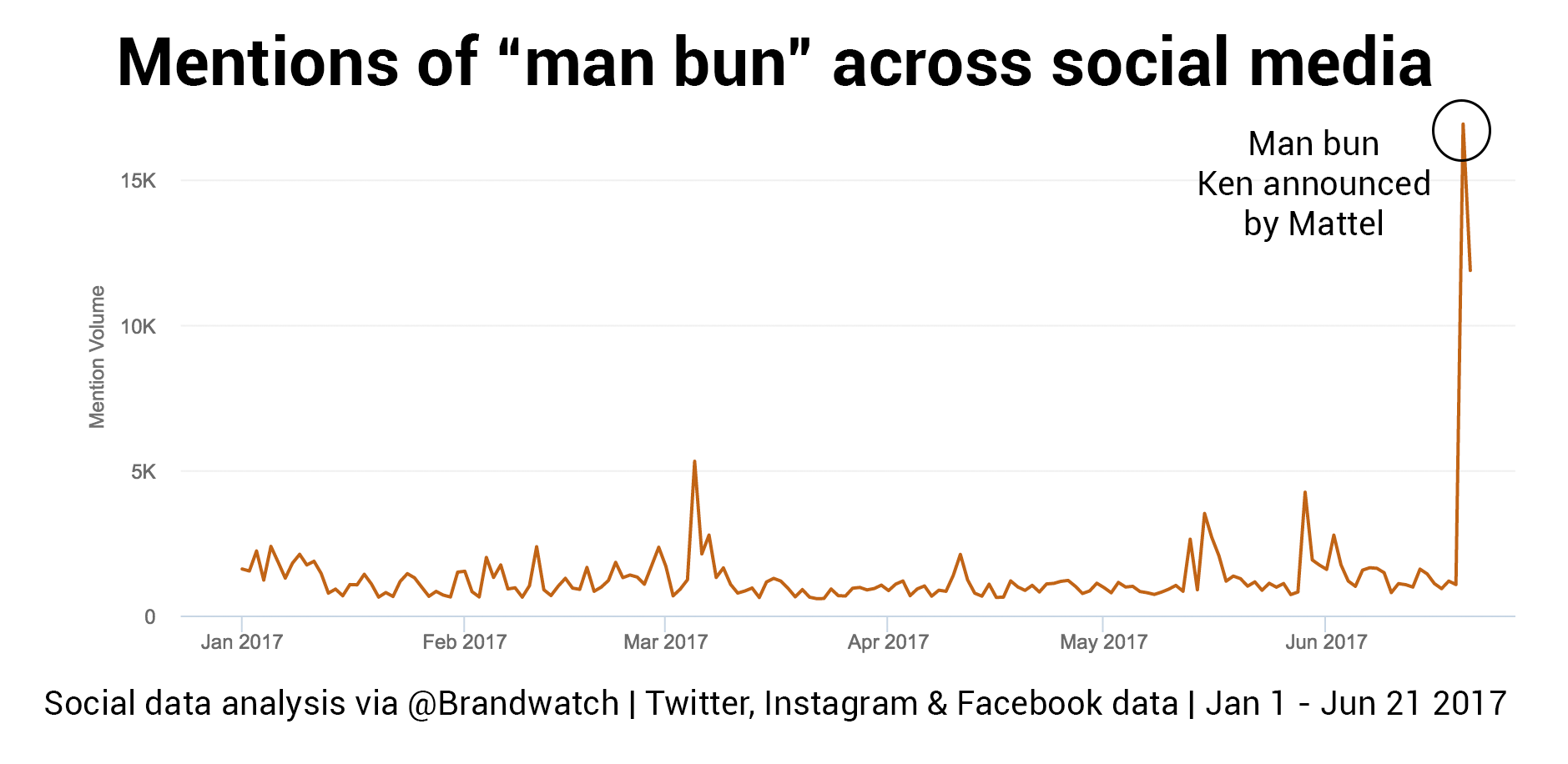 ---
You might like
Interview: How Toys "R" Us Uses Social Data to Unearth Powerful Consumer Insights
---
Getting political
One of the new rules of the internet is that nothing can go viral without some form of President Trump related mention involved.
Naturally, the Ken Doll news was accompanied by a slew of Trump mentions and comparisons. A popular tweet came from @TheYoungTurks who claimed that Donald Trump was less popular than Man-Bun Ken.
Man Bun Ken Doll More Popular Than @realDonaldTrump pic.twitter.com/5emj53uOwh

— The Young Turks (@TheYoungTurks) June 22, 2017
We checked both of their popularity on social and found that, in fact, Donald Trump was getting a higher % of positive-categorized tweets in the last 24 hours than man-bun Ken.
Toys for all
Unsurprisingly, women out-mentioned men when it came to discussing the announcement online.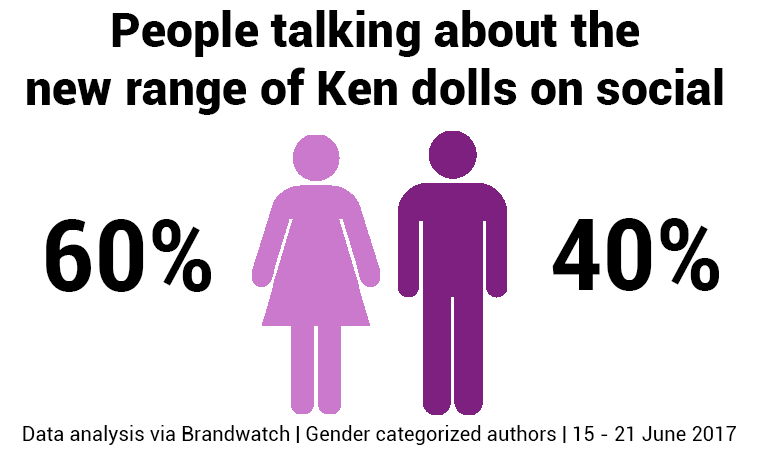 It's clear that the range is still targeted at young women. As Lisa McKnight, Senior Vice President and General Manager at Barbie, says:
"By continuing to expand our product line, we are redefining what a Barbie or Ken doll looks like to this generation… Evolving Ken was a natural evolution for the brand and allows girls to further personalize the role they want him to play in Barbie's world."
Whether boys play with them or not, as an enormous brand with a lot of exposure among young people, the inclusion of a more representative group of Ken dolls is being celebrated as a positive thing for young men too.
---
You might like
Death of the Mall: Retail Brands Must Update Aging Approaches To Customer Experience
---
While some might argue the new range is long overdue, it's a good example of a company listening to their audience and making positive changes to their products as a result.
Moving with the times is made infinitely easier when a brand has a finger on the pulse of public opinion, something that social listening plays a key part in.
If you're a journalist looking to use our data email us at react@brandwatch.com for more information
---
Brandwatch Analytics
Listen to your customers. Fuel product innovation.
Find out more