Do Restaurant Chains Need Social Media? Yes, and Here's Why. Trending

Today I woke up to the shock news that JD Wetherspoon, owners of the UK's much-loved budget pub/restaurant chain Wetherspoons ("spoons") is quitting social media.
Here's the post (although it doesn't exist anymore – the company didn't hang about on fulfilling its promise of quitting social).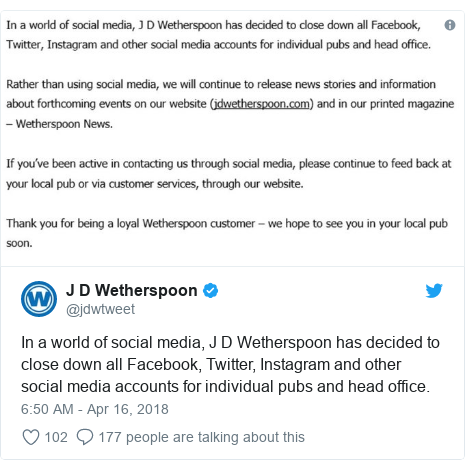 Quoted by the BBC, Chairman Tim Martin said: "We were also concerned that pub managers were being side-tracked from the real job of serving customers," he said. "I don't believe that closing these accounts will affect our business whatsoever."
His comments are interesting, and there's support for the idea on social media that the pub's social presence probably wasn't doing much for helping them shift their (admittedly spectacular) burger and a pint deals.
Wetherspoons coming off social media. Probably a good move – I can't imagine them posting tweets has helped sell many pints. Wonder how many companies could retreat with no impact on bottom line? Probably most of them.

— Rob Manuel (@robmanuel) April 16, 2018
To be honest, Wetherspoons is such a household name social media would be an added bonus to them, and possibly isn't worth the time/effort.

— Mollie Goodfellow (@hansmollman) April 16, 2018
The revelation that Wetherspoons is ditching social media could be considered a massive blow to the industry's social presence as far as the UK food and beverage scene goes – there are at least 900 Wetherspoons pubs in the UK, and the brand is, as Mollie says, a household name.
Do Wetherspoons need their social media accounts? Well, that's up for debate. Do they need social media? I would argue yes – yes they do.
Here's why:
The argument for owned accounts
Wetherspoons have clearly made up their minds, but there are two key ways that owned accounts can benefit food and beverage companies particularly.
Customer service
Social media is a key avenue for feedback, and blocking out @ mentions that contain valuable insights into customers' experiences within eateries and pubs is a bold choice.
When it comes to giving feedback, social media offers them a very direct and immediate opportunity to do so. Now, giving feedback via the company's website, customers will have to find the customer service section (something that isn't immediately visible in the website's current form). By forfeiting a chunk of their online feedback, Wetherspoons may now be missing out on important insights and patterns in how customers are experiencing their staff and premises.
Reach
This might be obvious for any brand, but there's no reason that food and beverage brands can't excel at reaching enormous audiences on social and improving their reach and presence of mind among consumers despite already being a household name.
Wendy's in the US, for example, was able to help nugget fan Carter get the most retweeted tweet of all time – a historic social media moment that can't have been bad for their nugget sales (depending on how many the guy ate).
.@carterjwm is now the most retweeted tweet of all-time. That's good for the nuggets, and $100k to @DTFA. Consider it done. #nuggsforcarter pic.twitter.com/k6uhsJiP4E

— Wendy's (@Wendys) May 9, 2017
Meanwhile, Denny's Diner is a prime example of how to do social media marketing well. Last year we analyzed how a single memey tweet got them a huge amount of engagement and press coverage.
zoom in on the syrup pic.twitter.com/omRBupjrXq

— Denny's (@DennysDiner) March 1, 2017
You can read that analysis here:
---
You might like
Aspiring to be a Cool Brand on Social? Zoom in on Denny's
Read the Article
---
The argument for not detaching from social media entirely
Of course, deleting owned accounts is different to switching off social media as a source of insight. It's not clear if Wetherspoons is doing that, too.
Here's why they definitely shouldn't.
Detecting a crisis
If things go wrong, specifically when it comes to food, brand managers need to know about it fast. So ensuring that alerts are set up for spikes in negative mentions surrounding food is vital for making sure any potential crises are caught early and dealt with swiftly.
Arguably, getting messaging out quickly in a crisis demands social media accounts to keep people informed easily. That said, KFC's printed apology for a recent crisis in the UK got impressive results. Here's the full analysis.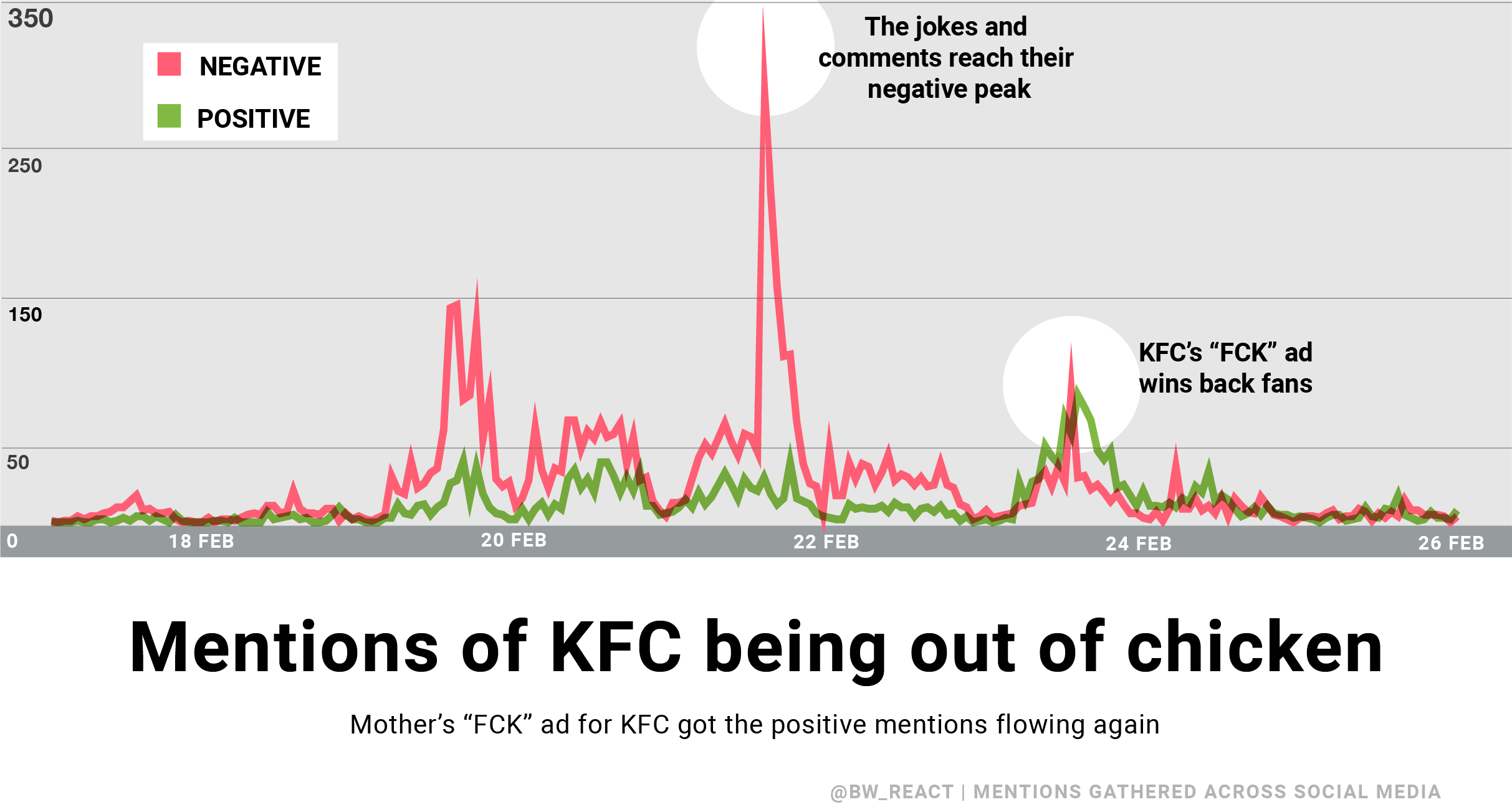 That Wetherspoons will continue to print their magazine which customers can read in the pub while not posting on social media is a really interesting move away from digital communication.
Learning about customer wants and needs
Away from crises, cutting off social means cutting off feedback both negative and positive about the brand as well as the industry.
Social data research can be a hugely valuable source of information both in itself and alongside traditional research methods.
Is a particular beer gaining traction online? Are there any influential personalities who are shifting consumer attention away from the brands currently stocked in pubs? Is there a need for more vegan or gluten free food on the menu? All of these questions could be researched using social data.
Campaign tracking
Regardless of the conversations surrounding the everyday running of the chain or the industry as a whole, Wetherspoons may want to keep track of how people are reacting to their various campaigns, whether they're ads or pro-Brexit beer mats.
Love Spoons, hate Brexit pic.twitter.com/8bdYH009S6

— Carl Craigslist (@conroy_bumpus) November 9, 2017
React about how quick-serve hamburger restaurant Jack in the Box tracked their own campaigns using Brandwatch here:
---