Communicating Business Data: Understanding the Importance of the Role of Visualizations Product
Looking back over the past 10 years, the phrase big data is being used more and more each day.
Our interest in data is growing exponentially, but is our ability to understand data getting any better? I'm not saying everyone needs to be a data scientist but we do need to quell the idea that only analysts have the ability to interpret data.
Everyone in your organization has the capability to make data-driven decisions.
Here at Brandwatch we have screens above almost team pod in the company. These screens aren't just decoration, they're there to communicate pertinent and real-time data to that team. The purpose is to change the culture of decision-making and ensure data plays a role in what we do.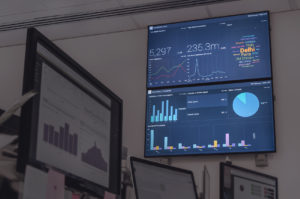 That's why when we have new updates to our Vizia platform it means we have more ways to visualize and communicate the data that's important to our teams. We have three of those updates to share today.
Our vision at Dell is to really understand our customers and as a result, how our business is aligned to needs and impact. Vizia leverages the power of visual content to deliver insight to our business from all sides of the house. We recognize the ability to mentally process images 60k faster than text and this helps our people to quickly assess and take action.

Alison Herzog. Director, Global Social Business Strategy, Dell
Choropleths
When it comes to understanding your customers and brand presence online, location data is key.
Before this update, there were three Choropleths available to our customers, APAC, EU and US, but there were two gaping holes in that coverage – a worldwide view and Latin American and Caribbean countries. Not any more.
But why does this matter?
Having the option to look at pure volume or volume normalized for density or population means you get true, easy to understand, and actionable insights.
Tracking launch performance
Whether you're a B2B or B2C brand, we all release products and launch campaigns and anyone that has experience in this area will understand the importance of tracking performance after the fact.
Obviously, you will be looking at more than just location data, but being able to see what countries and region your launch is resonating in can allow you to re-allocate resources and scope our new audiences and regions.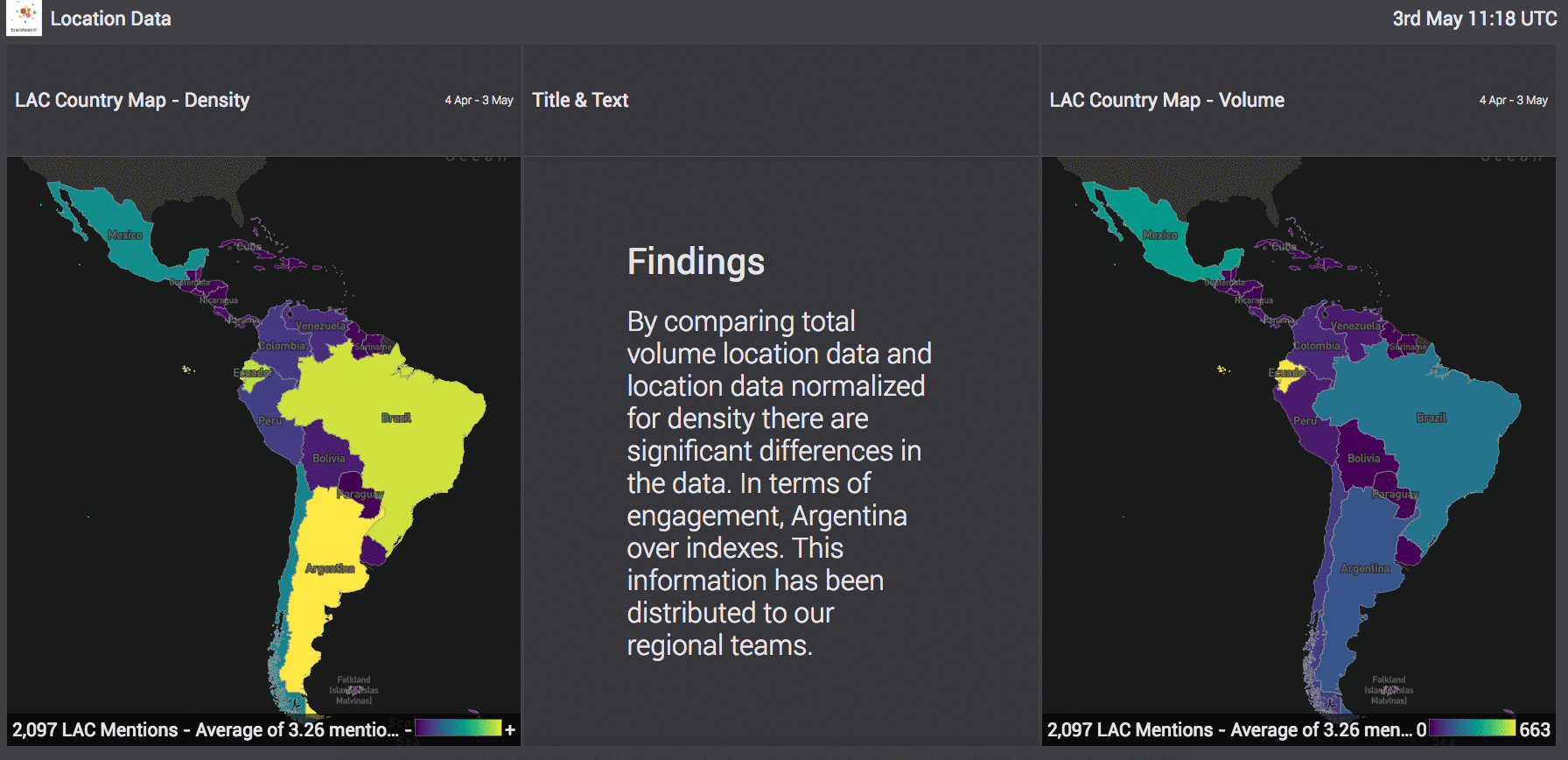 This data is one more piece of the puzzle but it brings added perspective to the objective on hand.
Voice of the customer
Where would we be without our customers? However, our customers and their preferences and needs are constantly changing, so being able to maintain a real-time view allows brands to make decisions that put them first.
The new Choropleths do just this. With the added territories there's not excuse for knowing exactly where your customers are, and in what volume. This means you can identify new markets or focus on territories that need some love.
---
You might like
Case Study: How American Airlines' Social Hub Powers Insights to the Whole Business
---
Tables
It may sound like a boring update but having a comparative view on groups like authors, countries and sites holds a lot of hidden value for you brand.
Tables have always featured in Vizia but following the release of the new platform, we realized the visual design wasn't as strong or insightful as it could be.
Identify new influencers
With the Top Authors table, you can seen the people talking about your brand the most on social. The benefits of this are apparent; identify new influencers and personas and develop relationship by engaging the moment.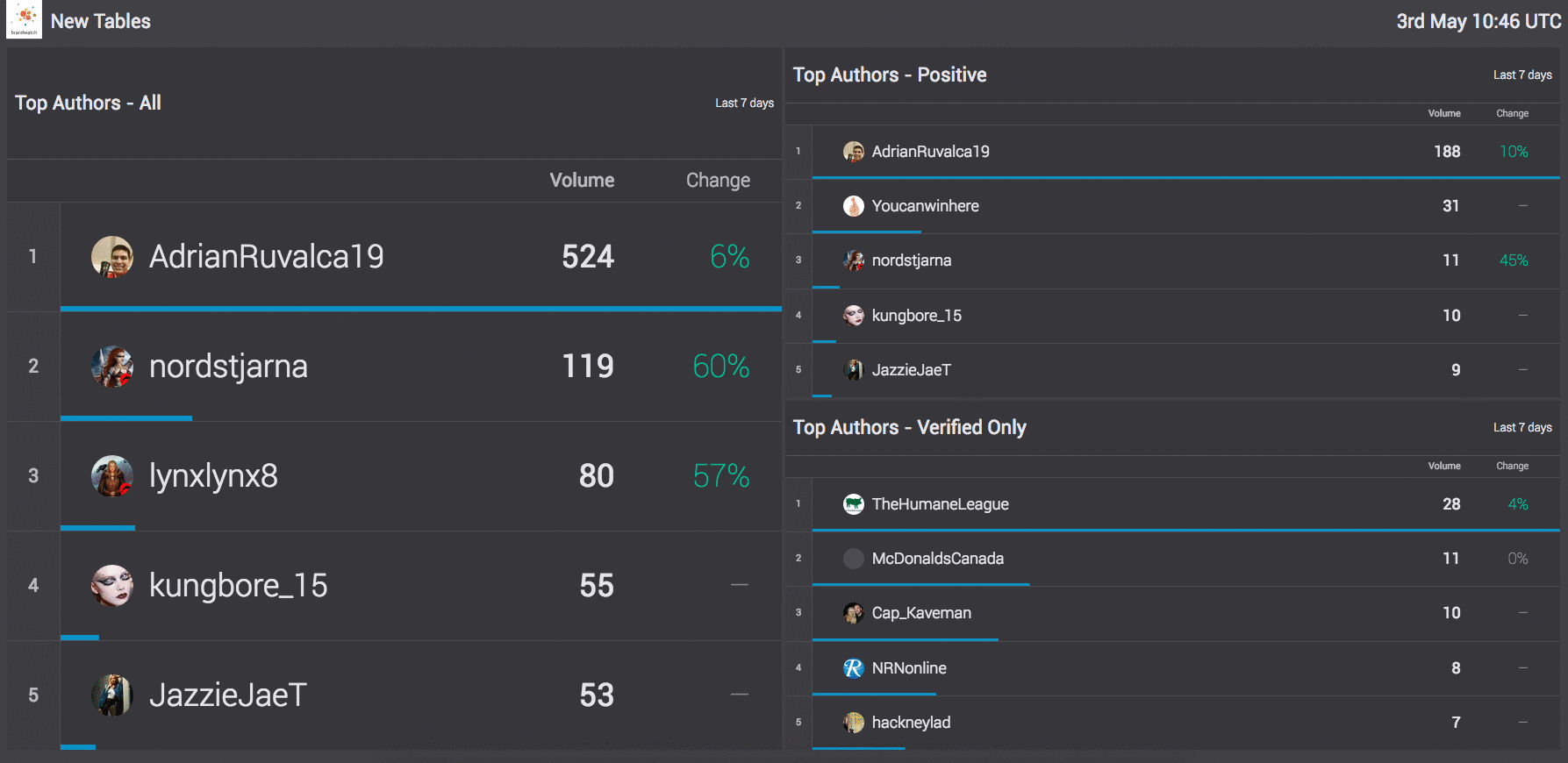 But, as we all know, not everyone talking about your brand is saying something positive. Filter by sentiment and pinpoint the true detractors and promoters.
Don't stop there, look at verified only authors or authors by specific locations. It's never been easier to get to know the people interacting with your brand.
Brand health
Vizia's Top Sites Table gives you insight into the website and social networks that are driving volume for your brand. As with all of the tables, it shows you the total mention and the percentage change for the previous period.
What does this matter you may ask. Well, if "ihateyourbrand.com" increased by 500% volume in a day, that's probably something you and your teams should know about.
Also, being able to see the split in volume across your active social networks can inform important decisions like advertising spend and team allocation and resource.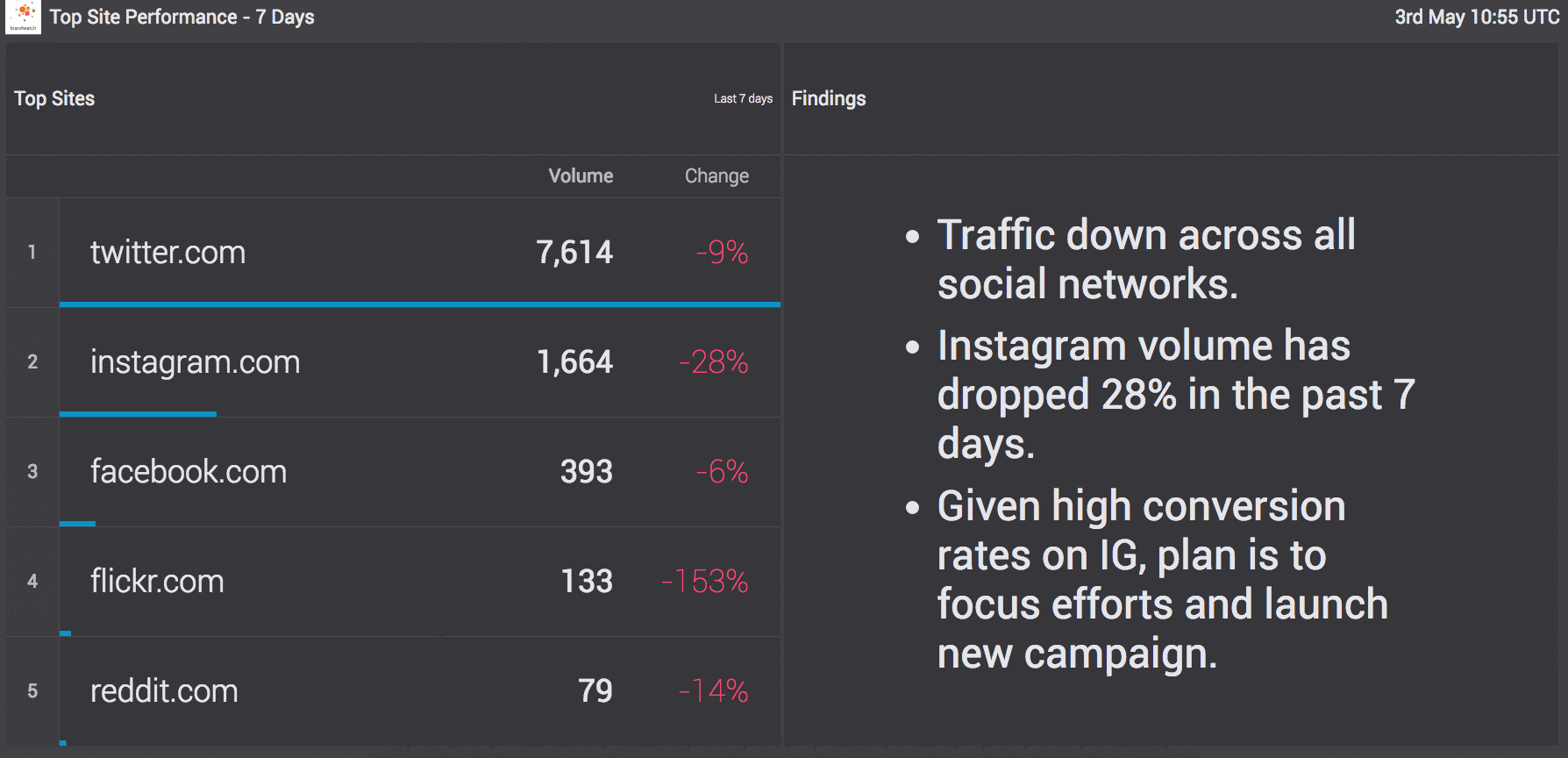 Again, this is not the big picture of your data, but it's another piece of puzzle, and data that enables confident and informed decision making.
Treemap
The Vizia Treemap visualization is a way of showing the volume of different categories and sub-categories in relation to each other. This is another small but important update in the visual design of the product.
Previously, if you chose two parent categories then the component would map all of their subcategories, this could be anything from 5 to 50 subcategories. This often resulted in an overcrowded visualization. Now, if two parent categories are chosen, they will be mapped beside each other without their subcategories.
What difference does this make to your brand?
Well, it means that you can easily and clearly understand the relative weight of your data categories. Categories can be anything from products to common customer complaints.
One really important use of this visualization is tracking customer service topics. Let's say you look at this category over the past week but also on a daily view, like in the example below.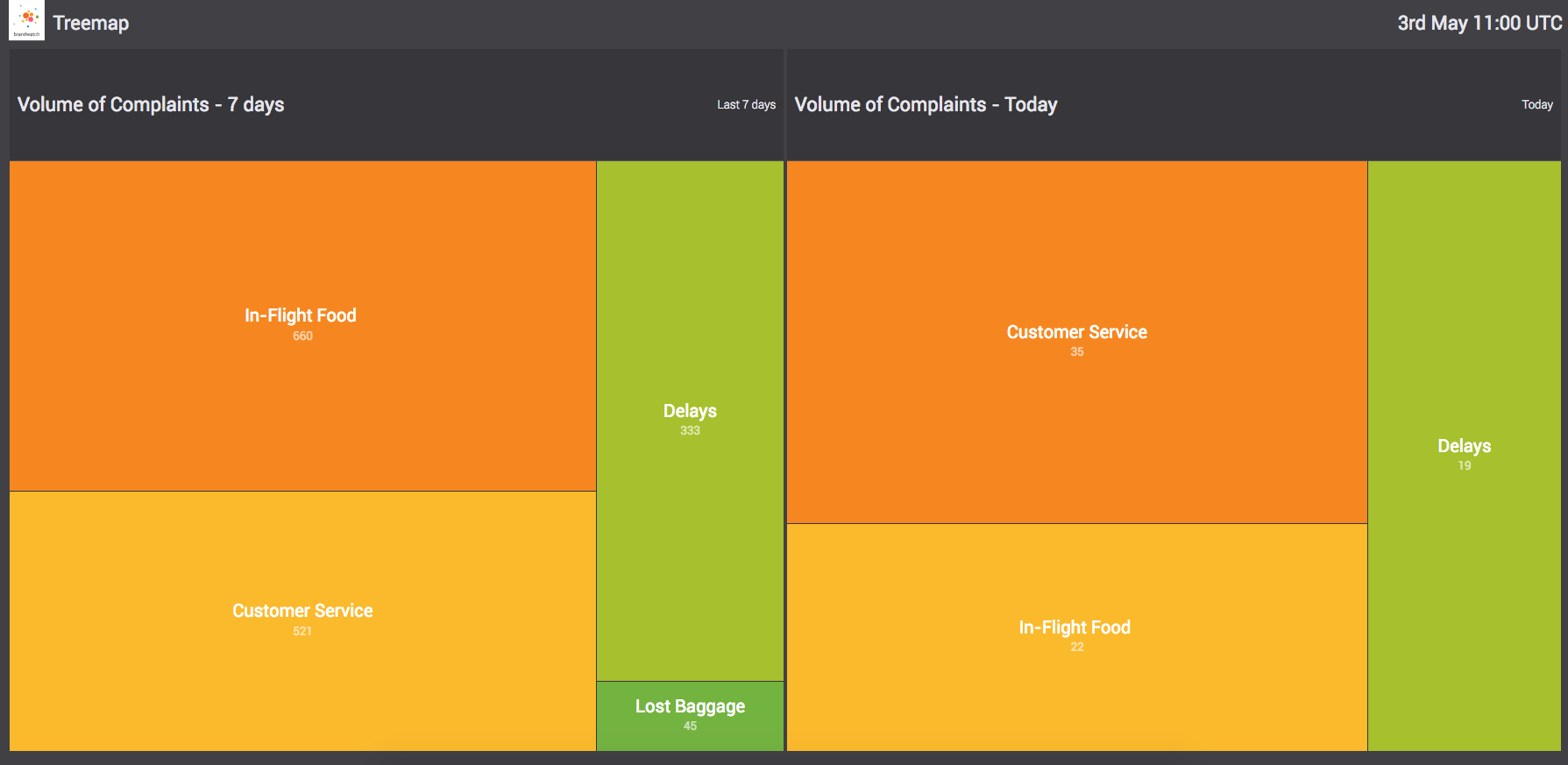 This very quickly allows you to identify the areas of concern and the complaint areas that are either pertaining or growing. Information like this is crucial for customer service and comms teams.
It also plays a role in monitoring the performance of products and even predicting trends. This component can be used alongside Google Analytics to track whether increased product volume online leads to an increasee in site visits and conversions.
When it comes to data, it can sometimes be hard to get people to take notice or commit interest. That's why with Vizia we want to constantly improve the design and performance of the product.
Almost everyone needs to deliver insight, but being able to do it in a way that turns heads and ignites conversation is what we're committed to.
---