As a growing number of organizations strive to become social businesses, they are increasingly relying upon social media intelligence to inform their decisions.
However, while many brands are applying social media intelligence to their operations, there still exists some considerable confusion around what exactly defines social media intelligence.
---
Social media intelligence vs. social listening
Firstly, it's important to recognize that social media intelligence is not social listening, which is primarily focused on identifying conversations online and does not adequately provide the means to separate, categorize or understand data.
Imagine you are listening to a song, while your ears actually receive and translate sound waves, it is your brain that makes sense of that noise. Social listening is an ear into the online world, however it is social media intelligence that translates that information into actionable insights.
An overview of the social media intelligence stack reveals how many layers are required to adequately understand social data in a simple and flexible way: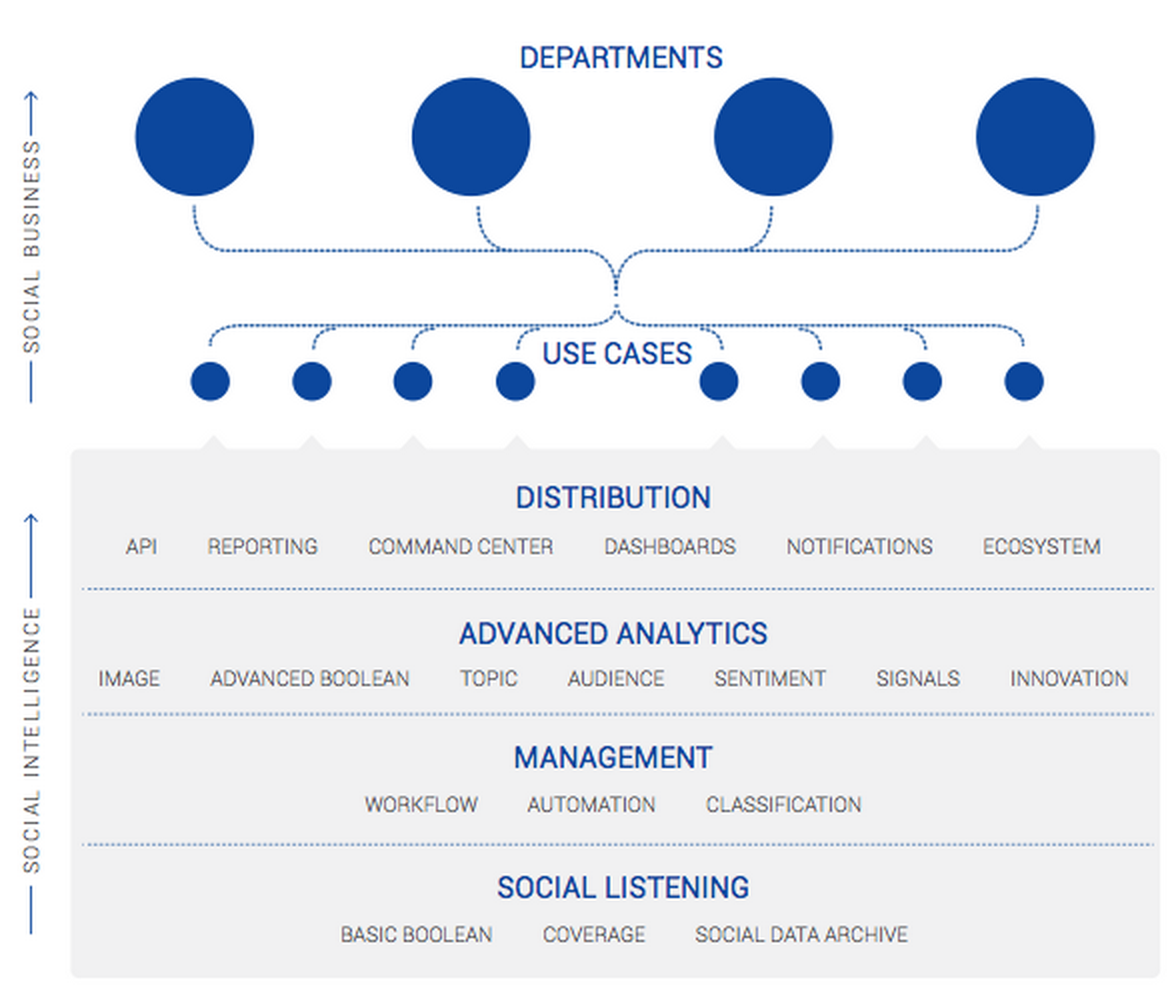 The social media intelligence stack incorporates four levels: social listening, data management, advanced analytics and distribution. At each of the levels is a unique set of technologies that empower businesses' ability to make socially informed decisions.
For social listening, the breadth of online crawlers, backlog of historical data and accuracy of search queries determine the quality of data collected.
---
Social media intelligence model: data management
Data management deals with the way in which social data is segmented and routed. That may refer to anything from automatically categorizing subsets of social data, customizing rules, or filtering data based on specific criteria.
In Brandwatch Analytics, some of the ways data can be filtered include:
Date and Time: From monthly to minute rates
Location: From continent to city
Page Type: News, Blog, Twitter, Facebook, etc.
Twitter Statistics: Retweets, influence, impression
Facebook Statistics: Media type, Likes, Comments
Sentiment: Positive, Neutral, Negative
Site Visitors
Gender
In essence, data management functions to take the massive volume of data and separate it into organized and manageable packages that can help answer a more specific question or shed insight on a specific product, brand or topic.
---
Social media intelligence: advanced analytics
One crucial, yet often invisible layer of the social media intelligence stack is the advanced analytics. Advanced analytics examines each conversation or mention within a dataset and identifies a number of key attributes at the individual level.
Boolean processing is perhaps one of the most important aspects of advanced analytics.
Consider the brand Gap. Mentions of the word "gap" may refer to a divide between two cliffs, the space between a celebrity's teeth, or the clothing brand.
The unique challenge of conversation analytics is not identifying every relevant mention but in finding only relevant mentions – advanced boolean allows users to parse apart those discussions.
However, advanced analytics also includes a number of complex backend processes such as topic extraction through natural language processing, social pattern detection, automated influencer identification and the many more projects our team of PhD's and developers work to create.
In a nutshell, advanced analytics allow users to understand more aspects of the data – it goes beyond data management to identify and translate the meaning behind conversations, driving actionable insights.
---
Social media intelligence: distribution
Distribution is the final stage of the social media intelligence stack and defines the way in which insights are conveyed across a business.
Traditionally, analytics insights have existed on dashboards within the platform, offering the highly customizable, in-depth and real-time social insights. However, as social media intelligence has evolved, so have the means of distributing that knowledge.
A proficient social media intelligence stack now includes distribution methods such as command centers, alerts, reports and open API's. Each of these offer businesses with unique ways to consume information and updates on the pulse of online conversation.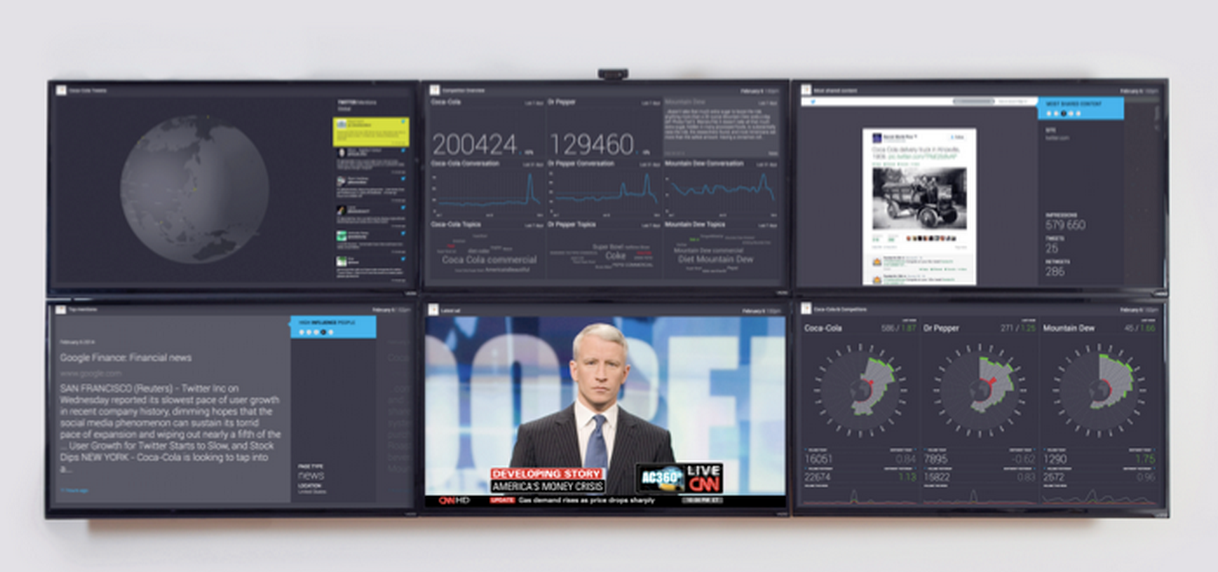 Brandwatch Vizia Command Center Display
After all, social media insights are often only actionable if the information gets to the right people at the right time.
---
The structure of social media intelligence
Listening, Analytics, Management, Distribution: Each of these four layers are dependent upon each other to provide an expert social media intelligence platform.
Underperformance in any one of these areas will dramatically inhibit a business's ability to understand and extract meaningful insights from the social landscape.
---
Uncover more insights
Discover how social media intelligence can transform your business.
Find out more