Social Selling: How to Nurture and Generate Leads on Social Media Marketing
Social media has been revolutionary for businesses for years, but selling on the networks has been slower to take off.
Rather than focusing on the final leg of the buyer journey, brands should view social selling as a tool to improve the customer experience.
Social media can help the visibility in each stage of the customer journey, meaning you are better placed to make the sale when it comes to the final stage.
What is social selling?
Social selling is a lead nurturing and generating technique that is conducted on social media. In an age where the buyer journey is fragmented across multiple touchpoints, social selling allows brands to engage prospects one-on-one.
It brings community managers, customer service agents, marketers, and salespeople into the lead nurture process. Social selling involves researching and engaging prospects, building relationships, adding value wherever possible, and ultimately, selling.
---
You might like
Marketing: How to Measure Purchase Intent Using Social Listening
Read the Article
---
Despite the name, social selling is unlikely to involve much actual selling. Unleashing a sales pitch in 140 characters or less is not a tactic I'd recommend.
Think of it as engaging prospects, all the way from lead generation right up to the sale. Some will be further along the journey than others.
You should help move people down the funnel where possible. Overall, your social presence should help to make up the landscape and build the community that increases visibility, adds value, and builds momentum.
Who owns social selling?
Having established that social selling isn't entirely about selling, who owns it? It requires a holistic approach, rather than one team having ownership. I would argue that the same is true of many aspects of social media, in that it straddles many of the old business divisions.
Marketing and sales need to be more aligned than ever before, but customer service agents and community managers can also help drive the same goals.
Understanding that this is not exclusively owned by the sales team is important, as you want your social media presence to be understanding, helping, and engaging. Being overly sales-y on social will turn a lot of people off and you may well start to lose followers, and in the process, prospects.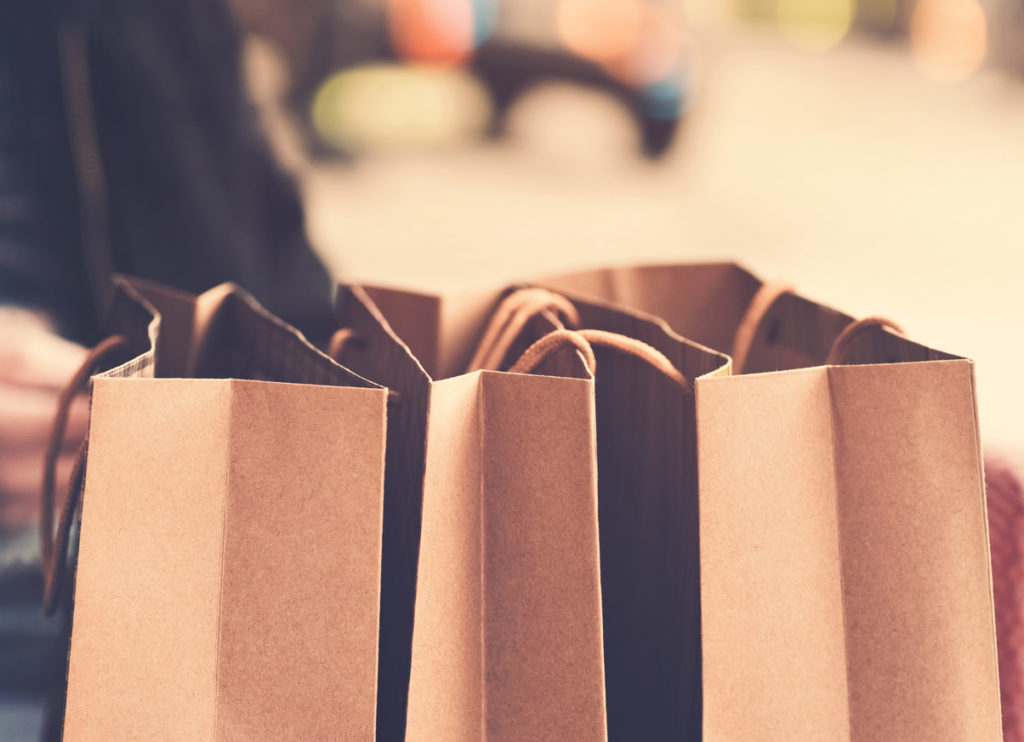 Why bother?
Pricewaterhouse Coopers (PwC) conducted a poll of nearly 23,000 online shoppers around the world.
45% said that reading reviews, comments and feedback on social media influenced their digital shopping behavior. 78% said they are influenced by social media in some way.
78% of salespeople who use social media in their sales process outperform their peers who do not use it. Despite this, only 7% of businesses cite social selling as a priority.
How to engage in social selling
So if social selling can be a great tool at various stages along the buyer journey, where are these points where a brand can jump into the social conversation?
Customer research
Customer research can be done in a large number of ways. You can join relevant Linkedin groups, read forums, search for relevant hashtags, use Google Alerts to be notified of keyword mentions, use BuzzSumo to understand the most popular content, and follow influencers, competitors and named prospects to get a better understanding of the market.
While you can engage in social selling using simple methods, social intelligence platforms like Brandwatch will help to take your efforts to the next level. The first way it can help is to understand who you are selling to. By identifying and understanding the segments of the market you are targeting, you can understand what they talk about, the language they use, the content they share, and the problems they face.
You can search for keywords using social listening, or focus on an audience segment using an audience facing tool like Brandwatch Audiences. With a tool like this, you can develop a panel of prospects to understand them better.
If you were a producer of vegan baby food, you might want to understand vegan mothers, assuming they are more likely to feed their babies vegan food.
The screenshot below shows the search terms on the left (mom, mommy or mother, who are based in the US, are female and identify as a vegan in their bio. I've also restricted the account type to individual), and the results of profiles on the right. I found 1,351 results in seconds.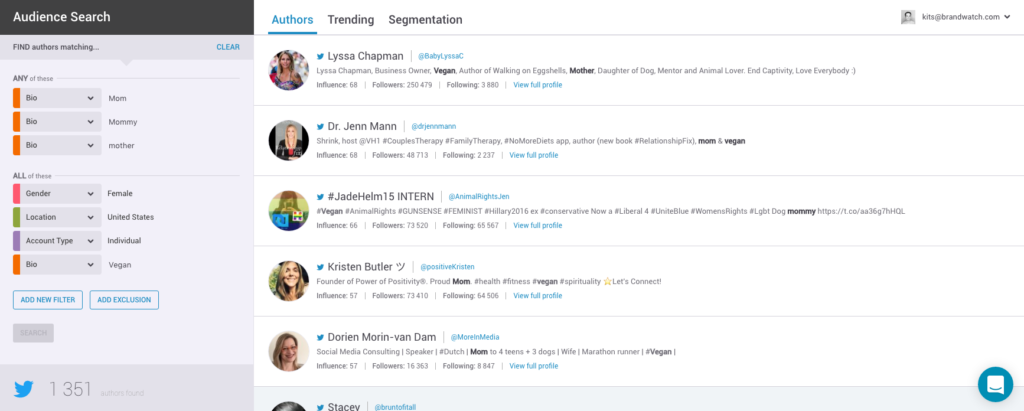 Maximize connections
Look out for any connections that link you and your targets. LinkedIn is obviously good for this in higher value or B2B sales. An introduction from a mutual contact will add an element of trust at the beginning of the conversation.
It's one of the reasons influencers are so popular among marketers – their content is more trusted than brand messaging. A personal connection has an even stronger effect.
Understand content
Understanding the problems faced by your prospects, and the content they share can help to inform your own content strategy. Social selling, like social media in general, is about relationships and conversations between individuals. It's not about a hard sell, but becoming part of the conversation.
Being a provider of practical, helpful content at an earlier stage of the buyer journey will make you likelier to feature in the consideration set later on.
Social selling, like social media in general, is about relationships and conversations between individuals. It's not about a hard sell, but becoming part of the conversation. Being a provider of practical, helpful content at an earlier stage of the buyer journey will make you likelier to feature in the consideration set later on.
Taking our earlier panel of prospects from Brandwatch Audiences and exporting them to the analytics platform allows us to understand the dominant topics. The screenshot below shows the most popular topics on the left, with the sub-topics of vegan related conversations on the right.

Monitor the competition
Understanding your competitor's strategy is a vital part of any selling process. Social media provides a simple method for competitive analysis, the content they share, and the people they are targeting.
You can also better understand their product, and therefore their strengths and weaknesses.
Market to existing customers
While it may not be a primary function of social selling, following best practice will provide value to existing customers. Sharing useful content, including pieces not owned by your brand, will make you a useful resources outside of the value you provide with your products or services.
It also provides the opportunity to be a thought leader, placing you as the authority in your industry. Some consumers may not be customers, but will still look to you for great content. As they will be able to easily recall your brand, there is the possibility they think of you in the future.
Do some actual selling!
You can use social intelligence to uncover language where people are further along in the buyer journey. People use social media to ask for recommendations, or simply to declare their intention to buy a particular product.
Uncover questions about your product category
Using the power of boolean operators, it is possible to uncover consumers asking for recommendations in a particular category. Below is an example of a search that uncovers people asking for advice on purchasing a smart watch. On the right of the screenshot, you can see a sample of the mentions.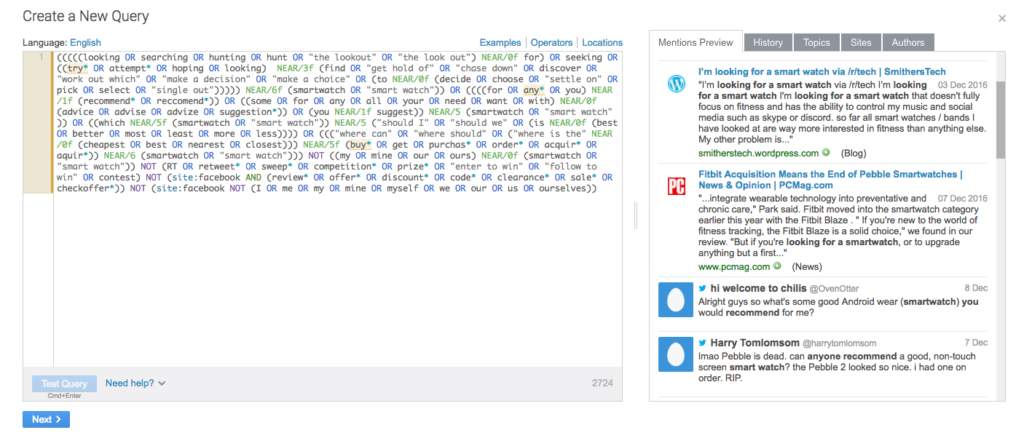 This is obviously an opportunity for community managers or salespeople from a smart watch company to reach out and engage with individuals. For some products or industries, it can uncover conversations on previously unknown forums.
Find intent to purchase terms
In the same way, we can uncover people further along in the buyer journey who state they are "looking to buy", and variations on the language around this. Mentions like this could be an opportunity to inspire the individual towards a purchase, for example by offering a discount voucher or highlighting current deals.
In the below example, uncovered with a similar search to the one above, two competitors are mentioned. Both have the opportunity to step in and prove why one should win out over the other, although as neither mention is an @mention directed at the brands they would need to use social intelligence to uncover the Tweet.
I need to go buy a system tomorrow ps4 or Xbox

— Tae Da "MF'in" G (@MoneyMadeTae) December 9, 2016
Really, a large part of social selling involves adding value and putting the customer experience at the heart of social. Doing this will naturally help move people down the sales funnel. It is only at the end of that process, when people express a desire to purchase, should sales step in and offer help.
---
Brandwatch Analytics
Discover how powerful social intelligence can drive new leads on social.
Find out more