React: The Craziest Pokémon Go Stories (And a Load of Data) Entertainment

Pokémon Go may not be out everywhere officially, but it's sweeping the world in an incredible way.
The game, which allows users to explore the real world while catching and battling Pokémon, has undoubtedly raised the bar for mobile gaming.
People of all ages are hunting Pokémon the world over with some incredible stories ranging from beautiful moments of people being brought together to armed robbers and dead bodies.
POKEMON GO HAS EVERYBODY LIKE: pic.twitter.com/rFuw412gmu

— YaLocalWhiteBoy (@NoHoesGeorge) July 8, 2016
With Nintendo share prices rocketing and a whole load of happy millennials hunting Pokémon around the clock, we took a look at the data.
Note: We've recently updated our Pokémon Go data – you can find it here.
---
Social media mentions: Gotta catch 'em all!
We tracked over 4.5 million mentions of the game across social media between the 4th and 10th of July (with 27k of those including the phrase "gotta catch 'em all").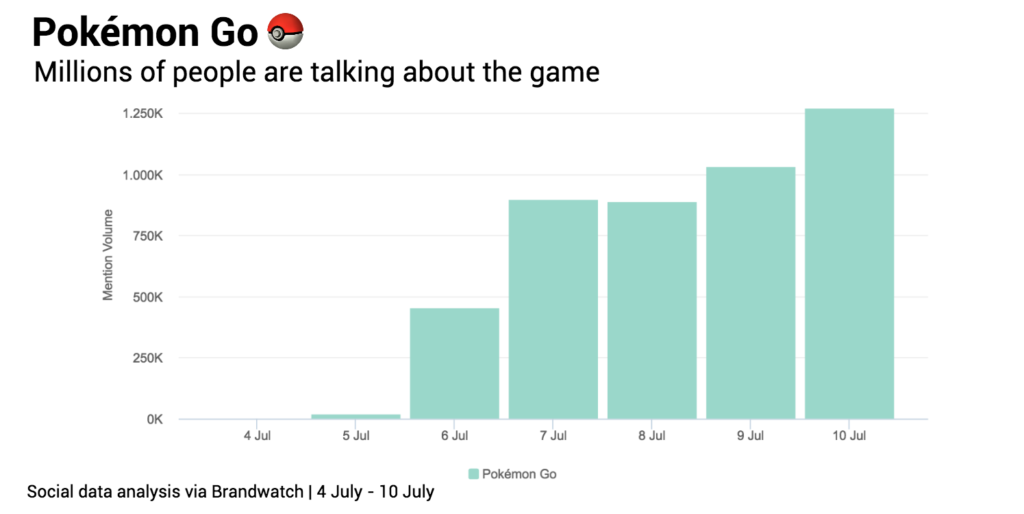 Saturday and Sunday saw over a million mentions of the game per day and #PokémonGo has made 5,982,616,734 impressions. As product launches go, that's not bad.
There has been a truly global response, even in places where the game isn't (officially) available.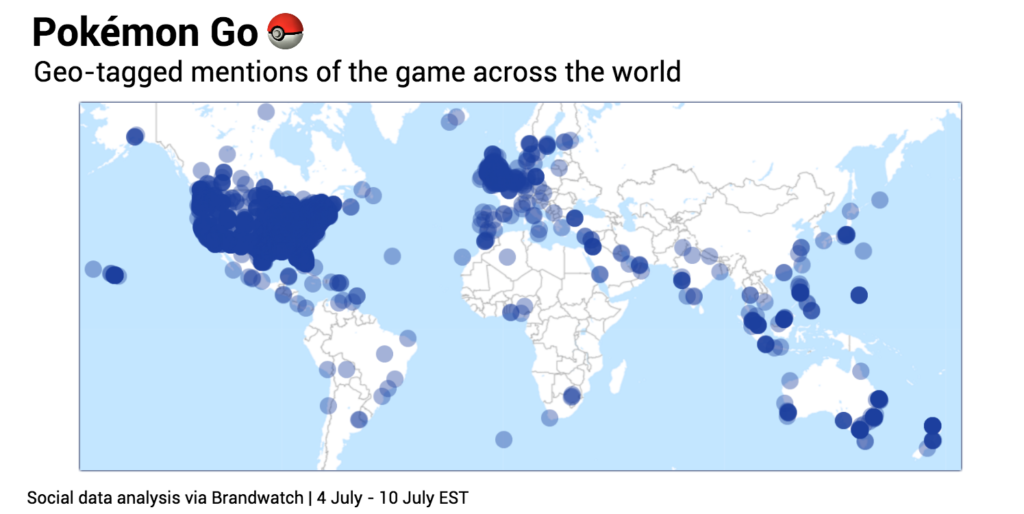 Breaking down those mentions, we found that around 59% are coming from male-categorized authors.
Comparing that to our E3 data, which saw around 78% of mentions categorized as coming from male authors, Pokémon Go commentary seems pretty popular for ladies and gents alike.
---
Extraordinary stories: The bad
So many stories are emerging of strange encounters that it almost seems like no one ever left the house before this game came out.
As Pokémon hunters head out into the big bad world at odd times of day, there have been all kinds of rumors and tales circulating (and they're not all good).
The game has landed itself a whole lot of press coverage, and we took a look at the terms news outlets are using most around its release.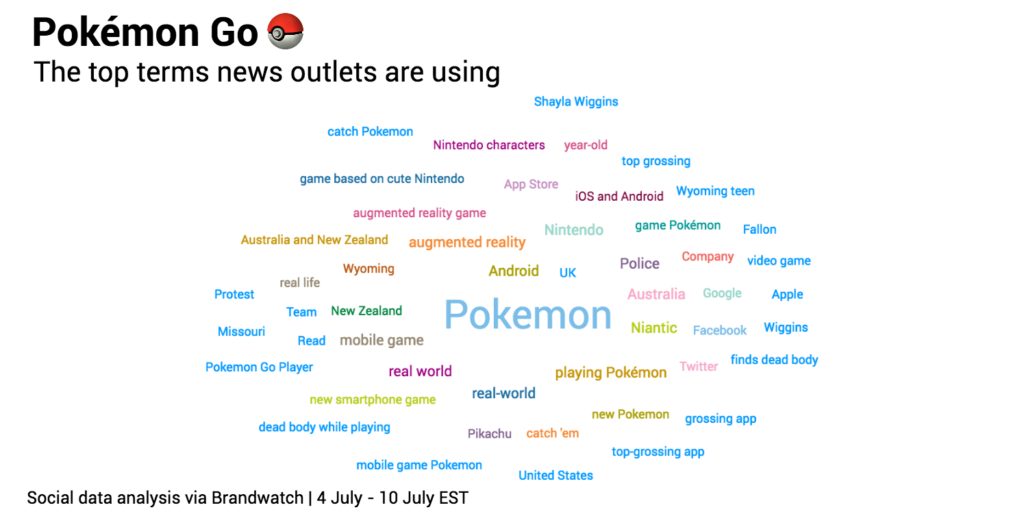 It turns out the poor player who found a dead body while playing the game is one of the top stories out there.
News media also shared stories surrounding armed robbers luring unsuspecting hunters to isolated locations and enormous car accidents attributed to people using the roads dangerously while trying to catch rare Pokémon.
One of the top shared links on Twitter was this one, an article from the Independent discussing the various ways Pokémon hunters are trespassing in order to catch 'em all.
A lot of people have been complaining about their homes and businesses unwittingly becoming Pokéstops or gyms, causing droves of smartphone wielding fans to gather outside (and sometimes inside).
"Pokemon are for paying customers only." WOW. #PokemonGO #games #customerservice #fb pic.twitter.com/iHV4prZxYi

— Morgan Hazelwood (@MorganHzlwood) July 8, 2016
---
Extraordinary stories: The good
However, things aren't all bad.
A dedicated subreddit has been set up to capture gamers' stories, like getting free sandwiches and making friends with Pokémon loving police officers, while r/pokemongo is also a good read if you're looking for tips.
A lot of the conversation relates to exercise, with users having to travel to different physical locations to find and battle with Pokémon,
*one month after playing Pokemon go*

doctor: do u exercise?

me: i play pokemon go

doctor: * writes on notebook* fit af

— Pokemon Go (@OmgPokemonGo) July 10, 2016
Some think it could be the cure to childhood obesity.
Pokemon GO has done more for child obesity in the last 24 hours than Michelle Obama has in the past 8 years.

— Meninist (@MeninistTweet) July 10, 2016
Pokémon Go is making players a whole lot more social as they get out there and find the Pokémon they need to succeed in the game.
All the data we've seen is pointing to mass uptake and there are countless deliriously joyful mentions of the game that we're thinking the good definitely outweighs the bad.
Pokémon Go is probably the best game ever 😂😂

— Jake Goyco (@JakeGoyco) July 11, 2016
---
Up all night
Speaking of mass uptake, we thought we'd look at data surrounding people's behavior when using the game.
Pokémon hunting after dark is the preferred time for many gamers. Perhaps it adds an extra layer of adventure (or they just don't want to be called out for being middle aged and desperately seeking fictional creatures).
Anyway, plenty of people are sharing their night time Pokémon escapades.
Playing #PokemonGo at night pic.twitter.com/5s63tvuBy0

— fbz (@Cherrysacid) July 7, 2016
The data goes some way to back this up.
Looking at New York time mentions over the weekend, mentions dipped below 20k around 7am on both Saturday and Sunday.
Meanwhile, there were peaks between 10pm and midnight on both days. While this data does account for international mentions, 79% of mentions were categorized as deriving from the USA.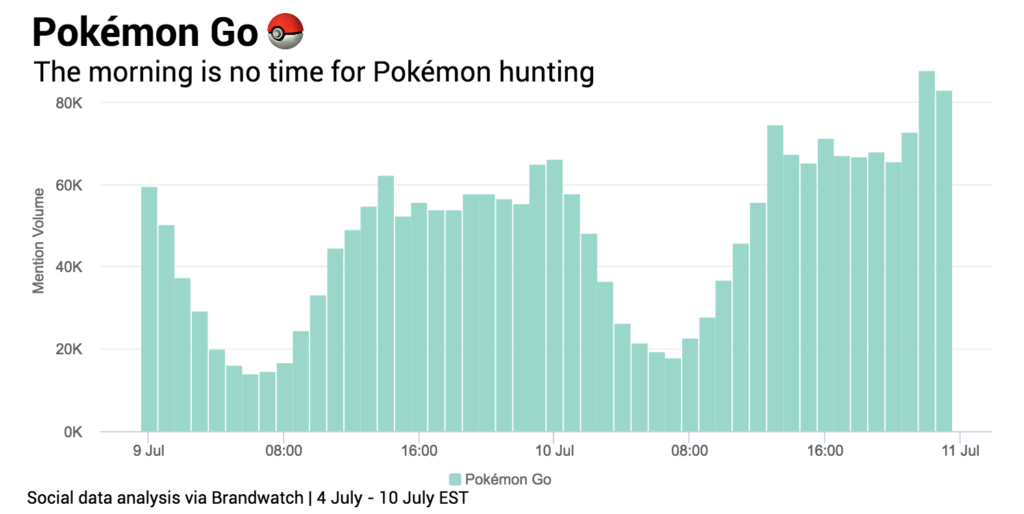 How long will the vampire-style Pokémon hunters continue on late night searches? We shall see.
Standing in the middle of nowhere at midnight w 4 strangers swapping Pokemon Go tips

— disposable income (@khelliottSS15) July 11, 2016
---
Pick a side
We also took a look at the teams users are talking about online.
Team Mystic has seen the most success so far, while Instinct is starting to build momentum.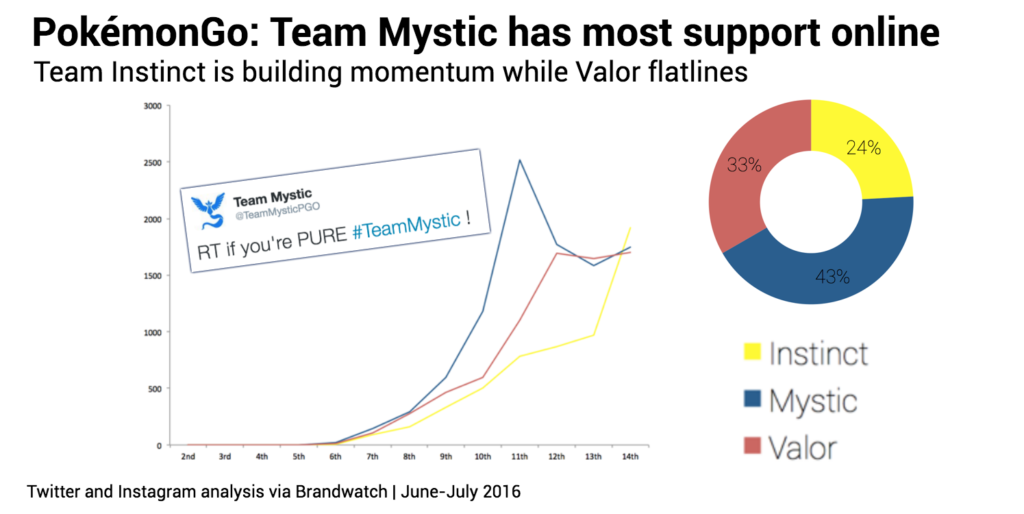 What team are you fighting for?
---
Are you a journalist looking to cover our data? We have plenty more! Email us react@brandwatch.com for more details.
---
---