74% of Dunkirk Movie Followers Also Follow Harry Styles. Was His Casting a Success? Entertainment

Christopher Nolan's Dunkirk movie tells the story of the heroic evacuation of 330,000 stranded soldiers from the beach of Dunkirk in 1940.
With a $106 million opening weekend and impressive Rotten Tomatoes scores, the film has undeniably been a success.
But getting kids interested in history is no easy task. What could get youngsters interested in a film depicting the events of World War 2? How about one of the most ubiquitous names of the social media era – Harry Styles.
Fresh from releasing the annoyingly catchy song 'Sign of the Times' Styles appeared on the silver screen, playing Alex in Nolan's latest blockbuster. But was Styles' casting successful in bringing a younger audience to the movie?
We used social data to try to answer that question.
Dunkirk Movie followers are predominantly also Harry Styles followers
Brandwatch Audiences is a great tool for comparing different groups on Twitter. We used it to analyze the followings, professions, genders and interests of @DunkirkMovie's audience.
To begin, there's no doubt about it. Harry Styles fans (or at least people who follow @Harry_Styles) make up an enormous portion of the @DunkirkMovie following.
Nearly 75% of @DunkirkMovie followers also follow Styles.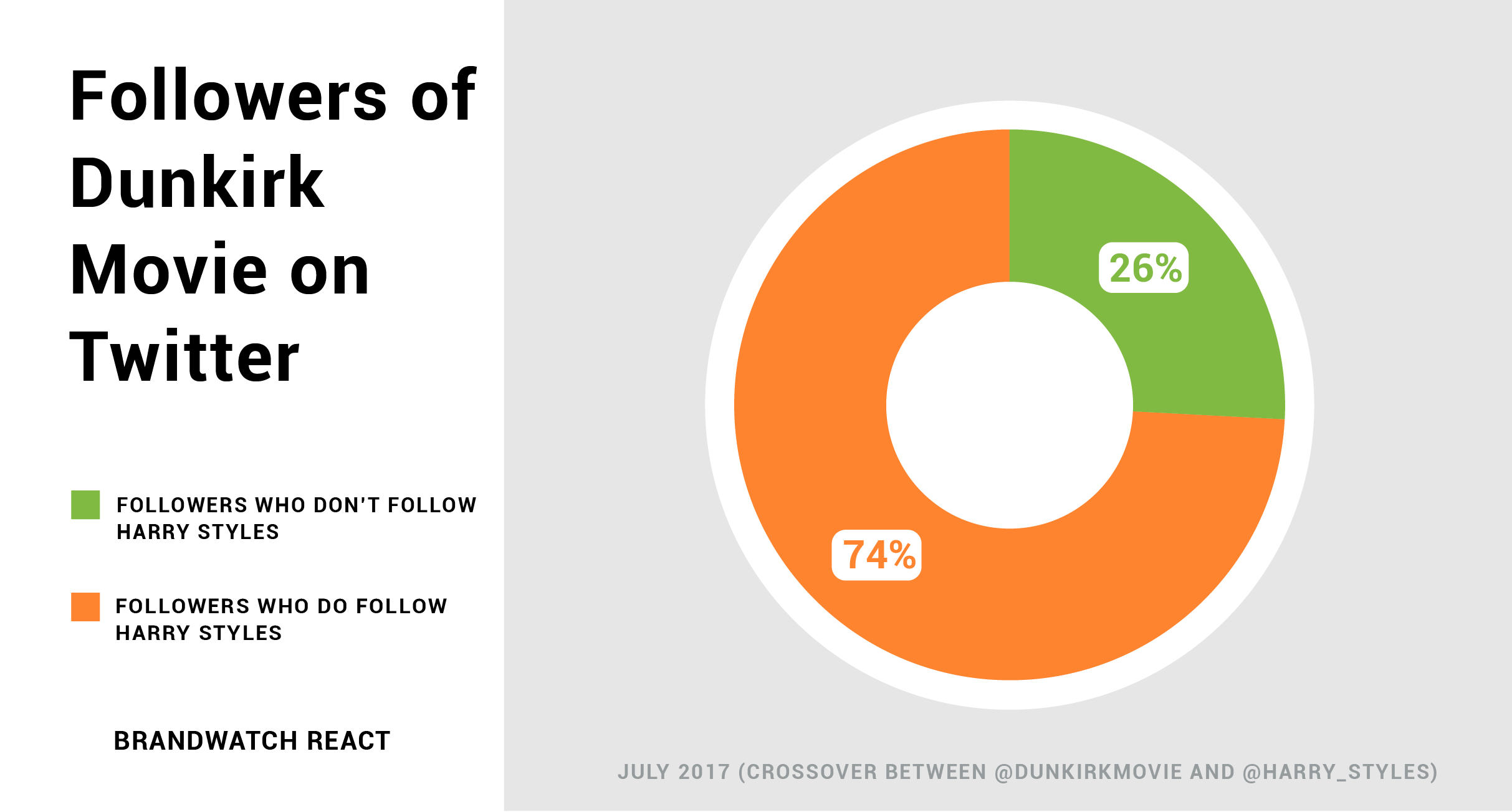 How did this affect @DunkirkMovie's demographics?
War movies tend to be more popular with male audiences.
Surprise, surprise! Dunkirk followers (like Styles followers) skewed disproportionately female.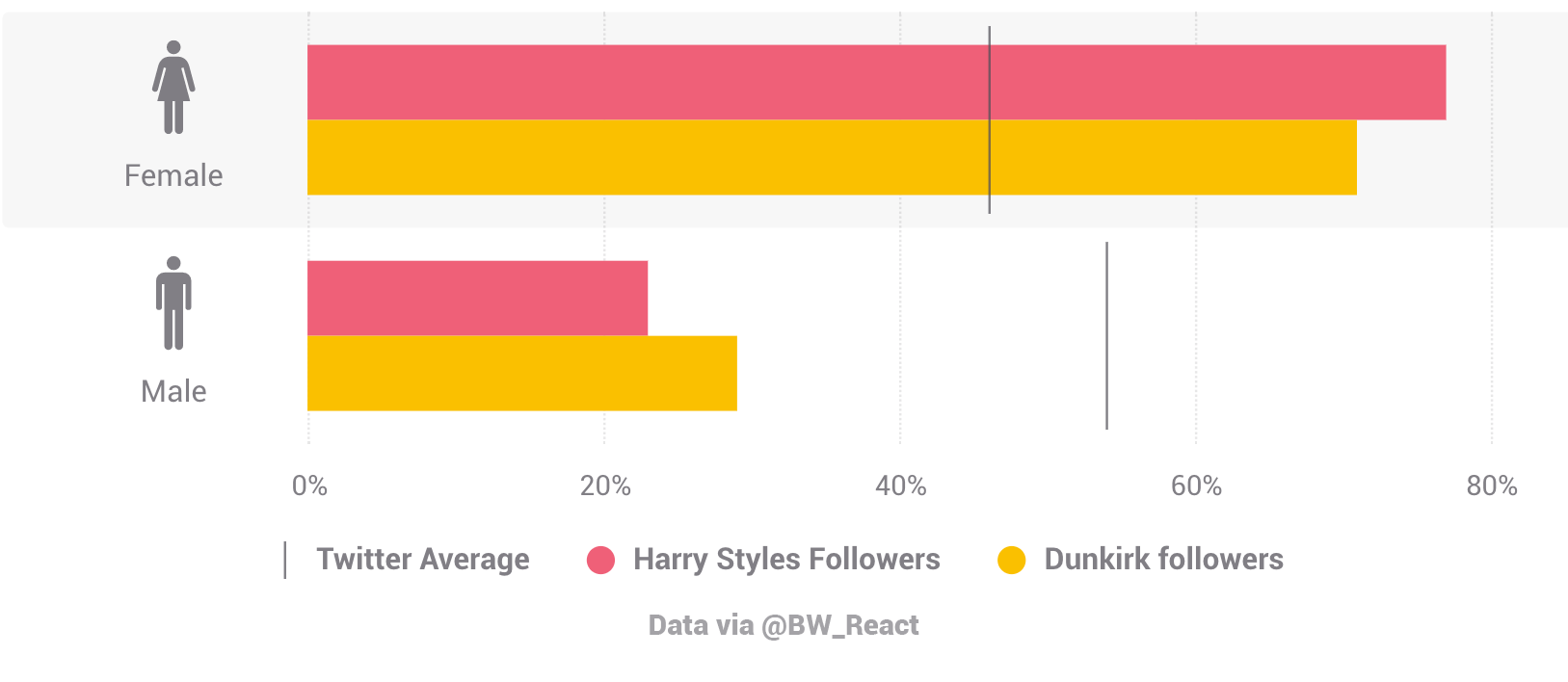 Compare this with other recent war movies like Hacksaw Ridge (2016) and the more romantic Allied (2016). You'll notice that each of these movies has a higher proportion of male followers than Dunkirk and both had more male followers than female followers.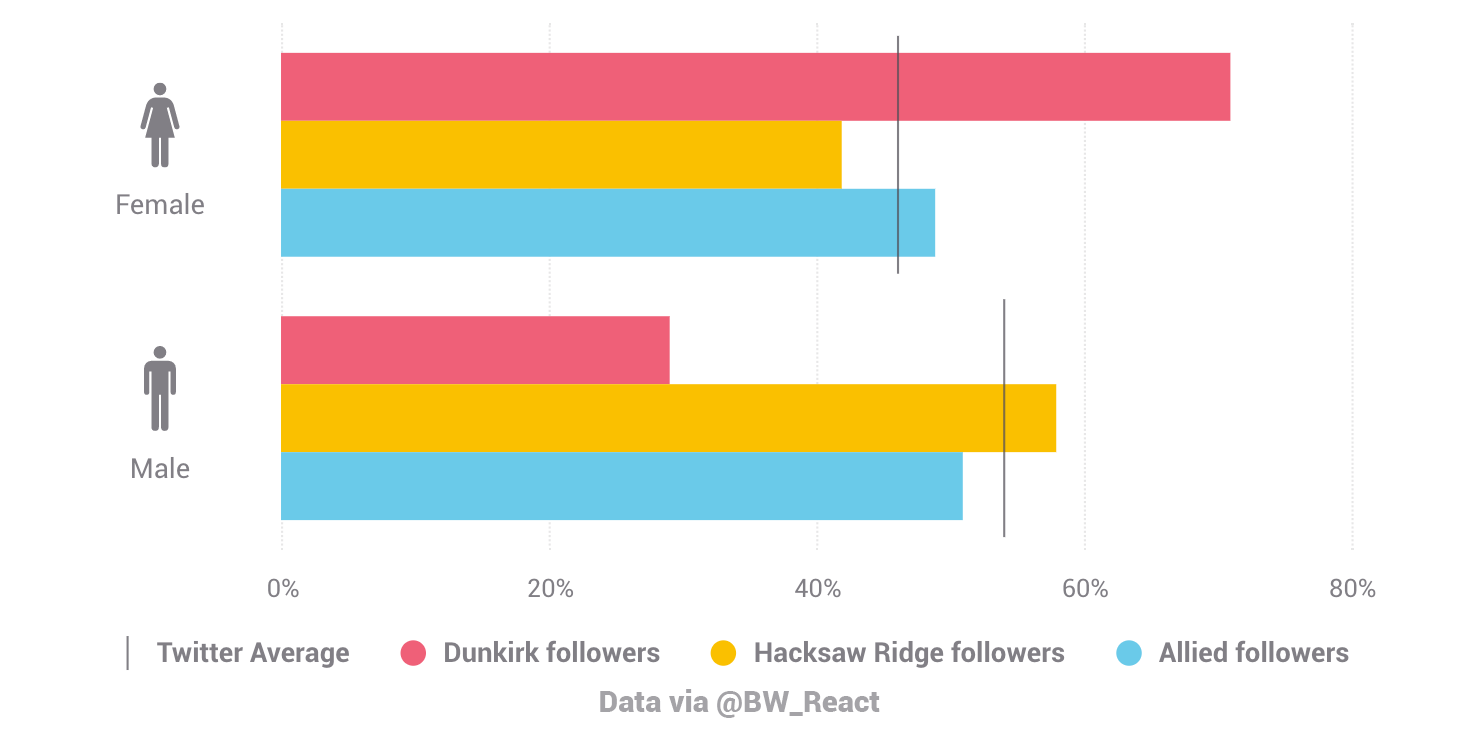 There's also a clear difference when it comes to professions.
Styles has an enormous student-based audience (the youngest-skewing demographic on social beyond parents setting up fake accounts for their toddlers). This is also translated in Dunkirk's following compared to the other war movies we looked at above – Hacksaw Ridge and Allied.
Dunkirk has a higher proportion of student followers than the Twitter average, while the other war movies had far fewer.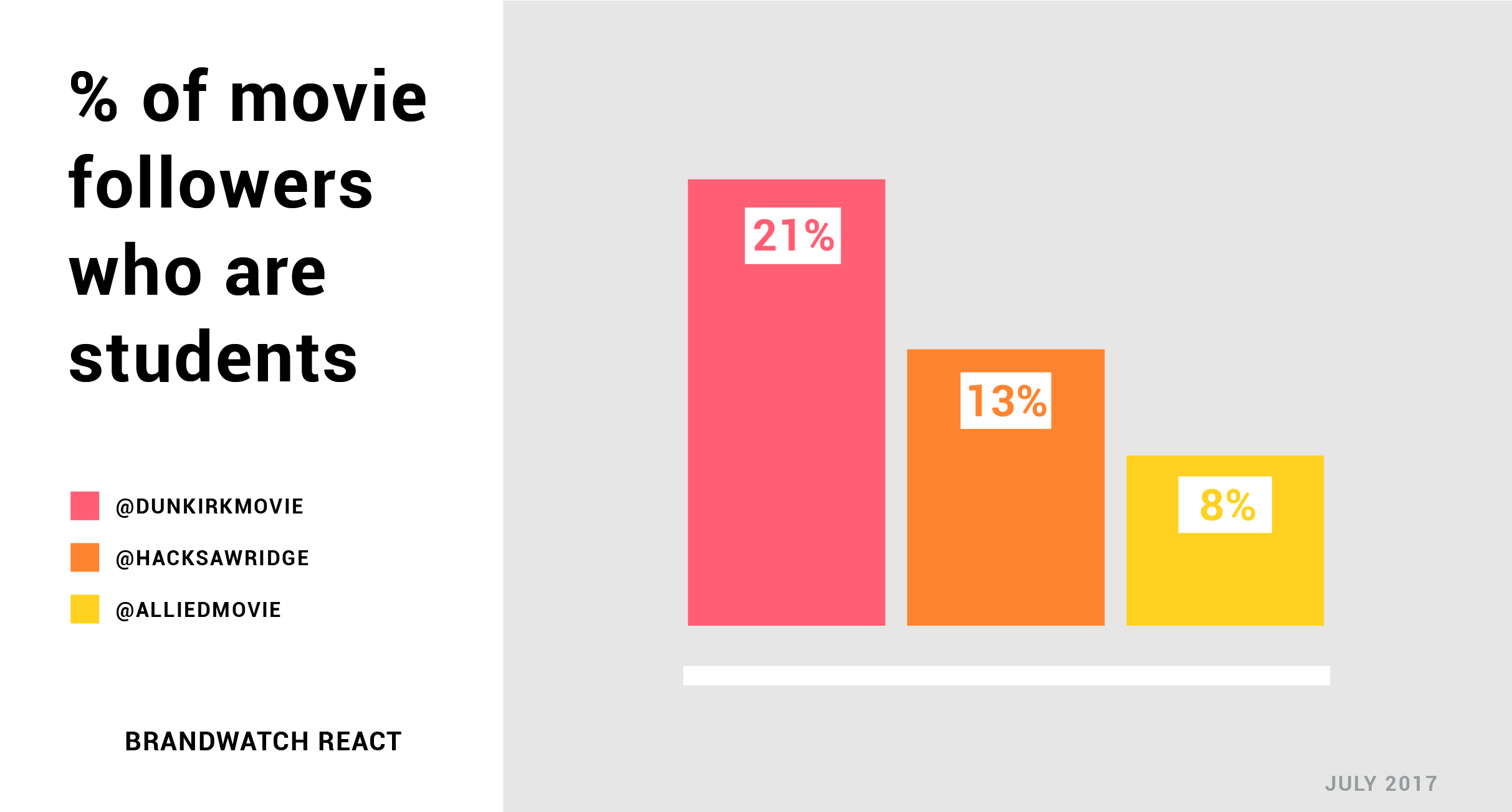 Dunkirk movie followers also didn't really care that much about movies compared to the other two films. Instead they really, really love music.

---
You might like
Introducing Audience Benchmark Reports. Show How Well You Know Your Customers
---
So Harry Styles massively affected the following of Dunkirk, but what about the raw conversation?
Of course, not everyone who follows a movie is going to go and see it, and not everyone who goes to see a movie also follows it on Twitter.
You're probably more likely to talk about the movie if you're going to see it than just follow it.
Still, turns out ladies were out-tweeting men when it came to Dunkirk. Harry Styles was the most prominent topic in the conversation.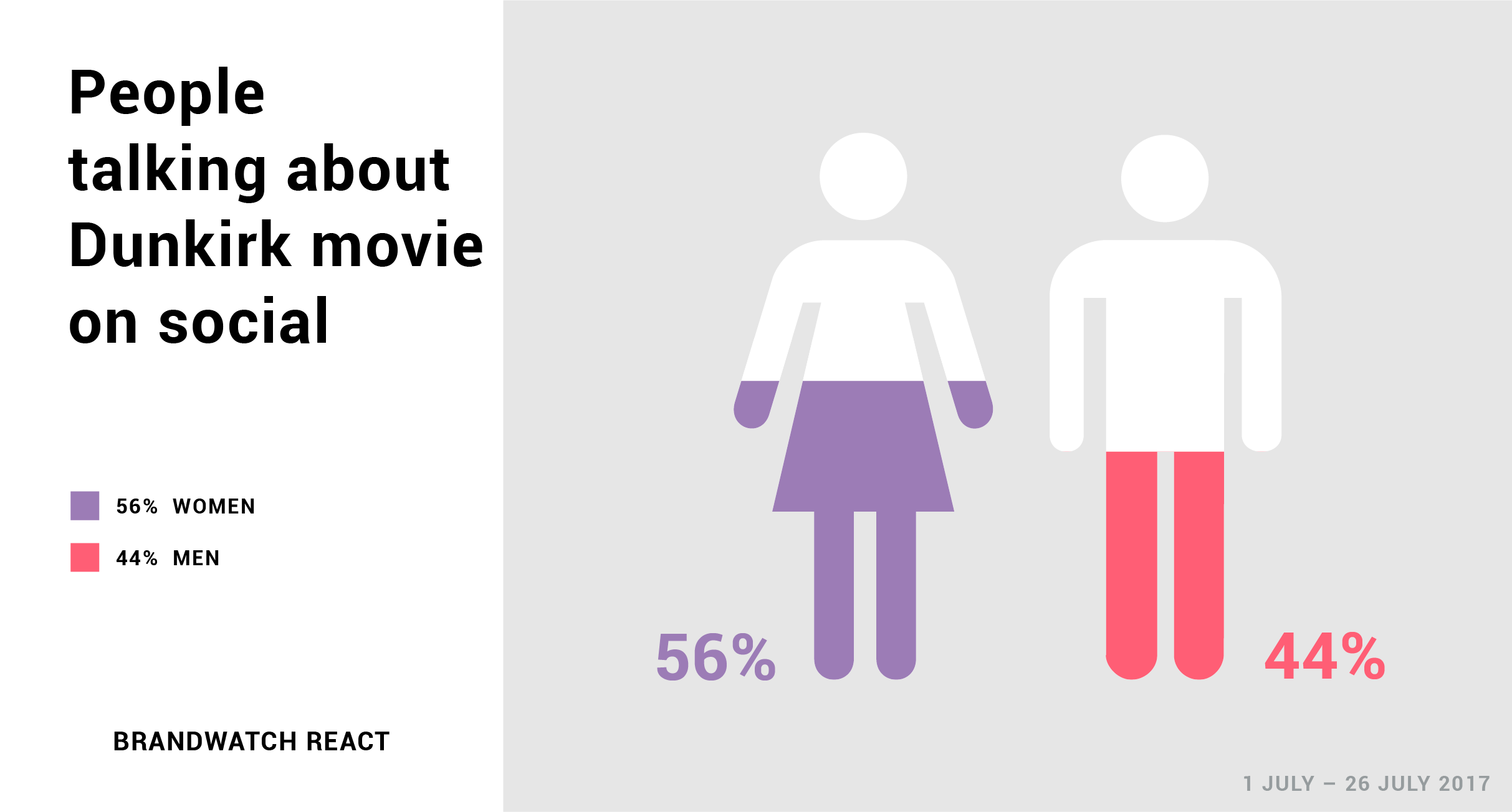 Beyond just talking about Dunkirk, we also looked at people talking about going "to see" Dunkirk. Surprisingly, women made up an even larger proportion of the conversation (63%).
So basically, all the social clues are pointing towards Dunkirk being more of a hit with young women than men, or at least that women have been far, far more vocal about their excitement for the movie than men.
What about the reviews?
Our analysis has some similarities and some gaping differences with IMDB reviews for the film.
Women were more keen on the film than men generally (8.7 average score). This is true in almost every age group. Under 18s and 18-29s (groups with high student ratios) were also more keen on the film than older voters.
However, there's no evidence to suggest this is because of Harry Styles' role. Also, take a look at the volumes. Men voted nearly 50,000 times more than women, and were represented more than women in every age group. While men weren't tweeting about their thoughts on the film, it seems they were much more likely to leave reviews on it.
Let's say that Harry Styles' most prominent following is young women (as evidenced above). Are they more present than older females? Kind of.
Females that are under 18 had the highest proportion of women:men in terms of number of reviews (22% of this age group were women).
The lowest proportion of women:men were 30-44 year olds (11% women). Meanwhile, 18-29 year olds and 45+'s had similar proportions of women:men (both around 15% women).
---
You might like
The Internet Reacts to Game of Thrones Season 7, Episode 1
---
Did Harry Styles have an impact on the viewer demographic?
It's hard to say that we've got conclusive evidence here, but it definitely looks like the under 18 age group could have had a boost from Styles.
It has the highest proportion of females who watched and then reviewed the film and most under 18s are students. These are both enormous groups in Harry Styles' following (and, as such, in Dunkirk's Twitter following).
We can't say how many young women Harry Styles got to go to the see the movie (although we found over 1,000 tweets from female students talking about attending in July so far).
However, we can be pretty confident that he was responsible for a significant chunk of the profits from this age group.
Are you a journalist looking to cover our data? Email us at react@brandwatch.com for more information.
---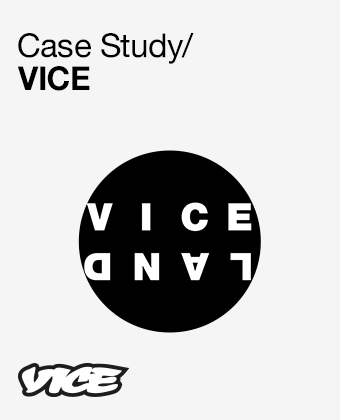 Using audience insights for a smart launch
Download the case study and learn more.
GET THE CASE STUDY