Which Social Media Channels Should You Be Using? Marketing
You probably recognize this question – from your boss, your clients…perhaps you're even asking it yourself.
"Which social media channels should we be using?"
Even though the question can sometimes leave people rolling their eyes, I think it's a fundamental and completely justified question – but it doesn't come with a single straight answer.
---
The social media channels you should be on are where your target audience is
Facebook has grown beyond anything other social network in terms of size and user adoption. It's no longer possible to put a demographical profile on the typical Facebook user – with over 1 billion users, just about any possible group with online access can be represented.
More niche social networking sites such as Pinterest, Vine and Instagram still have more distinct demographical profiles on their user bases, but it's not necessarily true that just because you have a demographical match between your target audience and Pinterest's, it's the channel you should invest your time on.
At the SCRM Cloud, we strongly believe that the best opportunities are to be had where your brand already has a presence. Not a presence created by your own brand, but a presence created by people talking about your brand.
---
Differences across industries
We've looked at data across some of the industries that our clients operate in such as premium champagne, online sports-betting and sports equipment vendors.
These are three very different types of industries selling very different things, but we tend to believe that it's possible for a floorball player to place a bet online for Arsenal to win, and then celebrate a win with a glass of champagne.
We studied 27 premium champagne brands during the month of March 2014, gathering over 85,000 online mentions in English language.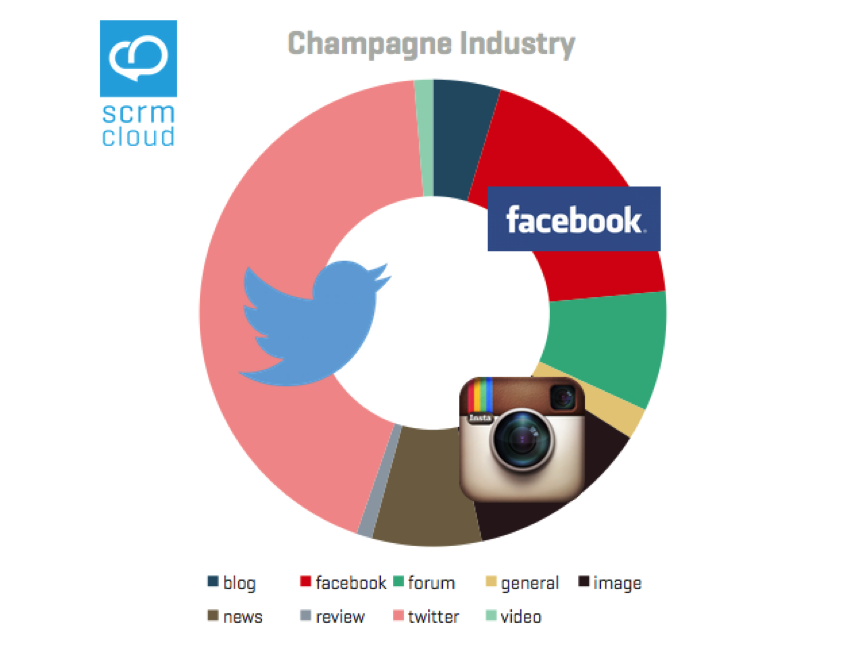 Of all the online mentions of the champagne brands, most (44%) were tweets.
People and pages posting champagne branded content on Facebook makes up 20% of the social buzz, whilst images on Instagram make up 13%.
In fact, Instagram photos tagged with champagne brands have completely exploded during the last 6-months, and that's a trend we see across industries.
The rest of the mentions are fairly evenly split between news sites, blogs and forums.
We then looked at the same type of data across 45 well known online sports book operators, and the data looks completely different.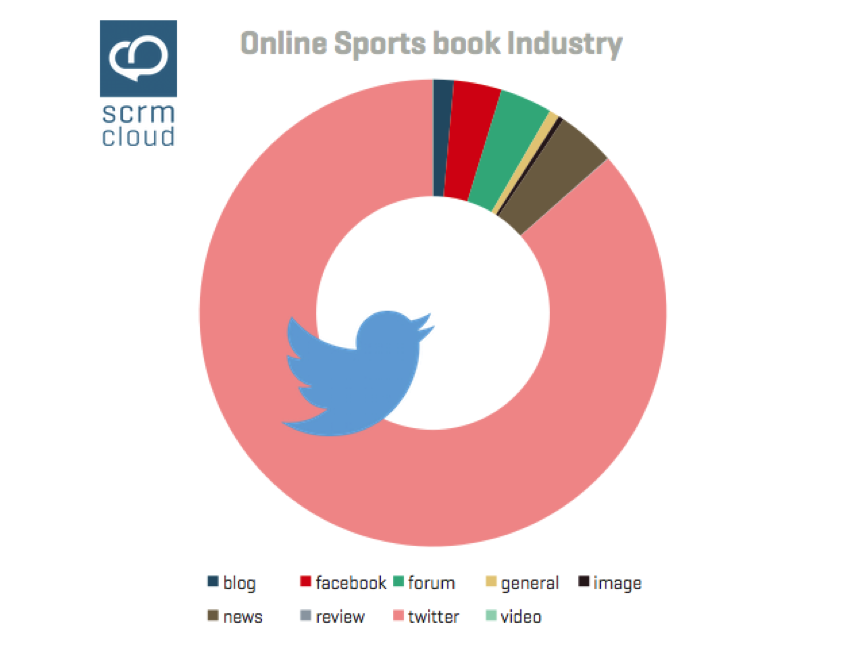 A whopping 83% of all mentions in the sports book industry are tweets.
We then continue to the floorball industry where we've compared 9 market leading floorball equipment vendors. Looking at the data, we see that Instagram (images) is almost as big as Twitter.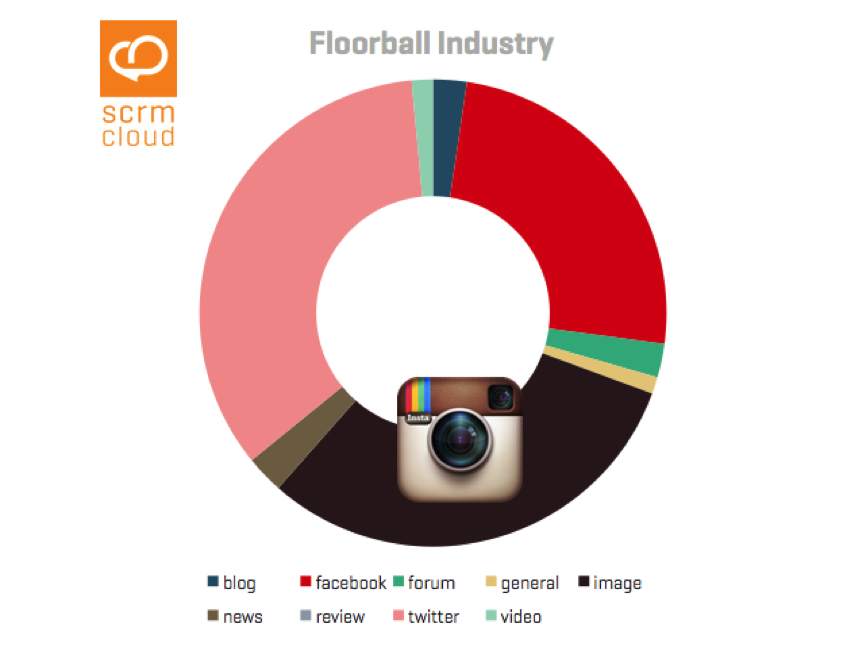 ---
The real value sits in the industry data, not your brand data
By looking at social media monitoring data across multiple brands in the same industry we can quickly identify the social media channels where people are talking.
In the floorball industry, we saw that 31% of the social buzz was Instagram photos, but this buzz wasn't evenly split per brand.
It was 2-3 brands that were being tagged in selfie-style photos, showing off their latest floorball stick, the best hook on the blade or a short movie with a new cool floorball move.
That's a job well done by the brands concerned, but more importantly, it's an opportunity for the competing brands to be a part of that social buzz.
The trend is exactly the same in in the online sports book industry where tweets account for 83% of the social buzz.
That's very much thanks to super brands like Paddy Power that alone probably make up for 50% of those tweets.
If people are tweeting about Paddy Power's sports book, why can't that be your sports book?
What about the champagne industry?
Well, here's it's a bit different since no brand has really come forward trying to steer the social buzz – it's entirely driven by the community itself.
That's an amazing opportunity for any champagne brand to identify its online audience and build and build a program trying to grow and influence the social buzz around its own brand.
---