Communities: We Rate the Top 10 Free Twitter Chat Tools Marketing
You may have participated in, or at least seen, a Twitter chat on your feed. Twitter users around the world host chats at specific times and days of the week, for anyone to participate in by following a single hashtag – like our #BrandwatchTips hashtag we use during webinars or live events.
Generally, these live Twitter events have a host, and sometimes a guest, who ask questions before everybody else chimes in. Twitter chats are an effective way to network, share and learn from like-minded people with common interests.
However, monitoring a very popular chat can be confusing sometimes. Some Twitter chats move so fast, Tweets fly by before you even can read or answer them.
Who is ready to discuss some #brandwatchtips over Brandwatch drinks? pic.twitter.com/gK2xuZzSY9

— Fiona Saluk (@FionaSaluk) April 10, 2015
So how can you make sure you don't miss anything important? Is there a seamless method for easily following-up with a chat after it has ended?
You could consider using a tool specifically designed to help you follow and interact Twitter chats closely. Here are the top 10 Twitter Chat tools for you to organize and participate in chats with ease:
---
1/ TweetChat
To make things run as smoothly as possible, you can filter a Twitter chat conversation by hashtag from the aptly named TweetChat.
To be able to Tweet directly from TweetChat, you will need to authenticate Twitter. Once you've done that, TweetChat will automatically add the hashtag at the end of all your tweets, so you won't have to.
It also provides an easy-to-use share button that allows anyone to promote the chat from within the app.
Other major benefits include the ability to pause Tweets or choose the speed that new posts head your way, so you have a chance to read and reply. The minimum interval is five seconds, which for some Twitter users might be a slow in terms of updating Tweets.
Additional features include filtering out retweets and blocking any spam users.

---
2/ Twitterfall
If you're looking for simplicity, Twitterfall is the app for you.
It is free to use and offers various customization options for your Twitter data and chats. You can display a single stream of Tweets using keywords, hashtags or lists you're interested to track, and you can retweet, follow, DM, or otherwise interact with that person directly from the app.
The filters allow you to exclude keywords, specific users, and retweets. You can even filter results by geolocation.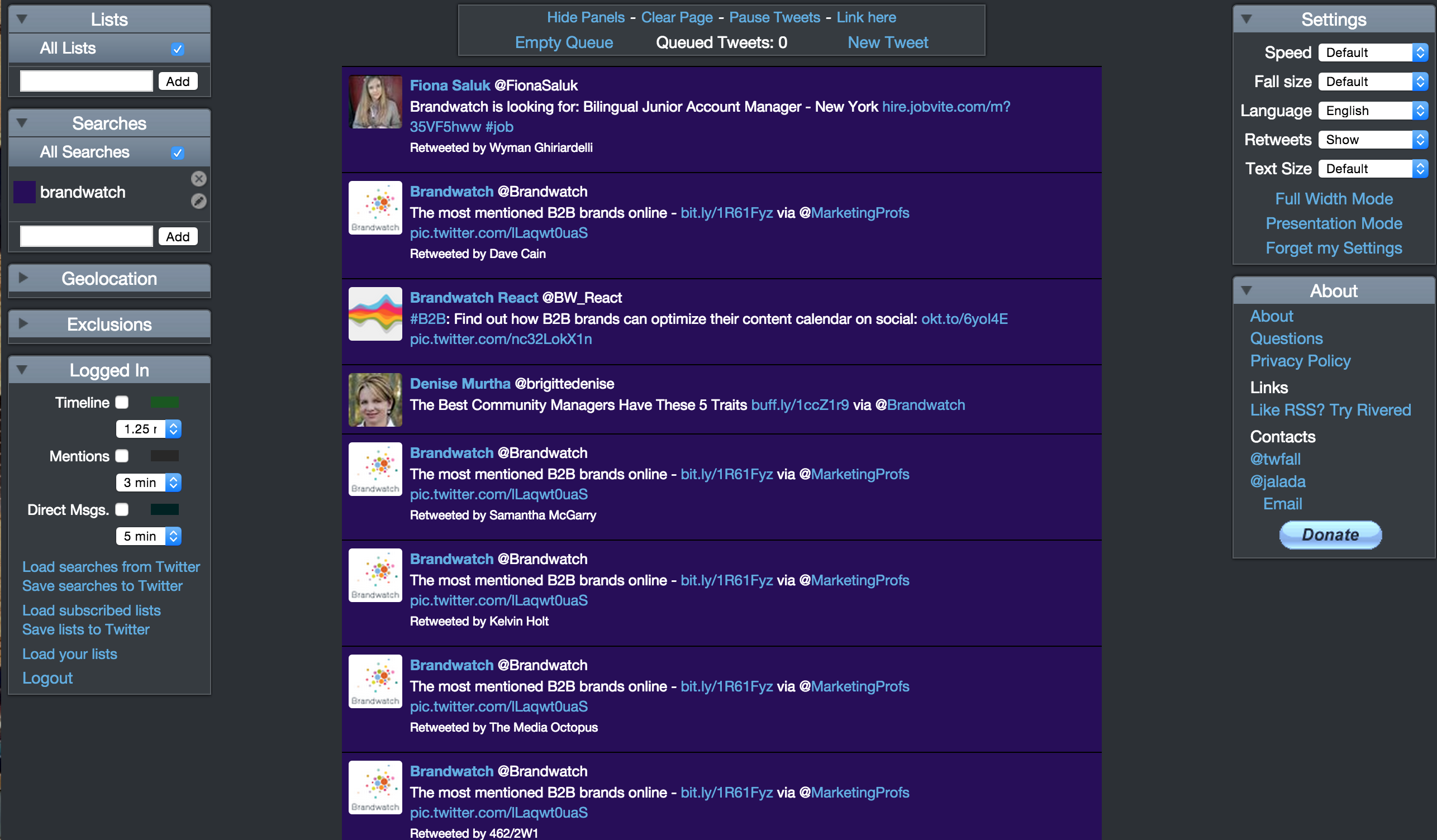 ---
3/ Twubs
If you're looking for a tool to find and follow relevant Twitter chats, or even hosting one, Twubs offers a good solution. This Twitter API-compliant chat tool aggregates Tweets, images and videos into a branded page and is free to use.
Twubs' is built to handle live events and foster relationships between hosts and participants.
Chat organizers are able to easily create public-branded homepages for their chats and add their events and related hashtags to a global calendal to be discovered by new users. Twubs is free for everyone to use, and offers paid options for people who want to add their hashtag to the site for others to find.
The interface separates host messages from the regular feed, allowing participants to follow along more easily. As a participant, you can adjust the refresh speed of Tweets and pause your feed when needed.
---
4/ Hootsuite
Although Hootsuite is a very robust social media management tool, it's also widely used to keep up with Twitter chats. It streams Tweets from chats to allow hosts to effectively moderate the conversation.
Simply add a stream, search for the hashtag you want to track and join the conversation.
You can add multiple streams, meaning you can track various Twitter chats along with your Tweets, scheduled posts, mentions, direct messages, and much more.
In addition, Hootsuite offers some great internal collaboration features, allowing you to assign Tweets to different team members and start internal chats regarding any particular tweet. Up to 3 social profiles, you can benefit from Hootsuite's free version.
---
5/ Tweetdeck
TweetDeck is one of the most popular free Twitter management tools because of its ability to add extra columns to target and customize streams of Tweets, making it easy to filter and keep up with lots of Twitter conversations.
A good setup in TweetDeck could be one column for @mentions of your Twitter account, two columns for the hashtag (one to watch the stream, and one toe pause/scroll through specific tweets), one user column to see the Tweets you've put out and one column to follow the Tweets of the chat moderator to help you keep up with the questions.
Other benefits of TweetDeck include managing multiple Twitter accounts and the ability to synchronize your configuration when you use TweetDeck on different computers and mobile devices.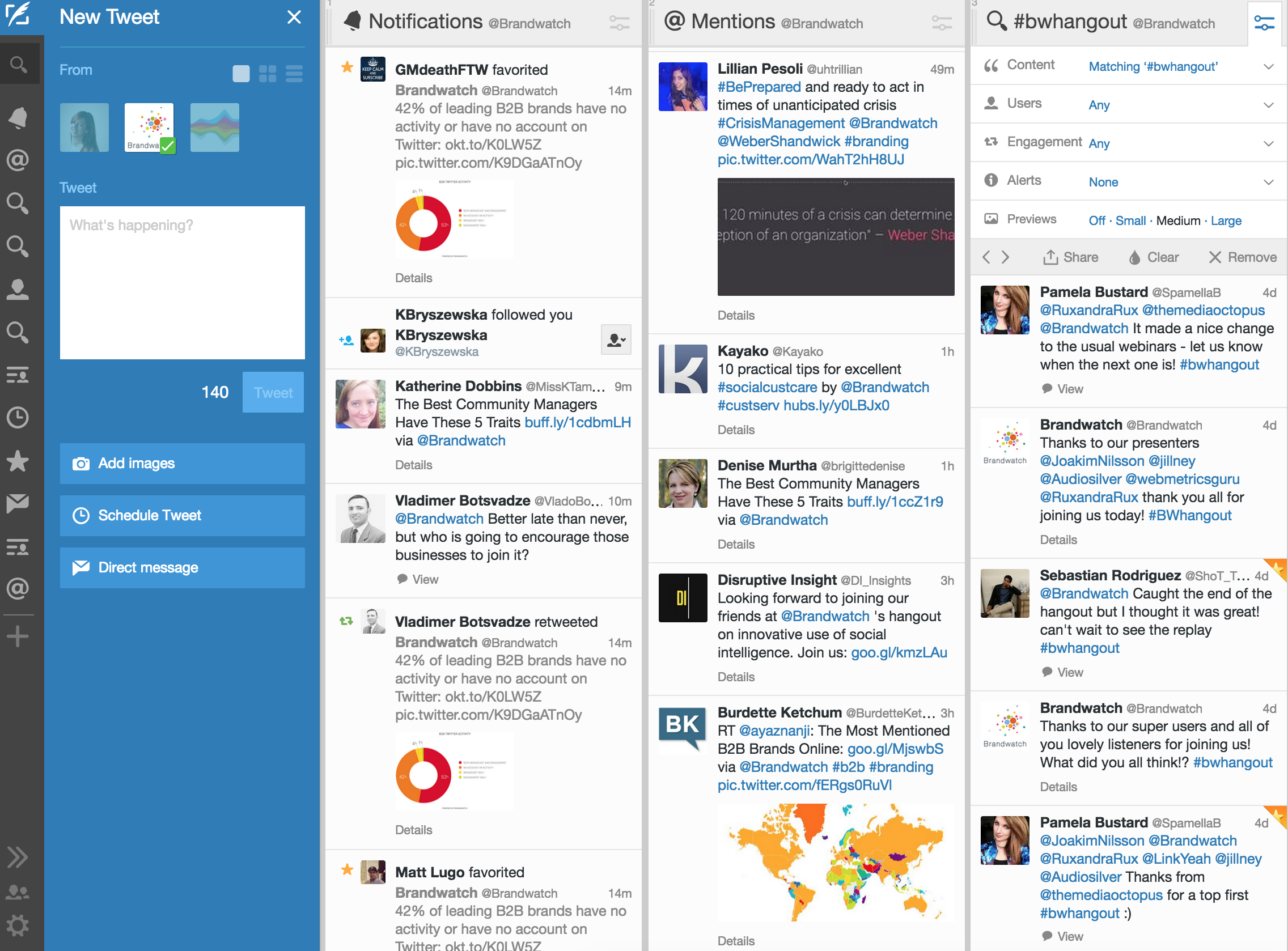 ---
6/ tchat.io
Another tool that hit the Twitter chat scene is tchat.io. It has a sleek interface that offers all the same basic functionality that Twitter chat users need to participate in active hashtag discussions.
Can't read the Tweets fast enough? Simply hit the pause button. Too many retweets clogging up your Twitter chat stream? Hide them. Managing multiple hashtags at once? Just switch between them.

Log in with your Twitter account and Tweet, retweet, reply and favorite directly from your hashtag's page.
As new posts are added to the stream, they appear in real-time. The hashtag you enter once will automatically be added to all your Tweets thereafter.
Tchat.io is built with a responsive design that works well on your phone, on tablets as well as laptops.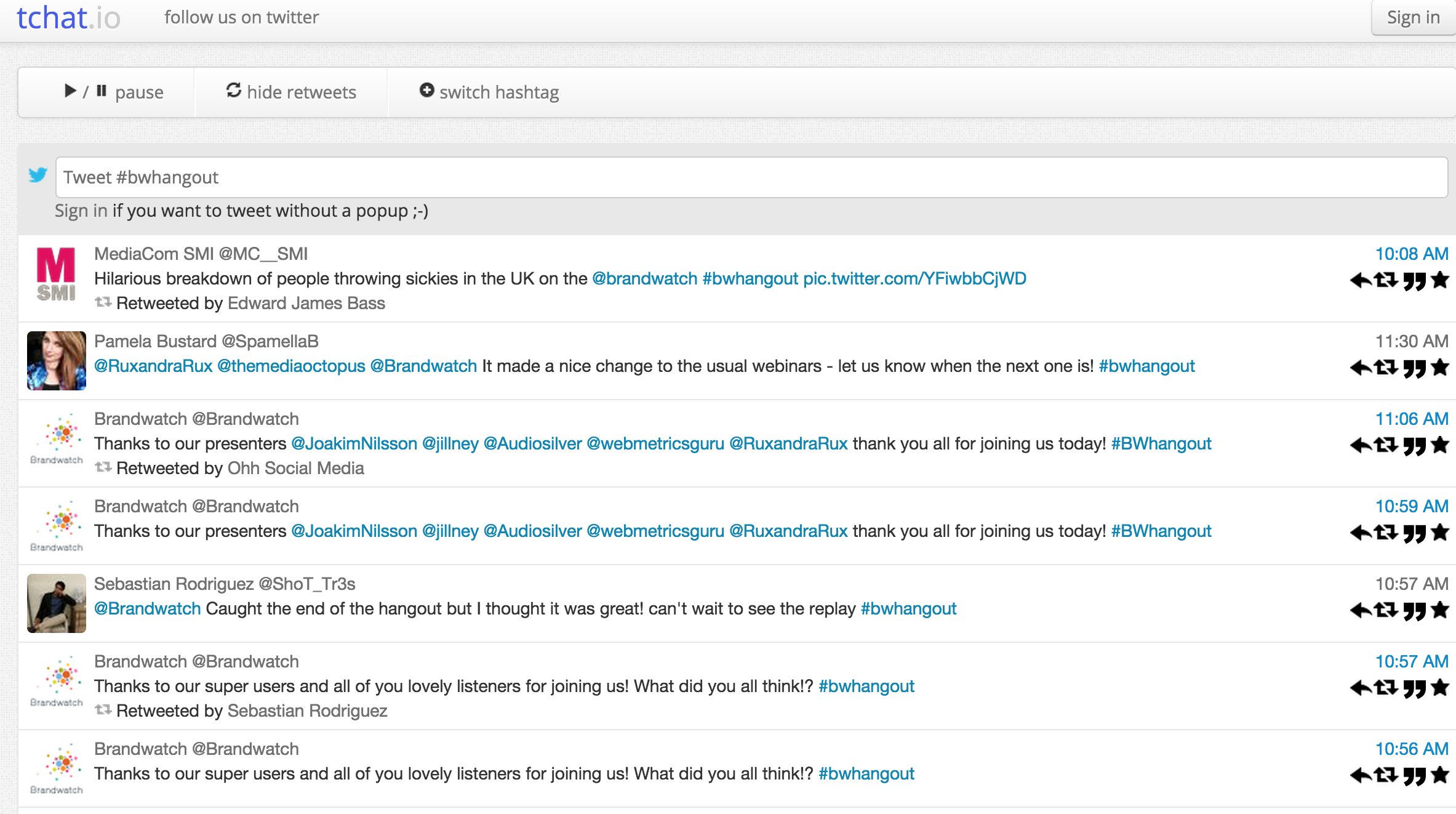 ---
7/ Hashtags.org
There's more to Hashtag.org than discovering popular hashtags trending on Twitter.
Not only does the hashtag tracking directory provide educational resources covering best practices for hashtag use, it also has its very own chat section to make participating much easier.
Just go to Hashtag.org/chat, type a keyword in the search bar to find relevant chats, or type the primary hashtag for a chat you already know you want to join.
Once you've pressed the blue "Sign in with Twitter" button, you will give access to Hashtags.org using your Twitter account and you can start chatting. By default, the primary hashtag will appear in your Tweets.
Similar to any other Twitter chat tools, you can adjust the Tweet refresh rate and use the "User control" option to remove or highlight specific users.
---
8/ Nurph
Want to deepen your relationships on Twitter with friends or followers? Stop fighting the 140-character limit and get a room in Nurph.
Simply Tweet a link to bring your friends and followers together for a real-time chat without taking over your followers' feeds.
Nurph allows you to keep an eye on Tweets in real-time or pause a Twitter stream if needed. But unlike many other Twitter chat tools, you can als record and replay Twitter chats (Nurph stores a record of the Tweets when it's over), create a Twitter chat invitation page with RSVPs or set up private Twitter chats.
These come in very handy when you want to control the conversation around a specific topic.
Nurph chat rooms come complete with Twitter profile integration, Tweet streaming and hovercards.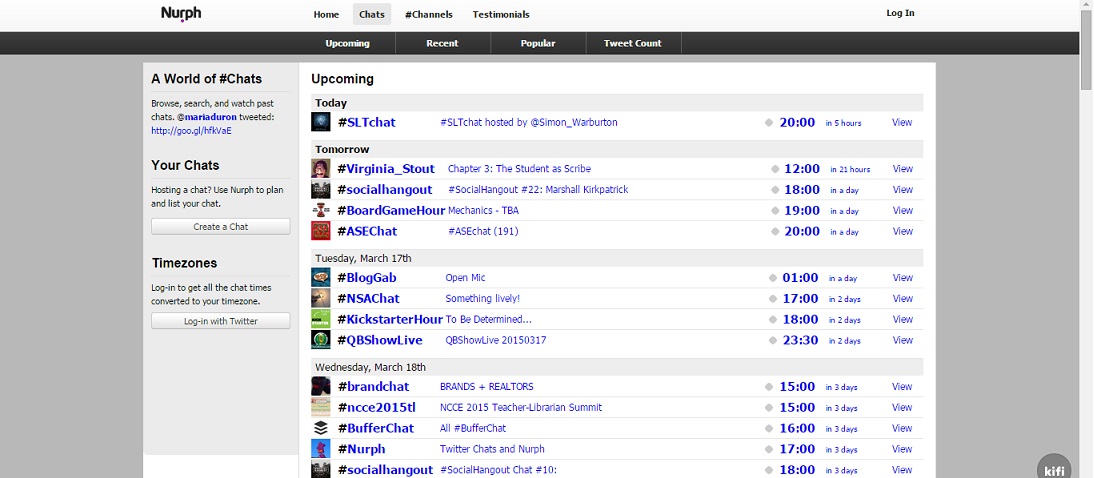 ---
9/ TwChat
Want to take Twitter chatting to the next level? Take a look at TwChat.
By signing in through your Twitter account and creating a profile, you can create your own Twitter chats, follow specific chat rooms or bookmark lots of hashtags for later.
Unlike some of the other Twitter tools out there,TwChat one lets you move the mentors' Tweets into a separate column, which is helpful for chats that have a lot of participants. It's also a clean and quick way to get all the posts related to a hashtag, updating automatically as new posts are published.
When you Tweet directly from the the feed page, it will automatically include the hashtag you're following. You can reply, quote reply, retweet and favorite Tweets from the site as well.
On the front page, you will see a list of upcoming Twitter chats to see if any fit your interests.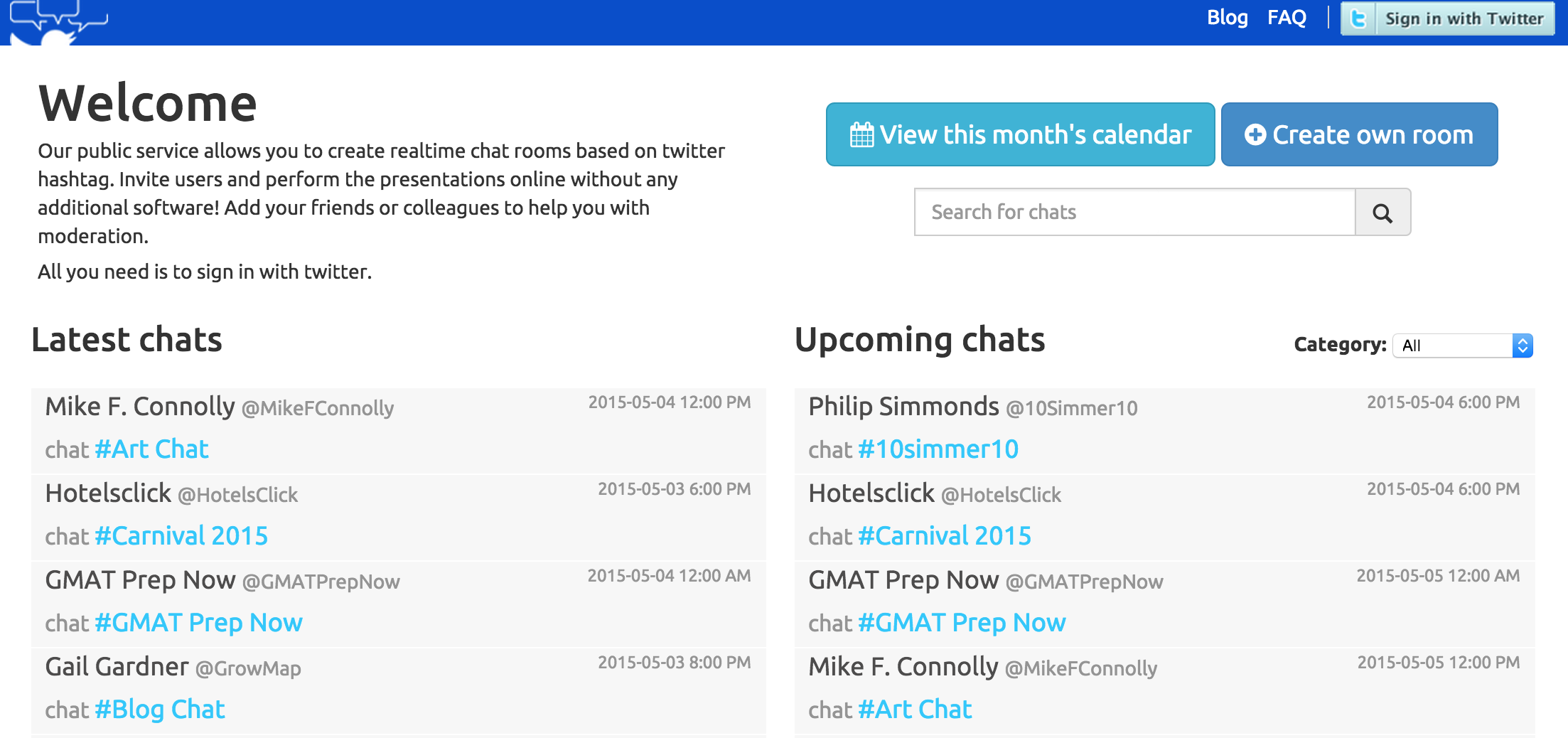 ---
10/ TweetGrid
If you would like to keep track of multiple keywords including multiple Twitter chats, try TweetGrid.
You don't even need to have a Twitter account to use TweetGrid, although logging in will allow you to do much more, such as using the dashboard Twitter client.
Without a login you can create custom search boxes for the chose hashtags in varying configurations as simple as a 1×1 single panel or 3×3 panel, or even a 1×10 side scrolling bar.
You can adjust each panel from real-time updates to updating on timed intervals. You can even stop the updates completely if you need to freeze it in place, allowing you to keep track of the conversation at your tempo.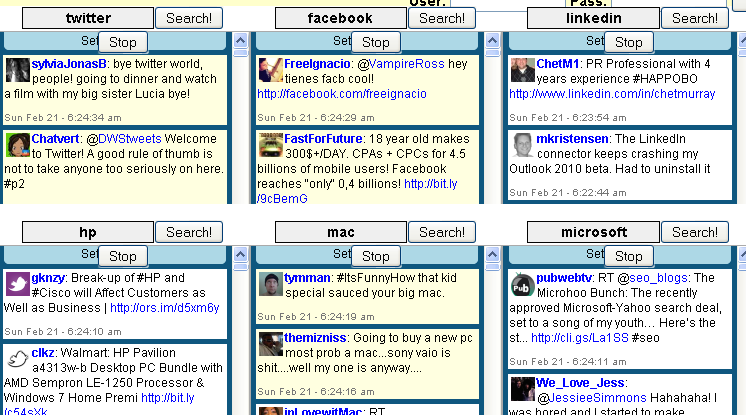 Obviously, to enable Tweeting from the TweetGrid dashboard directly, you will have to login.
Do you have a favored way of monitoring Twitter chats? Sound off in the comments below, or Tweet us @Brandwatch!
---
---
Brandwatch Analytics
Take your insights one step further
Find out more