As if we didn't already know social media can be addictive, it was recently confirmed by science.
A recent study found that Facebook can have a similar effect on the brain to cocaine – scary, huh?
Every form of social media has the potential to grip our attention and have us reaching for our smartphones throughout the day. It's those lovely notification symbols that give you a nice little dopamine burst.
We decided to take a look at social media addiction through the lens of social data because where else would people talk about their social media addiction but on social media itself? 
Observing social media like some sort of messed up support group for social junkies, we studied the data on those declaring addiction and what they planned to do about it.
I think I'm addicted to social media MUCH more than I am to recreational drug use. This is worrying.

— M1 (@LoLOrcasm) February 26, 2016
---
Choose Life
Using social intelligence, we decided to discover how many people were struggling and which sites are the most addictive on the net. Using search terms with variations on "I'm addicted to _______" we were able to identify people with a self-confessed social media addiction.
In total, we found 39,489 mentions of addiction over five months, with women making up 56% of the conversation for gender-categorized authors.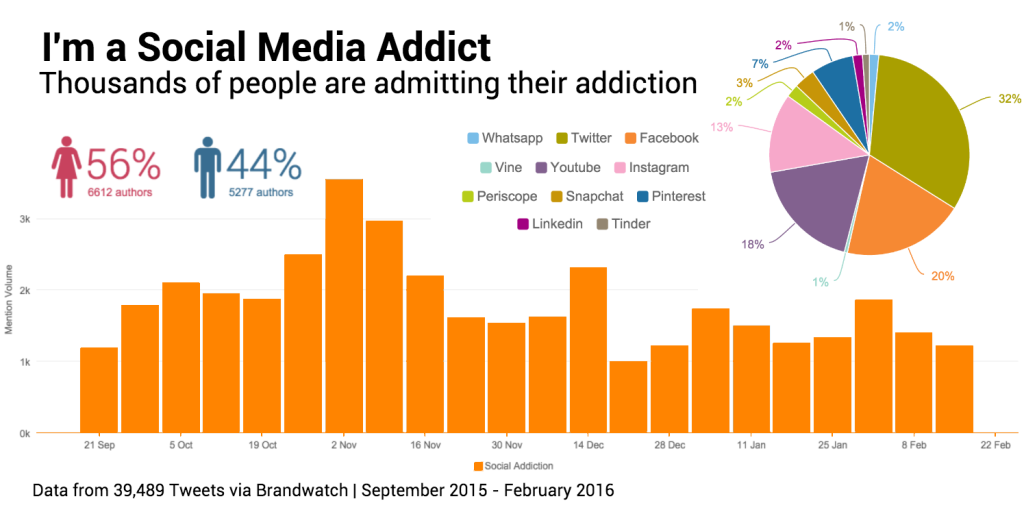 Twitter seems to be the most addictive social media site on the web, with Facebook, Youtube and Instagram following behind.
---
You might like
React: We Analyzed Your Dream Tweets and This is What we Found
---
Quitting social media
There aren't as many people talking about quitting as there are talking about being addicted.
Over the same period of five months, we discovered 6,002 mentions which is just over 15% of the conversation around having a social media addiction.
These are the people discussing taking action over their addiction.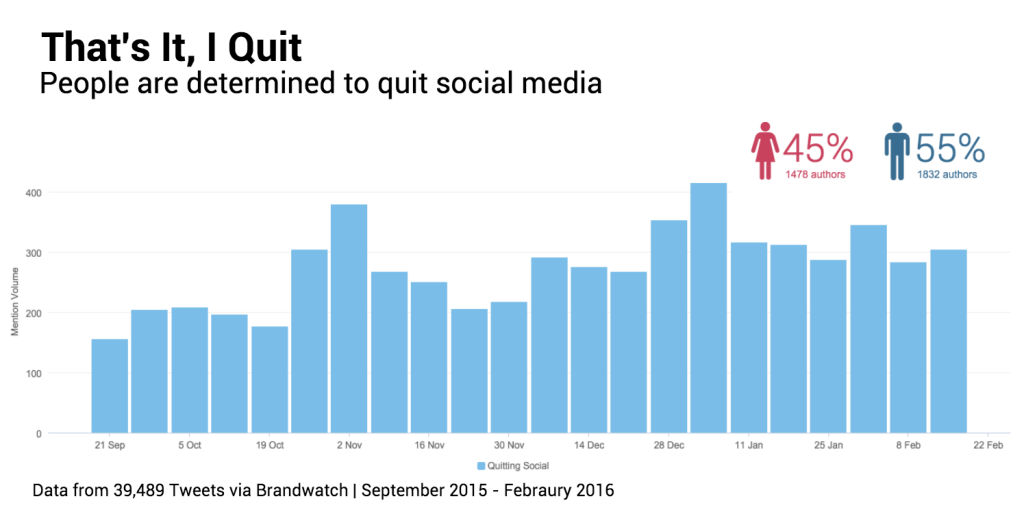 This time, the men outnumber the women in the conversation 55% to 45%. The ladies are more willing to admit they're addicted to social media, but it's guys who are talking about quitting most.
Diving into the data shows that there are plenty of people who want to go cold turkey to address their addiction.
I need to deactivate my snapchat, shit is addictive… I didn't sign up for this. I'm a weirdo. It's scaring people.

— Snapchat : (@MistressOfShaka) February 24, 2016
---
Just one last hit
You might expect the percentage of people talking about being addicted to a social media platform and the percentage of those talking about quitting that same platform would be similar, but you'd be wrong.
Sure, according to our data Twitter is the most commonly addictive form of social media and it also has the highest number of quitters, but the addict:quitter ratio for most of these different social networks are disproportionate. 
We found that around 13% of people talking about social media addiction were talking about Instagram but only 5% of the quitting conversation referred to that social network. Meanwhile, Pinterest takes up 7% of addicts but has hardly any quitters.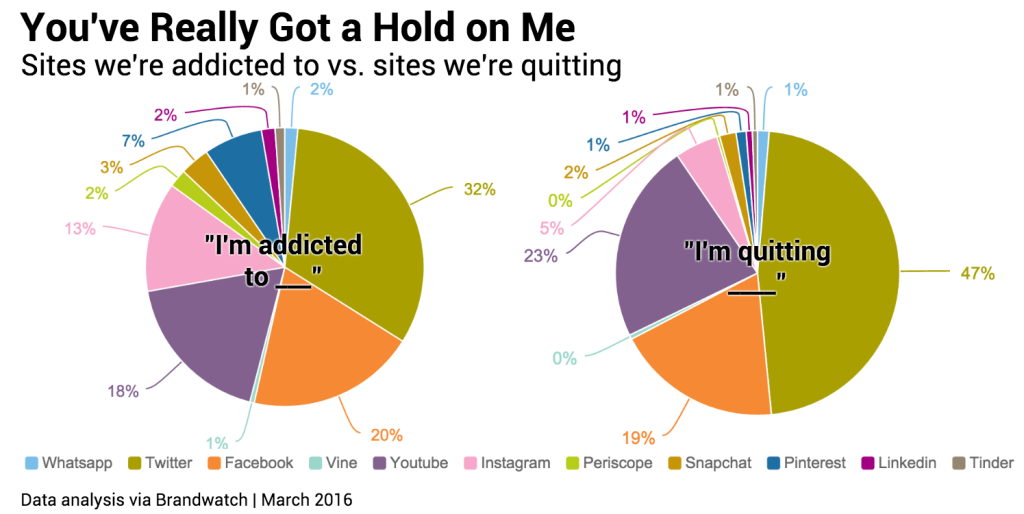 What can we draw from this? Well, Twitter might be the most common addiction but it could be a lot easier to quit compared to other platforms.
---
Stop the ride, I want to get off
It seems that our addiction to different social media sites is affecting the number of people who want to log off for good.
Saying that, not everybody is planning on quitting due to their addiction…
I'm going to quit youtube and pursue my rapping career, I'll remember yall when I'm collabing with kanye

— C4Curious (@C4Curious) February 20, 2016
im quitting youtube because everyone hates my hair hope youre happy bye forever

— Ty Turner (@partar400) February 28, 2016
As with anything in life, moderation is probably the most sensible course of action when it comes to social media. Now where did I put my phone?
---
Follow @BW_React for more juicy data
---
---