Social Demand: Three Steps to Using Social Media for Demand Generation Marketing
Social media is championed as an end-all-be-all solution. It was the reason Donald Trump won the U.S. presidency. It's the key to rebranding egg farming.
We've seen our clients use social media for everything from in-depth behavioral research on Millennials to learning what kind of weather provokes people to buy ice cream.
The applications of social media seem to be unbelievably endless.
So naturally, I'm going to suggest one more use case: social media for demand generation. Stay with me.
Demand generation is a marketing function that serves to build and sustain demand for your company's products and services.
A successful demand generation team is metrics-driven and uses a wide variety of data to identify the channels, people, and activities proven to drive leads to the sales team.
As it happens, the wealth of information online makes social media an absolute breeding ground for data-driven, demand-generating tactics.
Take these ideas to your CMO right now.
Building market demand
Every marketer knows that their work needs to constantly reflect the needs of their customers.
What is commonly overlooked is how integral social media is to understanding these needs.
With a social intelligence tool, companies can learn the exact experiences of their target audience. Social media teaches you how your company fits in your market and the language you should be using when promoting your brand.
For instance, If you're a technology company, social media might reveal that thousands of people shatter or crack their mobile phone screens every day.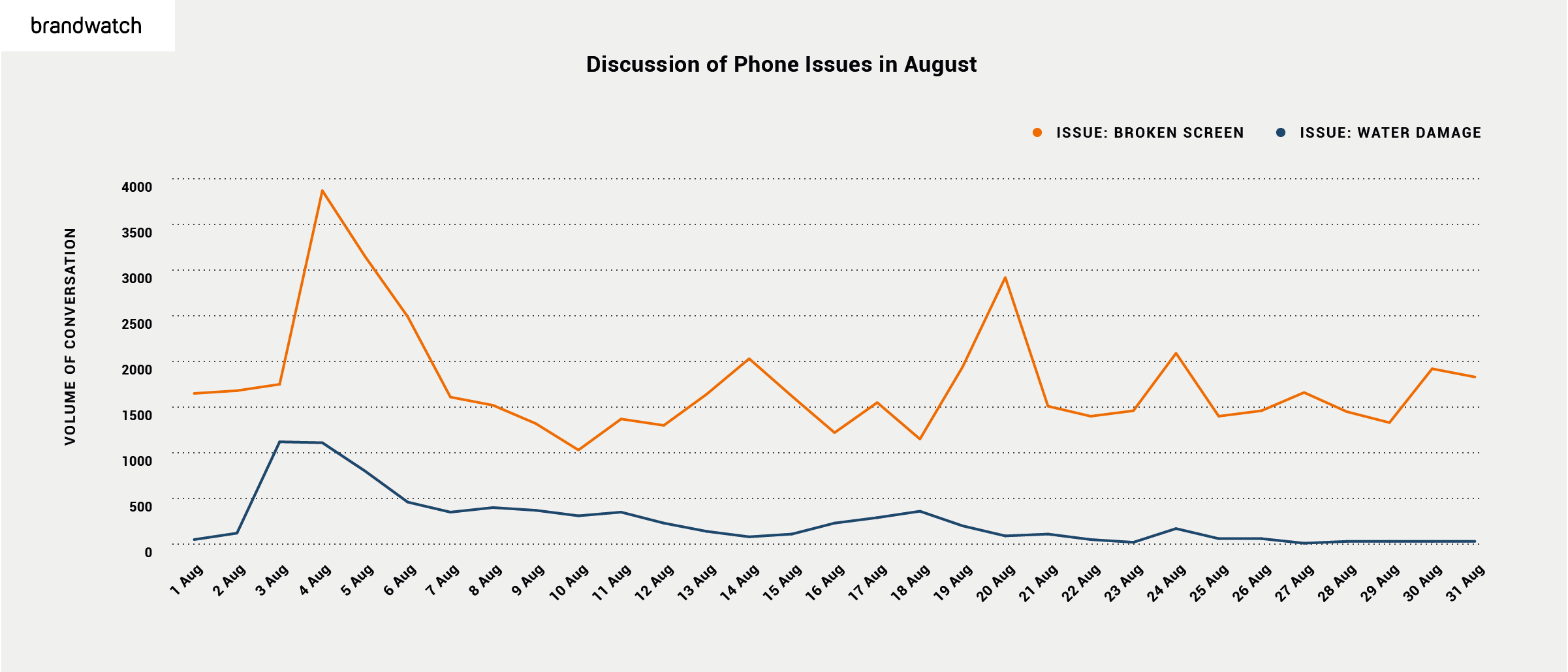 There are obvious product advantages to this type of social market research. A tech company's customer intelligence team can inform the product team of the clear demand for shatter-resistant phones.
But going beyond that, there are vast demand generation opportunities in researching your market and your consumers on social media.
By identifying the gaps in the market, social intelligence can inform marketing content, value propositions and show you how to position your brand.
As an added bonus, having this audience-driven approach will also boost your online visibility and SEO. This will help ensure that the people that would most benefit from the solutions you provide will see your content.
Ensure your online presence and content reflect the problems your target audience want to solve and be sure to shape your product, marketing, and sales strategies based on the demand you want.
Generating leads
Often sitting alongside or within demand generation's objectives, lead generation refers to the marketing processes put in place to identify, engage, and ultimately sell to specific potential customers.
Given that 69% of adults and 88% of companies are on social media, social platforms are the perfect places to find leads in any industry.
Using an audience segmentation tool like Brandwatch Audiences is an ideal way to collect those leads.
For instance, a U.S. retailer of women's business clothing can create a panel of social media authors that fit the exact demographic it is targeting.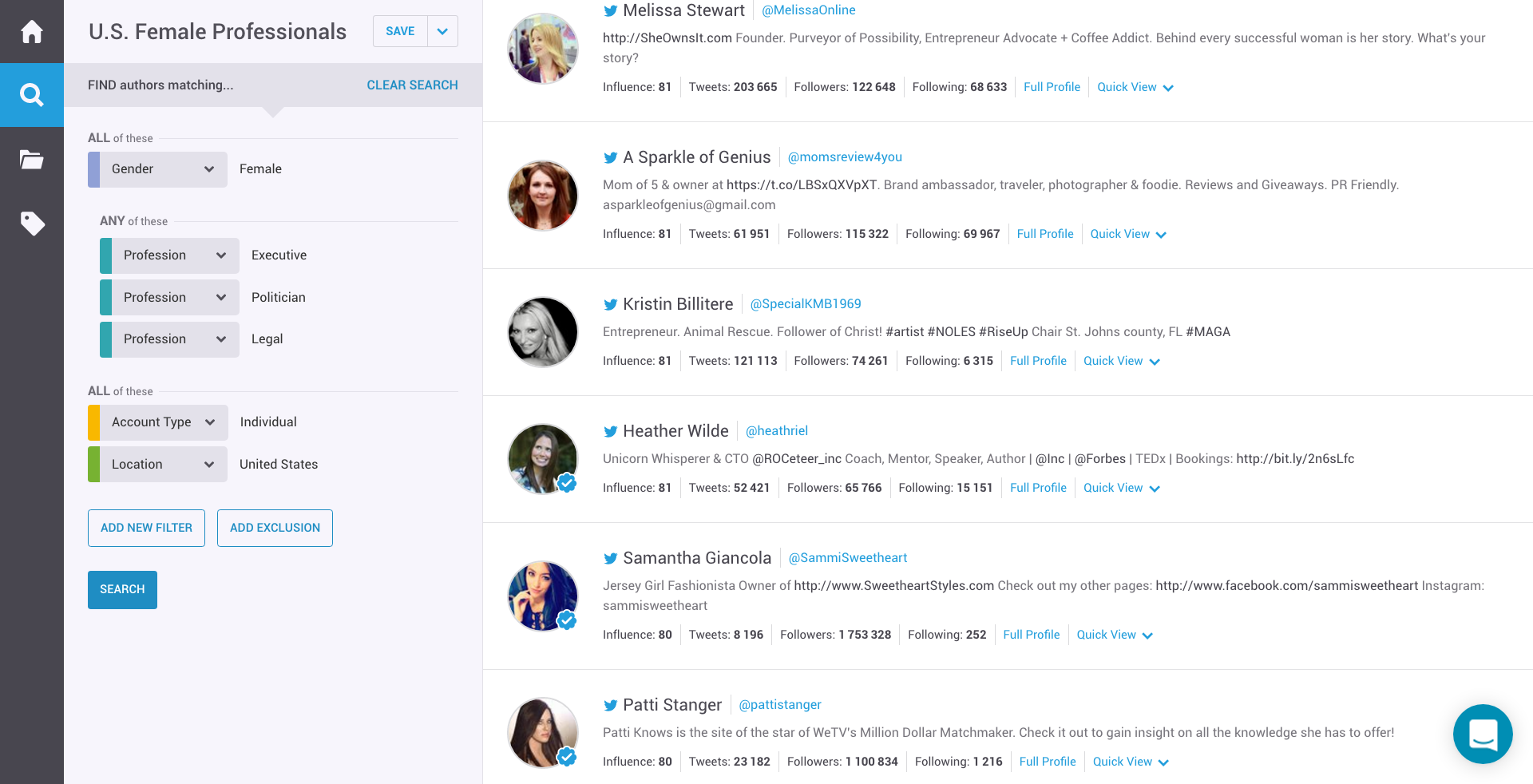 From here, these lists can be used to understand the trending topics among your prospects, the overarching concerns they have, and the language they use.
Additionally, you can use audience analyses to identify key contacts or influencers for targeted outreach. This is extremely beneficial especially for those in the business-to-business sphere.
Nurturing and engaging on social
Taking social demand a step further, social intelligence can reveal the exact people already asking questions about your product category or who have already indicated an intent-to-purchase.
Begin by creating a search that will alert you to these conversations. For us at Brandwatch, (using Brandwatch Queries) these searches look something like this:
((social NEAR/2f (listening OR monitor OR analytic OR intelligence OR tool)) OR brandwatch)

AND (trial OR demo* OR "looking at" OR "looking for" OR use OR explorin* OR switchin* OR swappin*)
These conversations showcase people further in the buyer journey, just waiting for engagement from you. It's imperative that your social team and its advocates are listening to these conversations.
Which social media listening platform do you use and what do you think of it?

— Susan Perkins (@susanp_bvk) February 11, 2016
---
You might like
Marketing: How to Measure Purchase Intent Using Social Listening
---
Considering swapping from Crimson Hexagon to Brandwatch. Any impassioned opinions for either tool? Would love to hear.

— Kat Hannaford (@KatHannaford) March 23, 2017
No demand or lead generation program is successful without the tools, data, and strategies to get the right people through your sales funnel. Be sure you're maximizing your team's impact by capitalizing on social media for demand generation.
Want to learn even more business applications for social media and social data? Explore our entire archive of practical guides and get the most out of your social program now.
---
The Complete Guide to Social Selling
Learn how to find sales-ready leads before the competition.
READ THE GUIDE